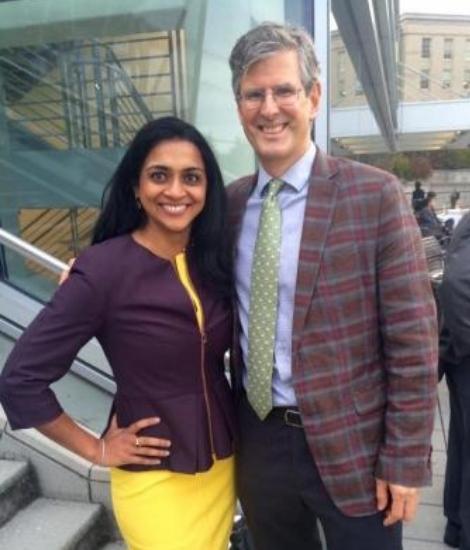 Health Professionals
Dr. Subramanian
My journey to becoming a doctor at the Department of Veterans Affairs (VA) started as a resident in Neurology at UCLA. We worked with the VA in our outpatient clinics and I fell in love with the population of patients. I come from a family full of doctors and medicine is in my blood so the choice of being a doctor was seamless. At the VA I felt I was truly able to make a difference.
I looked forward to those clinics in general neurology and specifically working with people with Parkinson's disease (PD). We saw county patients and privately insured patients during the other rotations in residency, but the VA was my favorite. There is a tremendous sense of gratification gained from helping people who served our country. I felt and continue to feel honored to touch the lives of some of these heroes in some way and to give back to them and their families.
In 2000, I had the opportunity to continue my work with veterans as a fellow in Movement Disorders when I started the movement disorders clinic at the West Los Angeles VA. In 2015, I took over as Director of the SouthWest PADRECC. PADRECCs are Parkinson's centers of excellence in the VA, spaced geographically across the country, whose mission is to care for veterans with PD. By joining the PADRECC, I became part of a nationwide group of Parkinson specialists with whom to collaborate throughout the VA.
Teaching residents and fellows about the art of medicine in the VA system has also been tremendously worthwhile. In a world of increasing pressure to be more efficient, to focus on insurance, billing and documentation, the VA affords a space to spend time with the patients and to get to understand the nuances of this complex disease.
We have a multidisciplinary clinic and can share our ideas about how to work together for the patient. A veteran with PD can be seen by a neurologist, a geriatric psychiatrist, a geriatrics fellow, a neuro-pharmacist and a nurse coordinator all in one clinic visit. We can really delve into issues caused by non-motor symptoms such as depression, anxiety and apathy to really improve quality of life for our vets with PD. The trainees get to share in discussions about the complexity of the disease and treating the patient and as a result, several have been inspired to work in the VA system after graduating.
I have been excited to treat PD patients in novel ways. The VA is open to integrative medicine approaches with a program called "Whole Health." This allows vets access to acupuncture, yoga, Tai Chi, mindfulness, and health-coaching. Recently we have had the pleasure to run a symposium series called "Living well with PD" that draws on the wealth of providers in our community. Representatives from PD yoga teachers, boxing for PD, dance for PD and other groups have taught in this symposium.
We have hosted informational sessions from our pharmacists, physical therapist, swallow therapists and dietitians. These symposia have been a huge success for all involved from the VA providers, the patients and their caregivers and the invited guests from the community. To dance to a song like "Blackbird" by the Beatles with your closest colleagues, our beloved patients and their loved ones and these enthusiastic young therapists, is truly a mind-blowing, heart-warming experience. Many of the invited guests from the community are eager to come back and bring their colleagues, since these experiences have been so powerful.
Having a purpose in life is so central to the wellness of the human condition. I feel lucky to have found my purpose in caring for veterans with PD that really feeds my soul. As increasing numbers of health care providers face issues with burnout and even contemplate leaving the profession, I am heartened to know that my team gets great joy and fulfillment from our work.
Every day I'm in clinic, I laugh a lot and I cry sometimes too but I know that we really do make a difference and truly save lives on a regular basis. It is rare to get such satisfaction as a provider these days and for that I give thanks that I have the privilege to do this work alongside an amazing team and am inspired everyday by my patients and their families.
The VA Parkinson's Disease Research Education & Clinical Centers (PADRECCs) are Centers of excellence designed to serve Veterans affected by Parkinson's through state-of-the-art clinical care, research, education and national outreach and advocacy. Learn more at  www.parkinsons.va.gov
The Parkinson's Foundation honors those who have served and continue to serve our country. If you are a veteran with Parkinson's or care for one, read our resources: Veterans and Parkinson's Disease  and Veterans Benefits.
More Stories
from the Parkinson's community