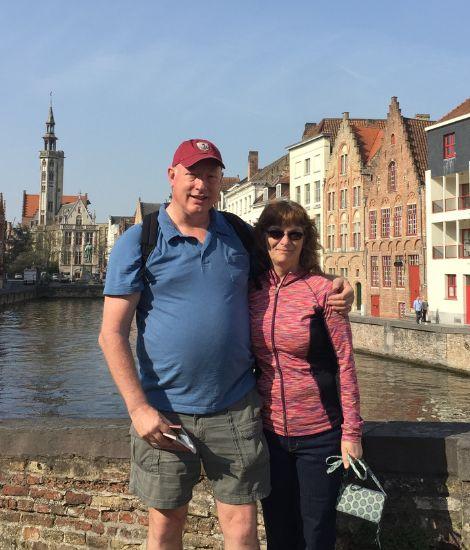 People with PD
Dirk Holstege
I had neck surgery for a pinched nerve in 2014. As that healed, I developed tremors in my right hand. A trip to the neurologist and a DAT scan yielded a diagnosis of Parkinson's disease (PD) in early 2015. I was 56 years old and working as a chemist at the University of California, Davis.
I continued to work. I was lucky to have a boss and a cadre of incredibly supportive coworkers. In 2018, I was able to join Hope Is in Your Corner — a Rock Steady Boxing group. This fantastic program is a combination of an exercise class and support group. It uses drills that address specific Parkinson's concerns like stepping, falling and walking. We practice strength and cardio exercises and boxing, of course, which is incredibly fun. It's a little unfortunate that I had to get Parkinson's disease to discover just how fun boxing is!
Conversations at my Rock Steady Boxing group introduced me to the Parkinson's Foundation, where I was able to find additional resources to help fight PD. I use the Parkinson's Foundation website to stay updated on the latest information about the disease.
I retired in 2020. The decision to retire was based on my desire to work out every day to combat this disease, along with my failing ability to handle stress. I also just didn't want to work anymore. The subtext was, of course, to travel and enjoy retirement "while I still could."
I was walking every morning, boxing twice per week and swimming three times per week. I started to ride a bicycle every night and take several two-to-three-hour rides with my wife per week. I continue to use this exercise strategy, but I have had to scale back a little due to fatigue and lower back pain.
As a hobby, I started drawing cartoons despite a complete lack of skill. Someone asked me to make one per day when the pandemic started, to help cheer everyone up. A year later I ended up self-publishing two cartoon books about Parkinson's disease. The cartoons make fun of the often-bizarre symptoms people with Parkinson's can experience and highlight situations where having PD is an advantage. My other projects include writing poetry and writing songs, many of which are about my life with Parkinson's disease.
My progression with Parkinson's has been slow — the shaking has moved to my right leg, and I have noticed a little more stiffness and slowness. My approach is not to view Parkinson's as an affliction but as just part of who I am now. As things become more difficult, I don't view PD as limiting what I can do, but rather as challenging me to figure out different ways of achieving what I want.
My Parkinson's journey continues. I am so lucky to travel it hand-in-hand with my wonderful wife, Sharon, and with the support of my family, friends and fellow boxers.
More Stories
from the Parkinson's community