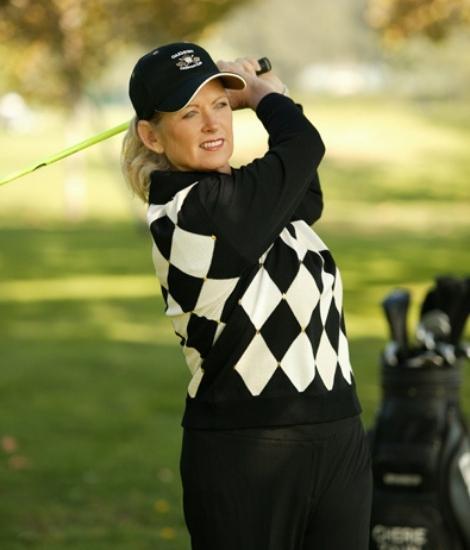 People with PD
Cherrie Zaun
It's been nearly two years, but it feels like yesterday when the doctor told me I have Parkinson's disease (PD). My First worry was what it would mean to my family. Then, of course I was concerned about how it will affect my second great passion golf.
In my 20s, I took a job as the women's coach at the University of Southern California and played golf on the Ladies Professional Golfer's Association (LPGA) tour as a minor league pro. I put the game on hold for nearly two decades while my husband and I were raising our three children. Then, in the late 90s, I joined the Futures Golf Tour, competing in more than 36 tournaments over three years.
Gradually, I began to feel something was wrong. My right arm often seemed frozen at my side, my right foot dragged and I tired easily. It felt like I had only half a body. My golf game suffered. I struggled just to sign my name. I hoped it was a pinched nerve, but thought it could be something worse.
My son, Baltimore Orioles Catcher Gregg Zaun, set me up for a battery of tests with his team doctors. In 2003, I was diagnosed with Parkinson's disease.
I felt helpless. I read everything I could to learn how to live my life in spite of the disease. Armed with information, I set out to fight the battle against Parkinson's
Today, I'm able to teach and play golf again.* I talk about PD with doctors and other Parkinson's Patients. Every day, I learn more about this disease is still in it's impact on the body and spirit.
My disease is still in it's early stages, so I don't have any tremors. I'm taking medicine, including a drug called Mirapex ( pramipexole dihydrochloride tablets), one of a class of medications called dopamine agonists. I'm exercising (I find yoga and golf especially helpful) and I welcome the support of my family and friends.
Living with Parkinson's disease is not all that different from doing great at the round of golf- it takes practice and determination.
My doctor is optimistic that, one day, a cure will be discovered. Meanwhile, my initial fear of the disease is gone and my joy of life has never been stronger. I wish the same for you!
More Stories
from the Parkinson's community