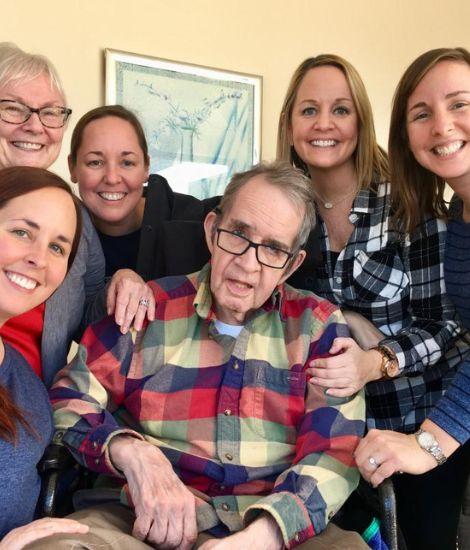 Care Partners
Ann Heidger Pequeño
Growing up, my parents insisted that my sisters and I write thank you notes after a birthday or holiday and what seemed like everything in between. We were taught to say please and thank you after every encounter throughout the day. To say our prayers and to give thanks at each meal and each night.
When I count my blessings, my amazing mom and dad are at the top of that list.
They raised four daughters together — four fiercely independent, determined and caring women. They sacrificed so much for us — to ensure our education, health and that we had a nice home and nice things. There was always love, acceptance, humility and kindness. And gratitude.
When the time arrived for my parents to finally retire and perhaps splurge a bit on themselves for a change, that was not how the cards were dealt.
Not long after my dad retired from a 46-year engineering career at Boeing, he was diagnosed with Parkinson's disease (PD). While the news was not what we expected, it was not a significant surprise. We knew something was different, something was off. We chalked it up to a change in pace since leaving the workforce, to a bit more anxiety due to having his grandchildren's energetic little feet running around the house.
Although it was not what we envisioned, our family faced this challenge head on. We all learned as much as we could and assumed our roles in the process. My mom quickly became my dad's staunch ally and advocate. She left no stone unturned in terms of looking for the best doctors and the best overall course of care. We all know this disease requires care partners, the often unsung heroes coordinating and orchestrating behind the scenes.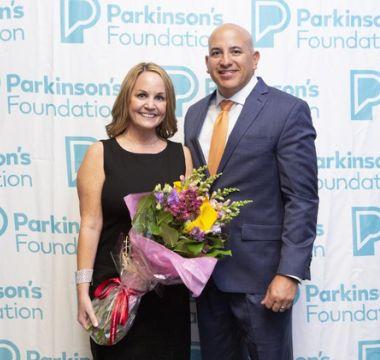 My sisters and I did everything possible to support my dad and my mom. My sister Margaret worked at a recreational facility — so she was the movement expert. My sister Julie is a nurse — so she was the medication expert. My sister Carrie is a speech pathologist — so you can certainly guess what her expertise entailed. I was the researcher. So I jumped right in, signing up for Parkinson's Foundation resources, subscribing to newsletters and volunteering with a local Parkinson's group in Dallas, TX. We were all so thankful to have each other to navigate through this together. Even through the darkness, what a gift it was to have our gratitude for each other.
Living out of state while my dad's health continued to decline was excruciatingly difficult. But I made frequent visits and was able to spend an incredible amount of quality time with him during his last few years. I will never forget one morning, after helping him get dressed, I was on the floor tying his shoes and he looked down at me with the sweetest smile spread across his face. I smiled back and he said to me, "You are such a good girl." He and I both knew our roles had been reversed.
This amazing and strong man, who had tied my shoes for years when I was little… I was now the one taking care of him. We all were. Our whole family banded together to ensure my dad had every resource and ounce of assistance that we could provide. He loved us unconditionally and we loved him back with that same endless, unwavering love.
As my dad's Parkinson's worsened, it was extremely difficult to watch. Here was this man, this invincible, otherwise healthy man who deserved to be enjoying his retirement. Instead, he was losing mobility and becoming less and less independent as time went by. Lewy body dementia, that terrible companion that can manifest with Parkinson's, began to take its toll. While we did our best to keep him active and moving, he eventually started using a wheelchair and soon it became too difficult to keep him at home with my mom.
Going to visit him in the nursing home for the first time was an absolute punch to the gut. I was physically sick as I left and had not ever cried as hard as I did that day, until the day that we lost him. Those words are still hard for me to say three years later… we lost him. But really, we lost him even years before that to Parkinson's.
I share all of this to paint the picture of how Parkinson's impacted him and our family. But, there is light in the darkness. We had so much to be thankful for during this whole process. We were proud of the team we became. We showered him with love and support. We were so proud of my dad. He never complained, never made a fuss, never wavered. He fought valiantly and courageously, but humbly and quietly. That was his nature.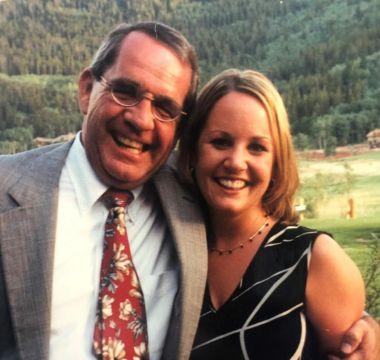 Besides gratitude, the resounding theme throughout this entire process was humor. My dad had a wit and an unassuming charm about him. He was the person you would want to sit next to at a party or event. He made all of us laugh, including his doctors, nurses, therapists and so many others along the way. Even as his brilliant mind was slowing down, the wit and humor seemed to find its way out. For that, we will always be so grateful.
Bill Heidger was thoughtful and kind. He was selfless and humble. He was driven, determined and organized but yet also had such an easy-going nature. He was an incredibly hard worker, and also knew how to unwind and have a great time. He was just an all-around wonderful person with such a kind and caring heart. He was always there, loyal, steady and ready.
May we all be grateful for anyone like my dad who has been in our lives. And may we all try to be that person for others.
Find resources to help support your loved one with Parkinson's by calling our Helpline at 1-800-4PD-INFO (1-800-473-4636).
More Stories
from the Parkinson's community