Advancing Research
New Survey Highlights Telehealth as Long-term Alternative To In-Person Visits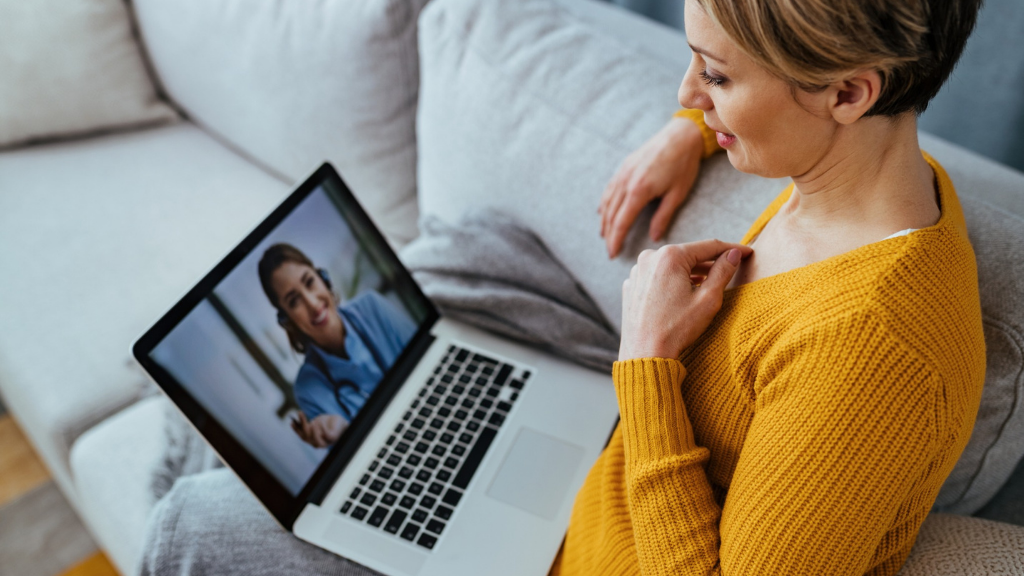 When the COVID-19 pandemic began in 2019, alternatives to in-person doctor visits became necessary. Many in-person visits were moved to telehealth. In fact, a previous Parkinson's Foundation survey found that telehealth use increased from 10% prior to the pandemic to 64% during the pandemic among people with Parkinson's disease (PD). However, little is known about the attitudes of people towards telehealth.
To better understand the attitudes of people living with PD on telehealth use and satisfaction, the Parkinson's Foundation and Columbia University Parkinson's Disease Center of Excellence administered a survey. The survey was titled: Attitudes towards telehealth services among people living with Parkinson's disease: a survey study.
This survey is important as it helps to understand the use of telehealth and quality among the PD community.
Survey Results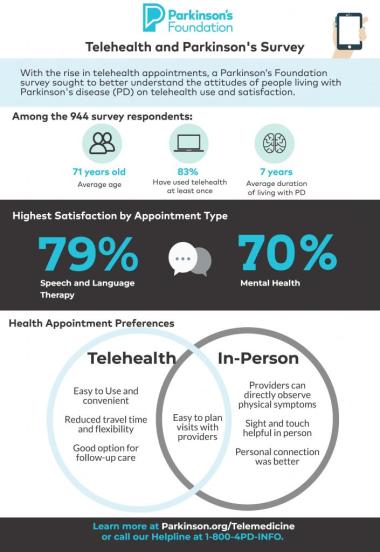 The survey was sent to 16,026 email addresses from the Parkinson's Foundation and Columbia University Parkinson's Disease Center of Excellence mailing lists. There were 944 complete survey respondents.
The average age for respondents was 71.5 years old, and the average time they have lived with Parkinson's is seven years.
Experiences with Using Telehealth
Of the 944 completed survey responses:
90% of participants were aware of telehealth
83% used it at least once
In the last 12 months, respondents reported using in-person visits most frequently
Experiences with Telehealth Satisfaction
Overall, people with PD were equally satisfied with most services via telehealth in comparison to in-person visits. Of those who had a positive telehealth experience:
The highest telehealth satisfaction was for speech and language pathology appointments (79%) and mental health appointments (70%)
The biggest reasons for telehealth satisfaction: reduced travel time (46%), ease and convenience (22%), and the option for follow-up appointments (19%)
The top reasons people preferred in-person visits include:
Health care professionals could notice symptom changes better in-person
Appointments were more thorough (20%)
Important of sight and touch in a physical examination (20%)
"It is difficult for my doctor to really see my gait, movement responses etc. when I am not there in person," one survey participant said.
Experiences with Telehealth Quality
The quality between telehealth and in-person visits was similar. It seems that visits that require a physical exam were more preferrable to be in-person. However, people with PD expressed that telehealth saved time, reduced travel, was convenient, and a good option for follow-up appointments. Overall, people with PD saw telehealth video visits to offer the same quality of care as in-person visits.
Key Takeaways
Telehealth satisfaction and use is perceived be a good alternative to in-person visits among people living with PD.
Telehealth may help alleviate patient burden, especially by reducing travel with decreased mobility.
While most type of provider visits were equally satisfactory in-person vs over telehealth, speech language and pathology and mental health visits were preferred via telehealth.
Among the participants, appointments that required physical examinations were preferred to be in-person.
Telehealth should remain an option in the future.
Learn More
The Parkinson's Foundation believes in empowering the Parkinson's community through education. Learn more about telehealth and PD with the below Parkinson's Foundation resources:
Reference
Feeney, M. P. et al. The impact of COVID-19 and social distancing on people with Parkinson's disease: a survey study. NPJ Park. Dis. 7, 10 (2021).