Advancing Research
Weeding Through the Haze: People with Parkinson's Share Medical Cannabis Experiences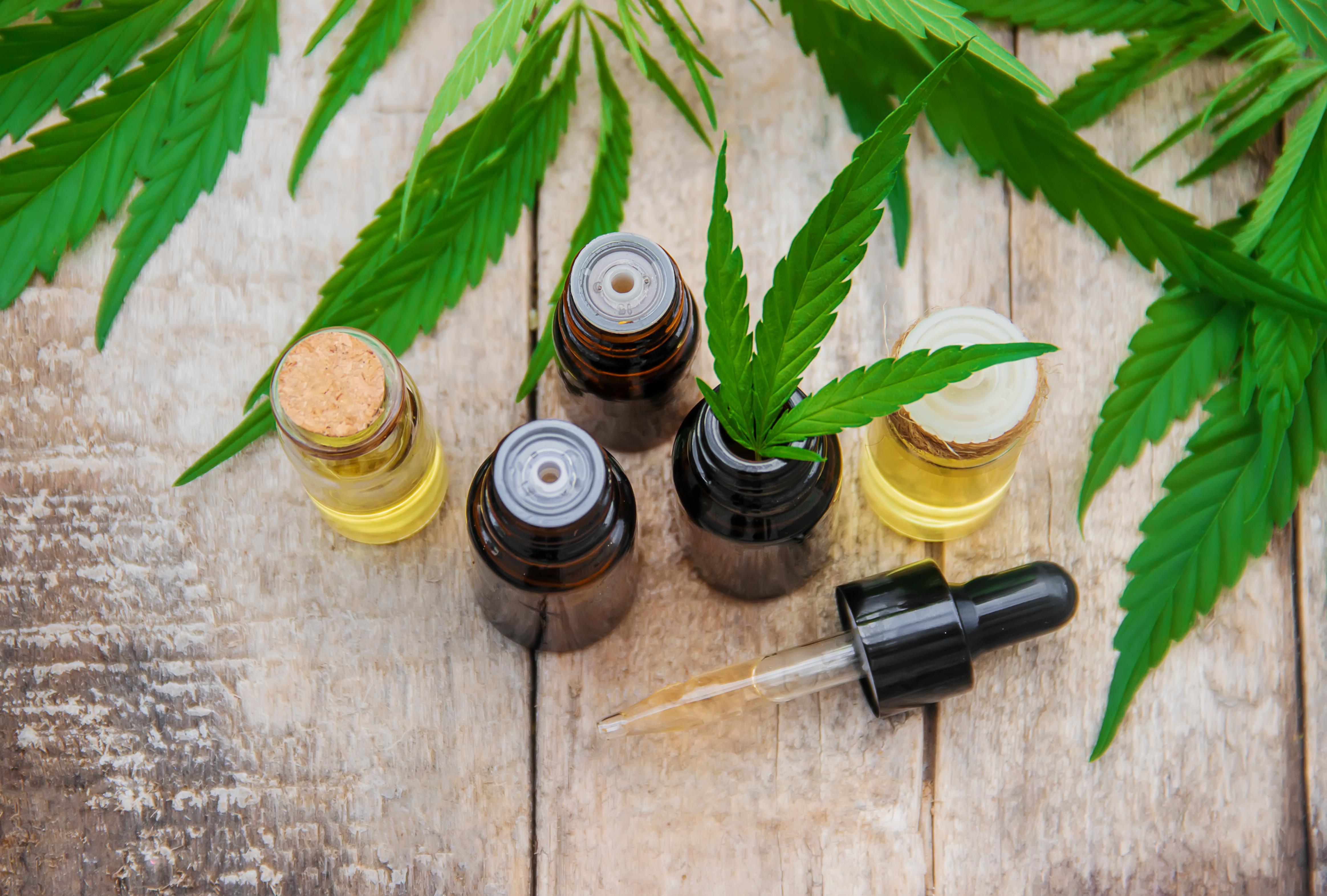 Medical cannabis (or marijuana) is a complementary and alternative therapy of high interest for the Parkinson's disease (PD) community. The Parkinson's Foundation believes that this topic should be better understood, and has committed to doing so with a medical marijuana convening and its published guidelines, new articles, interviewing experts on our podcast and most recently, conducting a survey to better understand cannabis use among the PD community.
In the U.S., cannabis has become more widely available for medical and recreational use. However, little is known about the attitudes towards, and experiences with, cannabis use among those living with PD. To address this shortcoming, the Parkinson's Foundation distributed a survey, Weeding Through the Haze: A Survey on Cannabis Use Among People Living with Parkinson's, Disease in the U.S., to 7,607 people with PD in January 2020 and analyzed the 1,064 complete responses we received.
"It is important to understand how people with Parkinson's disease are using cannabis, and whether they are basing their use on evidence-based recommendations or trial and error. This survey will help shed light on the community viewpoints and experiences surrounding cannabis use for Parkinson's disease symptoms," said Megan Feeney, MPH, Parkinson's Foundation Associate Director of Community Engagement and survey lead.
Medical Cannabis and Parkinson's
Managing Parkinson's is complex. As the neurodegenerative disease progresses, so do its symptoms for most. Many symptoms, especially non-motor symptoms, are not effectively addressed with current medications. Many people with Parkinson's have looked to medical cannabis to provide some relief. However, more research is needed to prove if and how PD symptoms are relieved when using cannabis, and if so, what type of cannabis and what dosage are most effective and safe for the consumer.
Nevertheless, there is an increasing interest in the use of medical cannabis. Currently, 47 of 50 states in the U.S. permit the sale or consumption of hemp-sourced cannabidiol (CBD) products with less than 0.3% tetrahydrocannabinol (THC), while 35 of 50 states have approved marijuana for medicinal purposes and 15 of 50 states permit recreational use of marijuana. Today, broad numbers of people with PD have access to cannabis.
Survey Results
The 1,064 survey respondents came from 49 states. The average age for respondents was 71, and the average time they have lived with Parkinson's is seven years. The survey asked specific questions about cannabis use ― from symptom management to motivation for use and side effects ― and questions for those who do not use cannabis and why.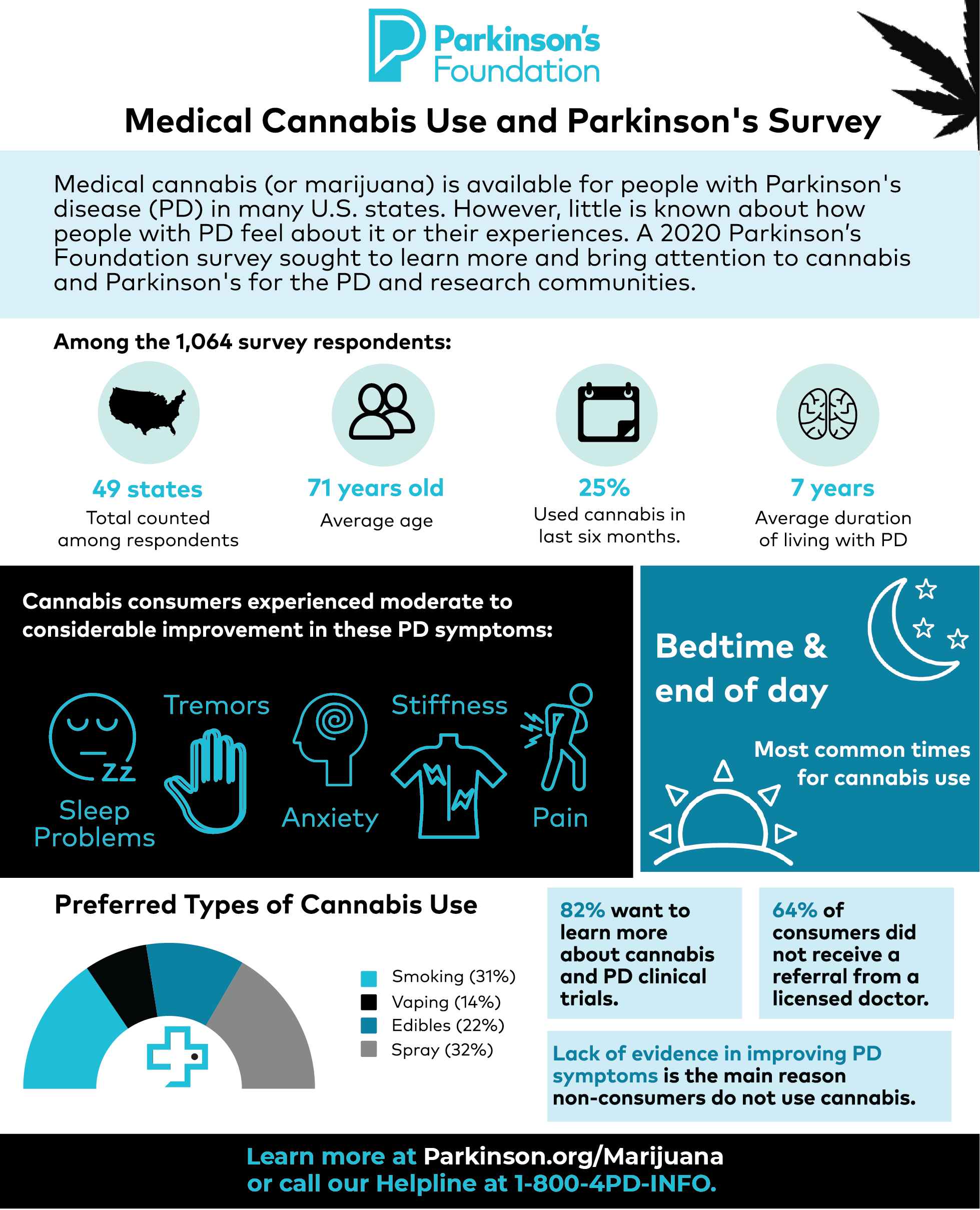 Experiences with Cannabis and Managing PD
Of the respondents who consumed cannabis:
25% used cannabis within the previous six months.
57% learned about cannabis use from the internet, friends or other people with PD.
64% had not received a cannabis recommendation from a licensed doctor or provider.
56% were not provided any information on how to use cannabis (such as dosage, type and frequency of use).
Most consumers reported their most common time of cannabis use is either in the evening or at bedtime.
Interestingly, 23% of consumers stated they stopped cannabis use in the previous six months, primarily due to a lack of symptom improvement. Of note, 76% of respondents did not use cannabis, primarily because there was a lack of scientific evidence supporting any benefits.
Experiences with Cannabis and Managing PD Symptoms
Among respondents, cannabis was used to treat motor and non-motor symptoms. When asked about associated symptom relief, most consumers reported that cannabis use led to a moderate or considerable improvement in the severity of anxiety, pain, sleep disorders, stiffness and tremor. Overall use and the level to which cannabis was reported to address motor and non-motor symptoms varied widely.
Negative Side Effects
Less than 13% of consumers reported negative side effects from cannabis use. We also asked non-consumers of cannabis if they had experienced any previous negative cannabis experience. Of these, about half reported negative side effects.
Combined, both groups listed their negative side effects as an increase in anxiety (30%), impaired coordination (20%), dizziness (20%) and "other reasons" (38%), which included sleepiness, confusion, worsening orthostatic hypotension.
PD Medication and Cannabis Consumption
Cannabis consumers rated non-motor prescription medications as less efficacious than non-consumers. Among all consumers, 85% reported that cannabis use had no impact on their prescription medication usage, and 89% said cannabis was not a replacement for their PD prescription medications.
Clinical Trials
Among all who responded, 82% were interested in learning more information about a clinical trial exploring the impact of cannabis on PD symptoms, and 62% were interested in enrolling in a clinical trial.
Key Takeaways
While better understanding cannabis experiences of people with PD, looking at the bigger picture, survey results show that:
A knowledge gap among people living with PD, which may be impacting their decisions about cannabis use, as a large portion of consumers reported not knowing the type, brand or dosage of cannabis they primarily use.
Among some consumers, reported cannabis use may have been beneficial for motor and non-motor PD symptoms including anxiety, pain, sleep disorders, stiffness and tremor. This is consistent with other research studies.
One in five survey respondents are current cannabis consumers.
Cannabis use did not have an impact on PD prescription medications.
Cannabis consumers see the limited effectiveness of cannabis for symptom management. Most consumers recognize that cannabis is not a substitute for their PD medications.
Learn More
Learn more about Parkinson's and medical cannabis in the below resources or by calling our free Helpline at 1-800-4PD-INFO (473-4636):
Learn more about Parkinson's and marijuana at Parkinson.org/Marijuana or by calling our Helpline at 1-800-4PD-INFO.