Advancing Research
Medical Cannabis Convening Findings: Top Takeaways and Guidance
Many people with Parkinson's disease (PD) have looked to medical cannabis (marijuana) to provide some relief to their range of non-motor and motor symptoms. However, little is known about the effects of medical cannabis for PD symptoms or their potential side effects and safety issues. To address this, the Parkinson's Foundation published a statement to help guide the PD community in making informed decisions about using cannabis for Parkinson's.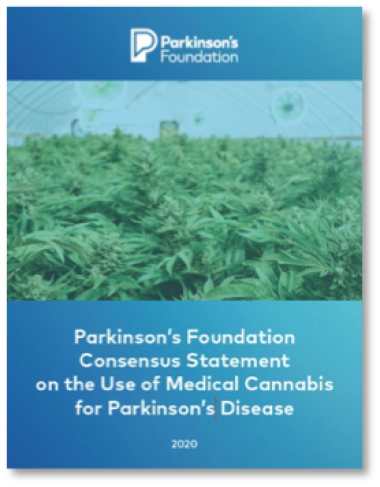 The statement is based on the input from experts who attended the Parkinson's Foundation first-ever medical marijuana convening in March 2019. These 46 experts included neurologists, scientists, a pharmacist, a PD nurse, non-profit organizations, people with Parkinson's and Foundation staff.
The primary goal of the statement is to provide guidance to people with Parkinson's and their physicians for the safe use of medical cannabis for PD. The secondary goal is to establish cannabis and PD topics that should be addressed through rigorous research studies.
Regardless of whether a medical cannabis product is approved for Parkinson's in the future, this statement will help to inform that it is used in the safest, most effective way possible.
Top Takeaways on the Use of Medical Cannabis for PD
Our experts urge caution. There are adverse effects, toxicity issues and drug to drug interactions, and we do not fully know what this means for people with PD who are taking PD medications.
 
We cannot endorse the use of medical cannabis for PD symptoms or disease progression because we need more data. However, because we realize that people with PD are interested in cannabis, we feel it is necessary to provide guidance for general safety as well as working with dispensaries.
 
We need better studies. Some studies have suggested cannabis may be beneficial for non-motor symptoms such as sleep disturbances, pain, anxiety and gastrointestinal issues. However, these studies are generally small and are not conducted the most reliable kind of research studies.
Guidance for Using Cannabis for Parkinson's
Without any clear data supporting the use of cannabinoid products in PD, while the Parkinson's Foundation does not endorse their use in PD, we recognize that people may decide to try cannabinoid products for certain symptoms. If you decide to try cannabinoid products:
What is CBD?
Cannabidiol (CBD) and hemp products (defined as having less than 0.3% tetrahydrocannabinol - THC) are legally available in all 50 states.
Discuss the use of cannabinoid products with your healthcare providers. These products may interact with other medications or cause side effects that could influence your PD care.
Treat cannabis products as you would any new medication. Always start at a low dose and go up slowly. CBD-only products may also be less likely to cause side effects and could be considered before trying products also containing THC.

For pain in one specific area, consider creams or patches to reduce general side effects.

Be cautious when ingesting edible products, as they can have delayed side effects and increased toxicity.
Consider staying with the same dispensary. Since cannabis products are not regulated, do not assume the "dose" on a label from one dispensary will have the same effects as one obtained from a different dispensary.
Be aware of potential side effects, particularly dizziness, problems with balance, worsening motivation, dry mouth and impaired thinking and memory.
Read our Consensus Statement on the Use of Medical Cannabis for Parkinson's Disease, which includes these sections:
Available Evidence for Using Medical Cannabis for Parkinson's

Drawbacks of Previous Study Findings
Possible Benefits of Cannabis
Potential Side Effects and Safety Issues
Areas of Interest for Future Researchers
Guidance for Using Cannabis for Parkinson's
Obtaining Medical Cannabis Through a Dispensary
Obtaining A Medical Marijuana License
Learn More
Learn more about Parkinson's and medical cannabis in the below resources or by calling our free Helpline at 1-800-4PD-INFO (473-4636):