Advancing Research
How an Innovative Research Center Studies the Gut–Brain Connection
"Parkinson's disease (PD) is not only happening in the brain," said Malú Tansey, PhD, Director of the Center for Translational Research in Neurodegenerative Disease at the University of Florida (UF), a Parkinson's Foundation Center of Excellence. "It's a multisystem disease with many non-motor symptoms that manifest in the gastrointestinal system."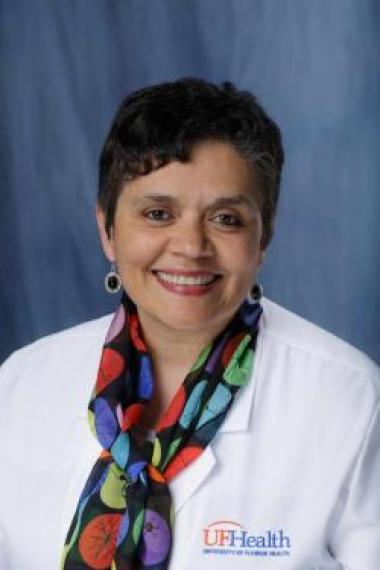 UF in collaboration with Emory University is a newly designated Parkinson's Foundation Research Center — a medical or academic institution that receives Foundation funding to strengthen its PD research efforts. UF will receive $2 million to conduct three unique, PD-specific studies led by Dr. Tansey, an endowed chair of the Norman Fixel Institute for Neurological Diseases at UF Health, that seek to establish key connections between the gut and Parkinson's:
Study 1: Connecting Gut Bacteria to PD
Researchers suspect that alpha-synuclein (a key protein involved in the development of PD) levels change depending on the microbes and pathogens present in the gut. This study in collaboration with Emory School of Medicine led by Tim Sampson, PhD, will seek to find if this connection is a two-way street by assessing protein changes in the microbiome (the body's storage of bacteria) and how it responds to inflammation in the gut. In short, can balancing your gut bacteria with a probiotic or diet help control alpha-synuclein levels and how the protein travels from the gut to the brain?
Study 2: What Is a PD Genetic Mutation Doing in the Gut?
LRRK2 is a common gene mutation linked to Parkinson's. This study will help us understand the role LRRK2 plays in the gut-brain highway. In order to find out, researchers will use mouse models that have LRRK2 mutations to track if these mutations change the gut and how they affect the brain. Then, they will put the gut microbiota from the PD models in healthy mice to see how the gut is triggered. From there, researchers can figure out which parts of the system bring proteins to pathology (the potential effect and cause of a disease).
Study 3: Creating a PD-Colitis Molecular Signature
This study will cross-reference those with the inflammation of the gut (such as irritable bowel syndrome) and those living with Parkinson's. Through analyzing samples of 120 participants, researchers seek to find relationships between inflammatory molecular signatures in the gut and Parkinson's progression.
Interestingly, should a person with Parkinson's know they have the LRRK2 genetic mutation, through the Parkinson's Foundation genetic initiative for instance, they would be able to sign up for a study like this.
"Receiving Research Center funding is a way for me to say that the Parkinson's Foundation believes in providing us the opportunity to become a truly interdisciplinary multi-center and reach out to experts in the GI, neurology, gut-immunobiology and immunology fields to help us understand the mechanisms of Parkinson's in order to better develop new treatments," Dr. Tansey said.
Research gives Dr. Tansey hope. "What is most exciting for me is that by understanding the gut-brain connection and how we can alter the microbiome through things that are in your control — from probiotics, diet, exercise or lifestyle — we may one day be able to delay the onset of Parkinson's," Dr. Tansey said.
This article was featured in our spring 2020 Parkinson Report.