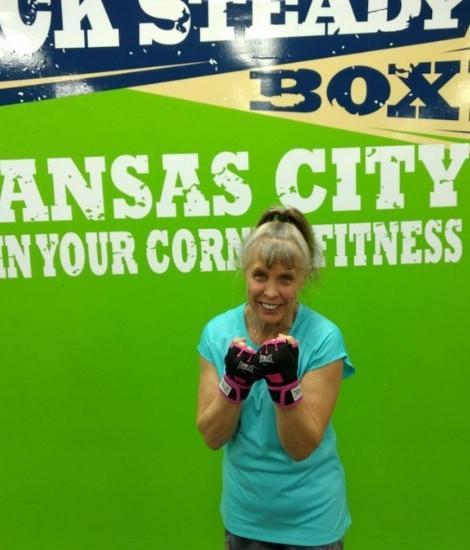 People with PD
Roberta Crooks
Roberta Crooks' hands were shaking so badly she could barely use the keyboard while at her job as a business analyst one summer day in 2011. Her doctor quickly referred her to a neurologist who diagnosed her with Parkinson's disease (PD). Roberta lives in a small, rural Kansas town with a population of 2,000 people, but the passion and perseverance she shows when serving the Parkinson's community is anything but small. 
Roberta's neurologist referred her to the nearest Parkinson's Foundation Center of Excellence at the University of Kansas Medical Center. From there, she continued to educate herself on the benefits of exercise and knew that movement was going to be an important part of her toolkit to fight PD.  
She continued to work out, but with no specific Parkinson's focus. She happened to see a local news program on Rock Steady Boxing in the Kansas City area and decided to try it. The class was nearly 40 miles from home, but worth the drive. On day one she found camaraderie with others in the Parkinson's community. Class by class they would gradually open up and share stories about their disease, treatment and coping strategies. Roberta had no experience with support groups but suddenly knew she needed to start one in her own community. 
Roberta launched a support group in January 2018, targeting a four-county area, through a true grassroots awareness effort of posting flyers in libraries, senior communities, doctors' offices and post offices. The local library offered a monthly meeting space and some members to assist with planning. 
Roberta is passionate about securing speakers on relevant topics to ensure her community has the knowledge and resources they need. The Wellsville KS Parkinson's Support Group continues to grow, drawing from this rural community with significant interest in learning how to live a better life with Parkinson's.
In addition to providing a support group facilitator guide and educational resources, the Parkinson's Foundation Heartland Chapter also recently presented to the group. "In the Parkinson's Foundation support group guide I read that some support groups will vary their program and instead meet for coffee or to exercise. That gave me the original idea to get our group exercising together weekly," Roberta said.   
With the seed planted, Roberta embarked on an effort to help her fellow support group members find feasible options for Parkinson's friendly exercises, in a nearby area for those who can't travel long distances. Roberta reached out to local recreation centers and secured a community facility for members of her group to work on their balance and mobility through exercise. She also connected with the local community college to engage the occupational therapy instructor and students to help support exercise classes this summer.
Roberta's primary goal is to establish regular exercise classes for her local PD community and ensure that the classes are sustained past the day she no longer helps lead them, but she doesn't see that day happening soon. Her resourcefulness and commitment to her Parkinson's community is truly an inspiration.
Interested in starting a support group in your community?
Start with our Support Group Guide
More Stories
from the Parkinson's community