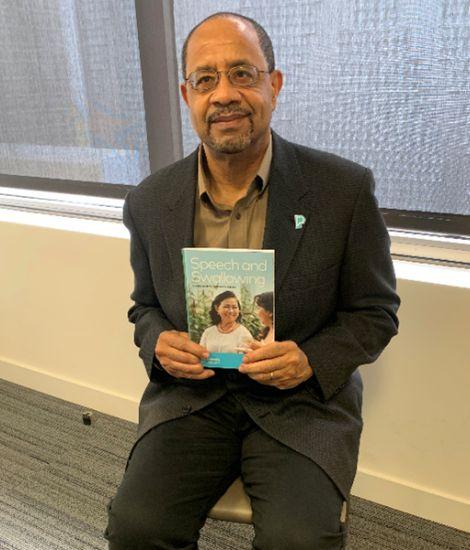 Meet Phil Gee – a retired executive residing in Hilton Head, SC. He was diagnosed with Parkinson's disease (PD) in 2015. Today, Phil is an active member of our People with Parkinson's Advisory Council, with his local Rock Steady Boxing program and as a volunteer for his local Moving Day walk. We asked Phil about his involvement within the Parkinson's community and his motivation to reach under-served communities.
What inspired you to engage with the Parkinson's community after being diagnosed?
I was initially diagnosed with PD in 2015 at age 57. Since that time, I have had a strong desire to increase my knowledge of the disease through internet searches, the Parkinson's Foundation, Michael J. Fox Foundation, PD symposiums and Moving Day events. I believe that there are a significant number of people who have PD, yet they are undiagnosed or misdiagnosed. A core driver to my engagement with the Parkinson's community was to help facilitate advancements in education, treatment and active engagement to the under-served communities. 
How do you think your work impacts Black/African American people with PD? 
As an African American with PD, I am keenly aware that African American women and men with PD symptoms are less likely to be seen by a neurologist or movement disorder specialist. As such, my involvement with the Parkinson's Foundation has focused on key opportunities such as: 1) increasing the education and knowledge level of under-represented populations relating to PD symptoms, available resources and clinical trials; and 2) increasing the awareness of early PD symptoms within the medical community toward more comprehensive early-stage diagnosis and better informed treatment planning.
How important is representation in the healthcare community?
Recently, I have had the opportunity to serve on the Foundation's People with Parkinson's Council Diversity, Equity and Inclusion team. During this process the team has networked with members of several diverse communities (Hispanic, Korean, Chinese, Rural, and African American). One of the common themes during these interactions has been that unique communities generally go to medical providers within their unique community for medical services. As such, a higher representation of African American neurologists and movement disorder specialists within the healthcare community is essential towards achieving an increased level of comprehensive early-stage diagnosis, treatment planning and clinical trial participation.
Advice for those interested in getting more involved?
There are a number of opportunities available for people with Parkinson's disease and their care partners to get involved. Some of these opportunities include attending PD symposiums, webinars and support group meetings, joining an exercise class for people with PD or participating in a clinical trial. Just go to the Parkinson's Foundation website and see what they have to offer.
Advice for those recently diagnosed and/or beginning to notice symptoms?
The greatest advice that I can give to a person who has been recently diagnosed and/or beginning to notice symptoms is to schedule an appointment with a movement disorder specialist. Find someone that they can talk to, whether it's another person with Parkinson's disease, family member or friend – just don't become isolated. 
To find a specialist in your community, call our free Helpline at 1-800-4PD-INFO (473-4636).
More Stories
from the Parkinson's community