Researchers
Dr. Natasha Fothergill-Misbah
My journey into researching Parkinson's disease (PD) started in 2015 when I travelled to Tanzania to understand what life was like for people living with PD with almost no access to medication or support. This project was part of my Master of Science degree in Global Health (MSc) and the experience that kick-started my passion to pursue a doctorate where I could contribute more to the limited research on PD in Africa.
My PhD took me to Kenya, a lower-middle income country on the East coast of Africa, which happened to also be the place I call 'home.' Growing up in Kenya opened my eyes to the difficulties so many people face in terms of poverty and poor access to affordable healthcare. Since leaving Kenya for my later school years and then University in England, I always wanted to return and make a difference.
My PhD explored the lived experiences of people with PD, and their families, in Kenya. I wanted to understand what challenges people with PD had from obtaining a diagnosis, managing their condition, through to the end of life; the complete journey of PD in Kenya. This experience involved many happy memories, but also so much sadness as I witnessed physical and emotional suffering. So many of the people with PD I met could not afford medication and spent months un-medicated, many had not even been told they had PD, nor did they know how to manage their symptoms.
While in Kenya, I came across the Parkinson's Support Group in Nairobi, a group of 20-40 people that met once a month in a church classroom. The group was established by people who wanted to meet others with PD and provided information, education, social support and resources to anyone who needed them.
I became involved with meetings, joined their WhatsApp group and even replicated the work they were doing in my hometown, Mombasa. Kenya now has two active support groups. I also became very involved with Africa Parkinson's Disease Foundation, a Non-governmental organization (NGO) based in Kenya established by Hellen Mwithiga, which supports people with PD, their families and caregivers.
Hellen offered me the opportunity to attend the Leadership Forum of the World Parkinson's Congress in Kyoto in 2019 to talk about the situation of PD in Africa. This is where I had the opportunity to meet so many wonderful people and organizations working to help people with PD, including the Parkinson's Foundation. The team was kind enough to donate a bag of wristbands for the groups in Kenya. The Parkinson's Foundation has been very supportive and allowed me to use their resources to develop educational material in Kiswahili, Kenya's main language. I have continued to work with the World Parkinson's Coalition's working groups, specifically to build global relations with PD and make information resources available to people with PD globally.
I have had the opportunity to travel to several international PD conferences to present my research. Yet, at every conference I note the scarcity of research from Africa, or much of the 'developing world.' This is something I want to help change. In 2019, I was invited by the Movement Disorders Society to teach on a training course for physicians and allied health professionals in Tanzania. I have also been invited by the World Health Organization to attend and contribute to a PD consultation workshop to address global policy, implementation considerations and the research agenda for PD. I am constantly looking to build networks and connections with researchers globally to think of new ways and ideas to help people with PD in Africa.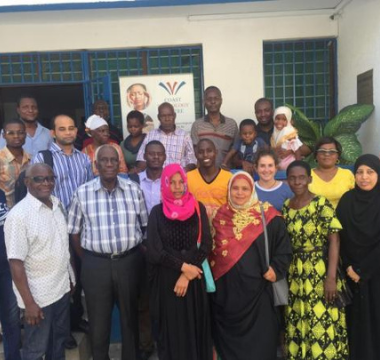 I have tried to be as involved as I can with the Parkinson's patient community too. I have joined the PD Avengers and I am involved with two working groups, one aimed at improving patient involvement in research, and another looking at wellbeing and global equity.
More recently, I have been involved with the non-profit organization Parkinson's Africa, founded by Omotola Thomas to connect Africans impacted by PD to the information, education, support and resources they need. Importantly, Parkinson's Africa wants to overcome the stigma often associated with PD and change public perception towards people with PD.
Although I am not directly affected by PD, my research experience and my interactions with people with PD from all over the world have made me want to help in any way I can. The PD community is wonderful and my advice to anyone newly diagnosed would be to get involved and learn as much as you can. There are so many inspirational people out there.
Join PD Conversations to connect with others living with Parkinson's from around the world
More Stories
from the Parkinson's community