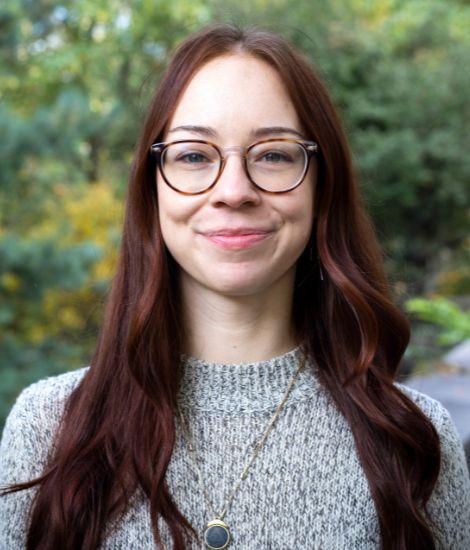 Researchers
Meghan Bucher, PhD
Targeting A Protein Involved in Dopamine Regulation Could Improve Effectiveness of Levodopa
Meghan Bucher, PhD, of Columbia University Medical Center, a Parkinson's Foundation Center of Excellence, received a Parkinson's Foundation Postdoctoral Fellowship for Basic Scientists to identify compounds that treat the movement symptoms of Parkinson's disease (PD), either alone or in combination with levodopa. The goal is to improve the effectiveness of PD treatment.
There is no cure for Parkinson's disease or treatment that slows the progression of the disease. PD treatments are tailored to every person's individual symptoms. Treatment options can be a combination of physical therapy, exercise, medication and others. Levodopa is the go-to PD medication that treats movement symptoms, but may become less effective over time. As a result, new approaches to treat Parkinson's disease are desperately needed.
The brain chemical dopamine is responsible for smooth, controlled movements. When the brain cells that produce dopamine die at a fast pace, the movement symptoms of Parkinson's begin to occur — including rigidity and balance issues. A protein called synaptic vesicle glycoprotein 2C (SV2C) helps the brain regulate dopamine transmission. Its expression is enriched in the areas of the brain affected by PD.
In previous studies, SV2C has been identified as a risk factor for developing PD. It has also been found to affect how people with Parkinson's respond to symptom relief from levodopa.
"My goal is to develop and screen novel compounds that will target SV2C activity," said Dr. Bucher. "This research will determine their benefits in treating people with Parkinson's."
Dr. Bucher will investigate whether SV2C is a target for treatment that could alleviate movement symptoms and halt or slow disease progression. She will also evaluate whether a treatment targeting the protein could improve the effectiveness of levodopa when it comes to minimizing PD symptoms.
She has developed a lab test to evaluate compounds that could regulate SV2C activity. She will then use several Parkinson's models to evaluate the compounds' effect on dopamine transmission.
Of her Parkinson's Foundation grant award, Dr. Bucher said, "The support of the Parkinson's Foundation will facilitate my transition into an independent investigator. It will allow me to continue my intellectual pursuit researching both the causes of and treatments for Parkinson's disease."
Meet more Parkinson's researchers! Explore our My PD Stories featuring PD researchers.
More Stories
from the Parkinson's community