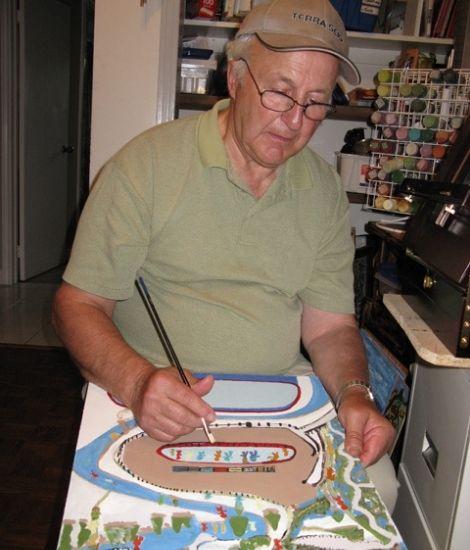 People with PD
Leo Robichaud
Leo Narcisse Robichaud was born in St. Charles, New Brunswick. For twenty-two years he worked for BASF selling paint throughout Atlantic Canada and when that company restructured and moved its operations, he drove school bus until his retirement. "I loved to see the children get on the bus, they were always so happy and carefree." In fact you see a bus in many of his paintings.
Now Leo deals with the effect of Parkinson's. That doesn't stop him from doing his folk art. It may slow him down but that just makes him more determined. On Friday the 3rd of July 2009 he opened his largest exhibit yet at the Moncton Library. The month long display is a wonderful opportunity to expose his work to the public. "I was so pleased with the number of people who showed up the first day."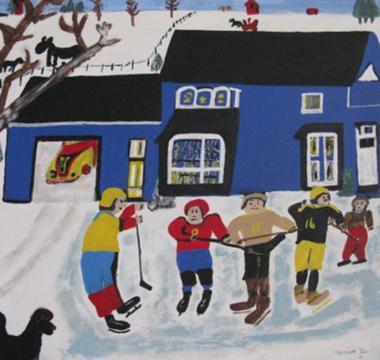 He is an amazing man and is truly blessed to have found art as a way of expression. His wife Marie-Mai is incredibly supportive and the light that guides him through the fog of Parkinson's. As we toured their gardens she was always smiling and laughing, she is such a joy to be around. They have two children, Rachel and Andre, as well as two grandchildren.
 
Leo began painting about six years ago around the same time he was diagnosed with PD. His first creation was a log cabin. He liked doing folk art and he hasn't looked back. "I usually begin my paintings with the ocean and then imagine I am looking down from above". Asked what effect his art work had on PD he replied, "When I paint I can block everything out and focus on what I am creating at that moment, its good therapy."
One of Leo's paintings is featured on the second edition of note cards recently released by the Greater Moncton Parkinson's Support Group.  A sample of his work is also on display at Moncton City Hall.
View his exhibit opening on YouTube.
© Copyright Protection
Please note that the copyright for these pieces belongs to the people who created them. They may not be reproduced without their permission. If you would like to reproduce a piece, please contact the Parkinson's Foundation and we will forward your request to the creator of the piece.
Submitted by Bill Trewin, Moncton, New Brunswick
More Stories
from the Parkinson's community