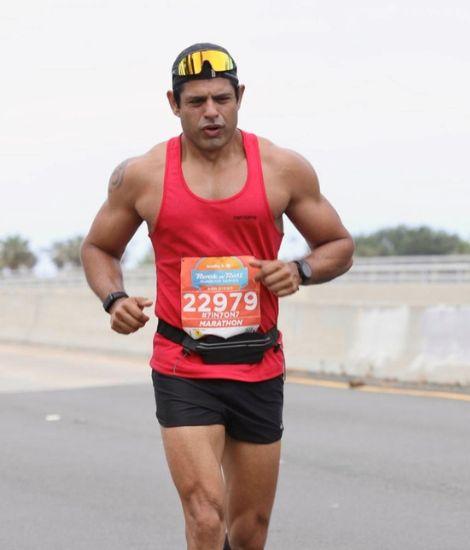 Rajit Rai is a veteran who served at the highest levels in the Special Operations Community in the Indian Armed Forces for nearly 23 years. In his younger days he was an athlete, adventurer and avid mountaineer. Throughout his life, especially when it comes to learning how to live with his Parkinson's disease (PD) diagnosis, he follows the philosophy, "Voluntarily do hard things and embrace the suck."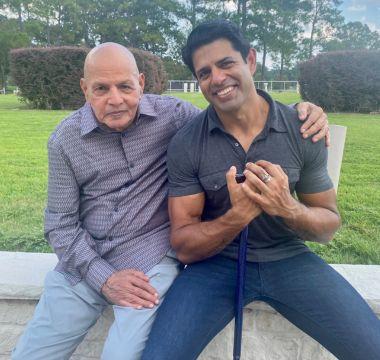 Inspired by Rajit, his son Karan Rai lives by the same philosophy and recently took on a monumental challenge in honor of his father. Karan recently completed seven marathons on seven continents in seven days to raise money for the Parkinson's Foundation in order to help the 10 million people worldwide who live with this disease. 
"To see my dad go from being this really active adventurer, explorer, outdoorsman to some days where he just needs help going to the bathroom, it's just been tough to watch, It's been tough on him," Karan said.
One of the lessons my dad taught me early on is you're meant to test your limits and if you're going to do that, find a cause that's near and dear to your heart and raise awareness and money for it.
When he came across the World Marathon Challenge, it was so far out of his comfort zone as an athlete he just had to do it. "In part, this was to test myself and my boundaries mentally and physically. More importantly, it is to raise awareness and funds for Parkinson's Foundation and to honor my dad who has been living with this condition for the past six years."
He started out slowly but eventually trained until he was running 60 to 100 miles a week — up to 15 hours a week. One week before the start of the challenge, Karan tore a ligament in his right knee. He was so committed to his goal he decided to continue with the plan. He wanted to see what he could get done, for himself and his father. 
On January 31, 2023, Karan flew to Antarctica to compete in his first race. From there he traveled and ran a marathon in Cape Town, Perth, Dubai, Madrid, Brazil, and finally Miami. His father cheered him on from home every step of the way and made the journey to Miami to cheer him on in person. 
Karan completed the World Marathon Challenge and raised more than $80,000 for the Parkinson's Foundation. "There was this sense of relief more than anything else, but also a sense of accomplishment, just kind of gutting it and getting it done." 
His amazing accomplishment puts him among just 200 people in the world who have completed this challenge, and while doing so, he helped spread Parkinson's awareness as he shared his journey. He even appeared on several news stations in Denver, CO, where he currently lives with his family. 
Karan's final task was to present all seven finisher medals to his hero and inspiration, his father, Rajit. It was a special moment and the culmination of all his hard work that meant the world to him. 
The funds Karan raised through World Marathon Challenge as a Parkinson's Champion help the Parkinson's Foundation advance research that can lead us to a cure, and help people live a better life with Parkinson's.   
Karan Rai received the Parkinson's Foundation National Top Fundraiser Award in 2023. Meet our top volunteers and explore ways to get involved today.
More Stories
from the Parkinson's community