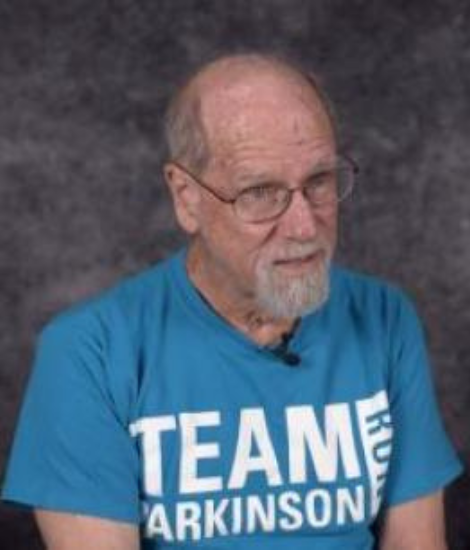 Yes, I'm a veteran ― in more ways than one. I served as an officer in the U.S. Navy from 1966 to 1971. I spent my Navy career flying airplanes, including 18 months in Southeast Asia. My most important job was flying medivac missions in the Philippines and in and out of the war zone. It was an intense time for America, both at home and abroad. I must admit, I was happy to return to civilian life and enter graduate school.
It was in graduate school that I first noticed changes in my gait and my balance. My left foot began to drag as I walked, and occasionally my toes would cramp so hard that I'd have to stop and take off my shoe. The symptoms worsened very gradually, so gradually that I didn't bother seeing the doctor about them for a couple of years. When it got so bad that I could no longer walk more than a few yards without the cramp in my left foot, I started seeing doctors — lots of them. 
For 12 years I shuttled from one specialist to another, trying to pin down my problem, but none of them ever suggested Parkinson's disease (PD). When I suggested the possibility, they said I wasn't old enough for Parkinson's (the term young-onset PD had yet to be invented). In 1983, at the age of 39, I was finally diagnosed with Parkinsonism.
In many ways it was a relief to have a name for my condition. At least I was no longer facing the unknown. How wrong that notion turned out to be! It soon became clear that there was very little known about Parkinson's or its 'isms' despite it being identified for almost 200 years.
You could say that my PD arrived at a good time, because the patient community was no longer waiting patiently for better treatments or a cure. As I began studying the condition and working out my own strategy for dealing with all its ramifications, I noticed that there was a growing resolve among patients and their families to prod the medical community and the government-supported NIH researchers to increase their study of the disease and work toward finding a cure. I became a patient advocate and I became aware of the huge need for awareness and funding for PD research. 
In 1998, I attended a Parkinson's Action Network conference in Washington, D.C., including celebrities like Muhammad Ali and Michael J. Fox, urging Congress to appropriate more funding for research in Parkinson's. I also noticed that there was a surprisingly high number of veterans in the advocacy group. They were convinced there was a connection between exposure to Agent Orange and PD. It turned out that some of the best on-going research in PD was being conducted under the guidance of the U.S. Army.   
In 2011, as a result of the Veterans' advocacy efforts, Parkinson's disease was finally recognized as a covered condition of service in Vietnam and exposure to Agent Orange. Since then, I have received my care and treatment for PD at the West LA VA Medical Center. The VA (PADRECC) continues to do a great job for me and many other Veterans.
The last 20 years has seen a major shift in the treatment of PD and the understanding of the role exercise plays in neuroplasticity. When I was first diagnosed the doctor said, "Go home and find a comfortable chair."  No one would say that now.
My personal strategy for dealing with PD has always been to outrun it. I began running almost immediately after my diagnosis, and by the time I reached 40, I knew that running gave me the strength to better manage my PD symptoms. In my 40s, I ran 5k and 10K races regularly and once every year I ran a ½ marathon as a check on my PD progression. I was fortunate that my favorite sport turned out to be the best thing I could do to control my Parkinson's.
At 51, I decided to run my first marathon. It changed my life and inspired a friend with PD to do the same. Mary Yost decided that if I could do it, so could she; so, together with some friends, we formed Team Parkinson. In 1999, we became an official charity of the Los Angeles Marathon, and began using the marathon as tool to help PD patients and their families to raise awareness, fund research and improve their quality of life through exercise. Since our first effort in 2000, Team Parkinson has contributed more than $3 million dollars to Parkinson's research.
Now, I can say I'm a Veteran, not only of the Vietnam War, but also a Veteran of the war on Parkinson's, and a Veteran marathon runner as well.
The VA Parkinson's Disease Research Education & Clinical Centers (PADRECCs) are Centers of excellence designed to serve Veterans affected by Parkinson's through state-of-the-art clinical care, research, education and national outreach and advocacy. Learn more at  www.parkinsons.va.gov
The Parkinson's Foundation honors those who have served and continue to serve our country. If you are a veteran with Parkinson's or care for one, read our new resources: Veterans and Parkinson's Disease  and Veterans Benefits.
More Stories
from the Parkinson's community