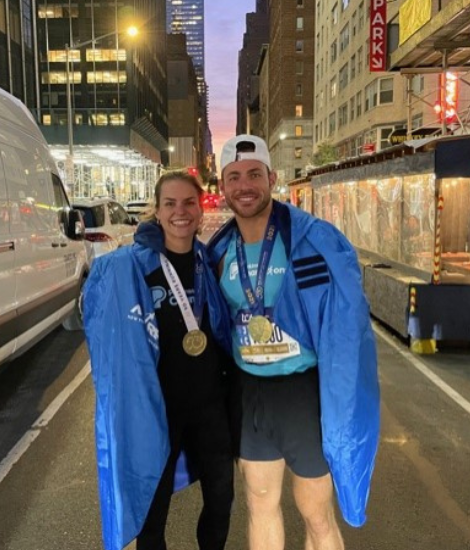 Family Members
Jamie and Wendy Harrison
Brother and-sister duo Jamie and Wendy Harrison refuse to allow Parkinson's disease (PD) to define their family or their future. Instead, they have chosen to employ hope and action in the fight to end PD.
The siblings ran the 2021 TCS NYC Marathon as Parkinson's Champions to raise awareness about Parkinson's and highlight the journeys of their family members with PD. Together, they raised $70,000 for the Parkinson's Foundation on marathon day.
"Every step taken, and every dollar raised ensures we are that much closer to finding a cure for Parkinson's," said Wendy.
Jamie and Wendy's dedication to eradicating PD stems from significant connection to the cause: two generations of their family have been impacted by Parkinson's. Their mom, Judy Harrison, lives with PD. Late grandfather, Dr. Charlie "Chick" Harrison, whose impressive medical career included serving as team physician for the Atlanta Falcons, lived with Parkinson's and passed away just a few months after the marathon. Judy's late parents, Jim and Janet Pangburn, also bravely battled PD.
However, the roots of advocacy and philanthropy run equally deep in their family. The entire Harrison family has rallied to support the Foundation's mission of making life better for people with Parkinson's. Ponder Harrison (Jamie and Wendy's father) has served as a member of the Parkinson's Foundation Board of Directors since 2019.
The marathon represented a significant accomplishment for Jamie and Wendy: it was their first marathon.
"When I informed my mom and grandad that I planned on running the NYC Marathon in honor of them and to raise awareness for the Parkinson's Foundation, they could not have been more humbled and appreciative," said Jamie. "While neither of them were marathon runners, they fully understood and appreciated just how much time, preparation, and sacrifice goes into successfully completing such a race. They were proud that we would take on such a massive and daunting challenge not only in honor of them, but in an effort to beat and end a disease that affects so many people."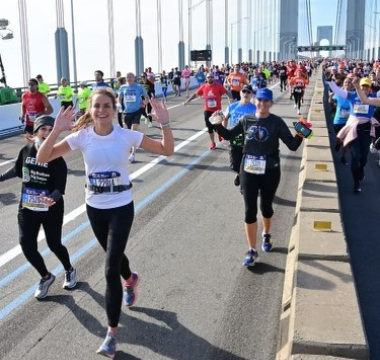 Wendy recounted her favorite marathon moment: "Seeing my mom at mile 17 was such a special moment. I even ran to the fence to give her kiss on the cheek. She's my best friend, the strongest person I have ever known, and has always been my biggest cheerleader."
Jamie and Wendy previously joined forces with their father to plan the Power Over Parkinson's Atlanta Gala. The gala, which honored Dr. Harrison and Judy Harrison, raised $1.4 million for the Parkinson's Foundation.
In turn, with funds raised from the gala, the Parkinson's Foundation provided a grant to the Piedmont Atlanta Neurosciences Fund in honor of Dr. Harrison and Judy. Of this grant, Ponder Harrison said "My family is thrilled to have partnered with the Parkinson's Foundation to provide this grant to Piedmont Hospital and further support people with Parkinson's in Georgia. Knowing that this gift will advance an institution where my father spent his career helping others means so much."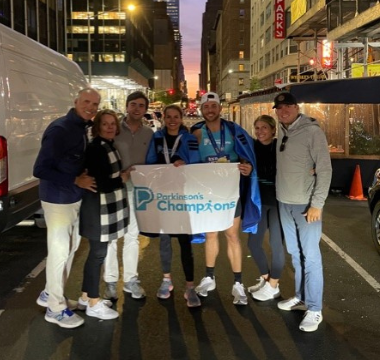 Jamie and Wendy feel strongly about investing in research toward a cure. "Growing up as a child and witnessing grandparents battle PD, I can tell you firsthand that the advancements made in medicine to combat this disease have been nothing short of extraordinary and monumental," said Jamie. "Some of the brightest minds on earth are working around the clock to continue this progress and ultimately find a cure, which is why running as a Parkinson's Champion and continuing to raise awareness is so very important."
Jamie offered the following advice to the children and grandchildren who are helping their loved ones navigate PD: "In the famous words of my mom — 'Parkinson's is not what's going to define me, I am going to define it by how I live with, battle, and beat it' — do not dwell on symptoms and allow yourself to be instilled with a sense of fear around PD. Rather, celebrate all the memories you can make, things you can do, and time you can spend with loved ones despite them having PD. Further, know just how close we are to finding a cure."
More Stories
from the Parkinson's community