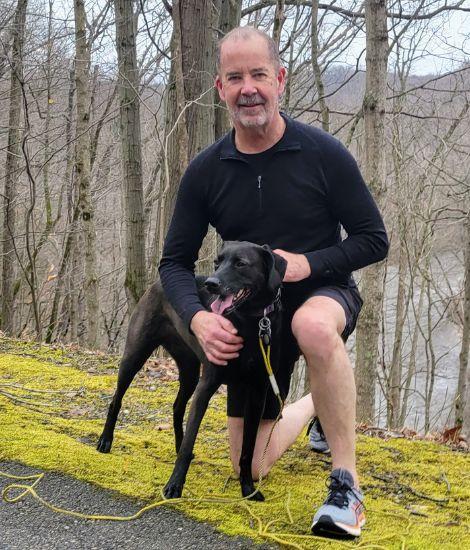 Engagement is my key to wellness with PD.
Getting a Parkinson's disease (PD) diagnosis is a sobering moment, but fear and backing away from what worries us never works in the long run. What's sobering, or frightening even, is the uncertainty about what it means to have a progressive, incurable movement disorder. Will I be unable to run? Shuffling along soon? Unable to drive? Mute? When does all this start happening?
Answers to those questions still linger, but after a few deep breaths it became clear that these worries were not going to be faced, say, next week. The most immediate challenge was to convert all this external tremor and internal commotion into some kind of new normal so that I could get on with the business of living well. My key to moving forward has been engagement.
Engaging with friends
Letting friends in on this new development in life has been a source of support moving forward. The support of friends and family provokes the experience of being known for who you are, which for me includes my private experience of the irritating tremor or the latest non-movement symptom. Being open about my Parkinson's diagnosis has required transparency with friends in order to be known and move forward living well.
Engaging with the care team and the PD community
I live in Grand Rapids, Michigan, where I have access to Corewell Health's Parkinson's multidisciplinary team, a program that the Parkinson's Foundation has designated one of the first Comprehensive Care Centers in the U.S. I feel lucky. This Care Center has served as a gateway to new friends and other communities formed by people with Parkinson's. The care team invited me to join the PD advisory council to help grow and improve the multidisciplinary program and urged me to help facilitate discussion in our monthly educational meetups.
Engaging with the research community
After these few deep breaths, I decided to participate in a clinical trial. As a participant in a year-long trial, I learned about Brain Storms by John Palfreman, an excellent history of PD research. I also learned about the Grand Challenges Annual Meeting at the Van Andel Institute. There, I met medical professionals, graduate students, clinicians and others doing research on Parkinson's, as well as staff from Cure Parkinson's in London. These relationships have been a source of inspiration.
I was engaged with a local trail running community for more than a decade prior to my diagnosis in late 2021. Weeks after my diagnosis, I connected with one of the Davis Phinney ambassadors who urged me to start weightlifting to add to my routine as a trail runner. At the gym, I have met a few others with Parkinson's and made new friends without PD who are lifting and moving like me: to improve their quality of life. My trail running now includes my neighbor's dog Khloe, one of my best friends and supporters.
Engage with the Parkinson's Foundation to live well with PD. Find expert care and local resources in your area.
More Stories
from the Parkinson's community