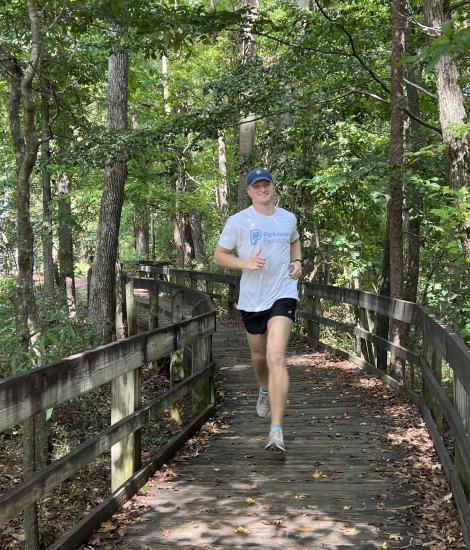 Family Members
Christian Spence
In 2019, my dad, Mark Spence, told us news that no amount of preparedness could brace for — he had a neurodegenerative disease by the name of Parkinson's. This was a bittersweet moment — finally, we had an answer. Unfortunately, that answer was the beginning of an unceasing fight. A lifelong commitment to which my father had no choice except to partake in.
Seventeen at the time, I didn't see the gravity of the situation. What I did see, however, was an absence of fear in my parents' resolve. Uncertainty? Sure. Confusion? Certainly. Fear? Hopelessness? Absolutely not.
In the years that have followed, my parents have made sacrifices, changed their life plans, and been through an uncertain valley that is hard to imagine. Yet, they never changed their resolve. Certainly, sacrifices were nothing new — they did raise my sisters and me after all.
Challenges and obstacles were not a phenomenon unique to this new era of their lives. They are both incredibly hard workers who know the meaning of persistence. Regardless, their strength through it all became a beacon for my adolescent self. Twenty-one years old now, I have decided it's my turn to be strong for my dad.
For years, I wanted to make a difference in Parkinson's research and awareness, but simply could not think of how to go about that. On August 11, however, I was struck with an idea. While driving home from Athens, GA, I had been mulling over training for an endurance event, alongside my studies, when it hit me — why not combine my love for endurance events with my desire to help the PD community?
Honestly, this was a convicting moment. I knew I had a valid idea, but the process would inevitably require putting immense pressure on myself — to complete such a challenging event with so many eyes on me was terrifying. It was at this moment, however, that the strength of my parents was exactly the beacon I needed it to be. I can do it. I must do it.
The next day, I emailed the Parkinson's Foundation about my idea. Not only did the Foundation support my idea, but they could also not have been more helpful in connecting me to the right people, answering all my questions, and helping me lay the groundwork for what the fundraiser has become. Throughout the past few months, I have made wonderful connections with amazing people within the PD community, and I am so excited to continue pushing forward as a Parkinson's Champion.
Parkinson's Champions raise funds and awareness for the Parkinson's Foundation while competing in some of the more prestigious endurance events. Are you ready to #Run4PD? Explore upcoming Champions events.
More Stories
from the Parkinson's community