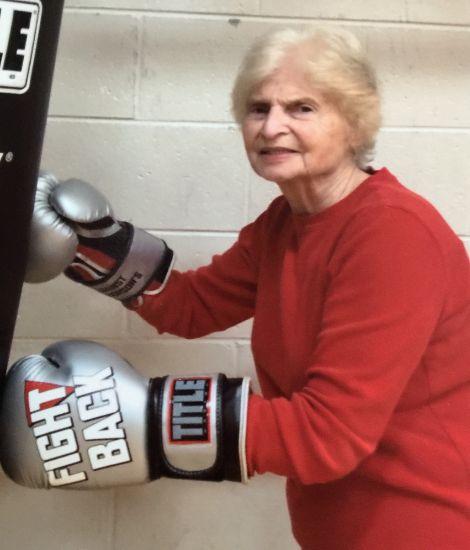 People with PD
Barbara Traynor
I was diagnosed with Parkinson's disease (PD) in 2014, at age 75. I am ashamed to say that upon receiving my diagnosis, I yelled at the doctor, "I'm not going to change my lifestyle!" He tilted back in his chair. "You don't have to," was his quiet reply. So, this independent, stubborn woman began her journey with PD. What to do?
I ran away! In 2005, I was living a unique retirement lifestyle, volunteering at organizations in the United States that offered free room and board. I had promised to go to the Menaul School in Albuquerque, New Mexico, for a semester. Getting diagnosed with Parkinson's brought on an entirely new set of questions: Do I stay or go? Should I share my diagnosis with anyone? How am I going to tell my children? I could not say the word "Parkinson's" without crying.
Now, 9 years into this degenerative disease, I fight back. I have grown past denial, anger and crying, and I have sprung into advocacy. I search for ways to promote awareness for Parkinson's and to inform the world about the realities of the disease. I am eager to communicate with others living with PD, not to evoke pity, but simply to find understanding and community. By doing so, I have evolved into a Parkinson's Ambassador.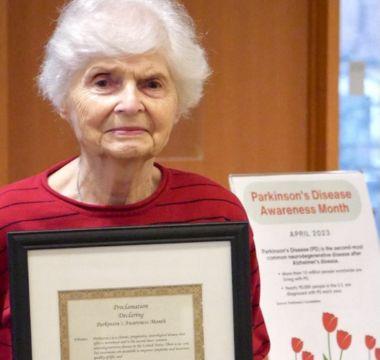 April is Parkinson's Awareness Month. I am always searching for new ways to raise awareness for Parkinson's disease throughout the month. My local library in Ridgefield, Connecticut has been my biggest ally. They have updated their collection of Parkinson's-related materials and they notify me of each new arrival. The Ridgefield Library is also offering an informational display table with Parkinson's resources, which will be available all month.
Due to my limited mobility, most of my activism for Parkinson's Awareness Month has been managed via technology. I reached out to the Ridgefield 1st Selectman, who plans to issue a Proclamation acknowledging Parkinson's Awareness Month in my town. I am also submitting letters to the editor to local newspapers to further raise PD awareness throughout the month. Awareness is so important for research. I am so pleased and proud of the results.
Psychologically and physically, managing my Parkinson's is my full-time occupation. However, by participating in volunteer and social activities like being a Parkinson's Ambassador, interacting with friends, and daily exercise, my attitude becomes energized. After all, motion is lotion.
Take 6 minutes to help create a world without Parkinson's this Parkinson's Awareness Month.
More Stories
from the Parkinson's community