Raise Awareness
100 Million Push-Ups for Parkinson's Awareness, Strength and Hope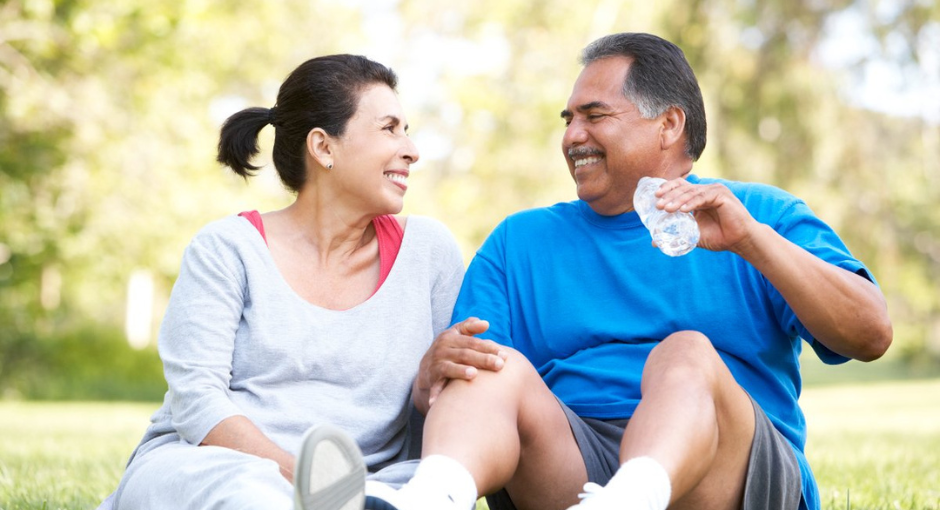 As a child growing up in the Bronx, Evan saw his grandfather Jack's hand shake. "We knew he had Parkinson's disease (PD), but we never really spoke about it," Evan said. Many years later, Evan's father — Jack's son — Keith, would inspire Evan's Parkinson's Champions campaign: Push Ups 4 Parkinson's. 
Fast forward to 2002, Evan and his wife Rachel were on speaker phone with his father, when Evan's mom said, "Dad has Parkinson's disease." What are his symptoms? What happens next? And the family's PD journey began.
Evan's parents had a strong marriage. They were ready to take on this challenge together and push through with grace and a positive attitude. At first, symptoms were minimal — no shaking or tremors. Keith dragged his feet, shuffled and him arm stopped swinging when walking. Next, his handwriting changed.
Parkinson's is a challenging disease because no two people have the same symptoms or progression. In Keith's case, the family wouldn't notice new PD symptoms for years. Keith began to experience depression, but he pushed through.
Evan's parents became involved with Parkinson's support groups. "Dad led their chapter and enjoyed bringing value to the community," Evan said. "He was a stand-out leader in business and in his community, and he was becoming noticed."
But as Keith's PD worsened, he began to withdraw from his community. Years passed; he was no longer able to drive, and medicines increased as symptoms did. Keith's mom became his primary caregiver and had to keep pushing, while Evan learned the term "sandwich generation" from experience — caring for multiple generations simultaneously.
Eventually, the family had to make the tough decision to move Keith to a home. "Mom was dealing with everything," Evan said. "I don't know how she held it together, but she did. However, she wasn't taking care of herself. Caregivers get too little credit."
Evan saw his parents' ability to push through their situation. "Their strength, hope, and selfless attitude inspired me, and I felt the need to inspire them back somehow. But how?" Evan said. Eventually, Evan came up with the idea of challenging himself to 100 push-ups every day for the rest of his life. He posted his progress on social media daily. His friends and family supported his effort, and soon it caught on around the world.
Even also noticed that his daily commitment was helping him cope with the stress, stay focused, get stronger and channel this into something positive. As Evan's parents kept on pushing, so did he.
Unfortunately, Keith's Parkinson's journey ended at the young age of 74, on June 23, 2017. Evan knew they needed to do more to help others in the PD community. With quick math from his son Jonah, they realized that if Evan continued this push-up movement every day until that same age of 74, the same age his father passed away, he would reach one million push-ups.
"If I can do one million push-ups, and I will, then we should be able to get the rest of the world to do 100 million! And while we're at it, let's raise 100 million dollars," Evan said. This idea grew into the worldwide Pushups 4 Parkinson's challenge, or 10.10.10, where anyone can get involved by doing 10 pushups, donating $10, and telling 10 friends!
"I wanted to create a catchy way to spread awareness, while challenging, engaging and inspiring people to improve their health and have some fun," Evan said. He formed an executive board to manage the new 501(c)3 nonprofit that would launch the official 10.10.10 Pushups 4 Parkinson's challenge and take part in the Parkinson's Foundation Champions fundraising program.
"We must take action right now and start moving for good health," Evan said. "Push-ups can help!" Right now, 10.10.10 is hosting a six-month challenge to raise money to end Parkinson's. At the end of the challenge, Evan will donate the money raised in the campaign to the Parkinson's Foundation and other organizations to speed up research for a cure, raise awareness, improve quality of life and ensure expert care.
Evan challenges everyone to make a difference and take part in the 10.10.10 challenge in four easy steps:
DO 10 push-ups and share on social media (use video or photo)
TAG 10 / Challenge 10 friends to do the same. Use hashtags: #My101010  #Move4PD
GIVE $10 today @ My101010.org
Include these instructions in your post
Once you complete the challenge, commit to daily push-ups and log them on www.PushUps4Parkinsons.org. Keep pushing-up!
Have your own fundraising idea? To start a Parkinson's Champion fundraiser, visit Parkinson.org/Champions.