Advancing Research
Parkinson's Disease Featured at the 2018 Quality and Safety in Nursing International Forum
Each year, nurses from all over the world come together at the annual Quality and Safety Education for Nurses (QSEN) Forum to share ideas to promote quality and safety in healthcare. This year's forum in Bonita Springs, FL, from May 30 to June 1, shined a light on Parkinson's disease (PD) and the work being done to improve care for people living with this challenging health condition.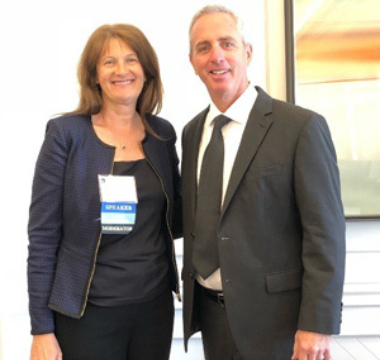 John Baumann, an inspirational speaker, shared his own Parkinson's experience, giving attendees a better understanding of the patient experience. But this is not the first time Parkinson's has been mentioned at QSEN.
In 2014, I had the good fortune of attending the Edmond J. Safra Visiting Nurse Program at the Parkinson's Foundation in Philadelphia, PA. It was an incredibly eye-opening experience. The program consists of a 40-hour educational experience for nurses in academia and practice so that they can better understand the disease.
The program includes lectures, interactive discussions with people living with PD, clinical experience with physical therapists, time with caregivers, and several hours shadowing a physician caring for patients in a movement disorders clinic. The capstone of the experience is that participants conduct a project focused on improving care for PD patients.
The program is offered in different cities throughout the year. In 2018 the program has been hosted at the University of Toledo, Ohio; Towson University, MD; Boston University, MA; and Struthers Parkinson's Center, MN.
Before my Edmond J. Safra Visiting Nurse Program experience I thought I understood PD, but it wasn't until the training that I quickly realized how much I didn't know and how misunderstood PD is. I realized that health care professionals could do a lot to improve the quality of life for people living with PD if they understood it better.
For years I served on the QSEN Institute advisory board and worked as a QSEN consultant, so for my capstone project I brought these two endeavors together: I developed an unfolding case study about a person with Parkinson's who is admitted to the hospital for surgery. The case study emphasizes the important safety aspects of caring for patients with PD, such as the need for on-time medication administration and injury and falls prevention strategies. This unfolding case study is now published on the QSEN website and available as an educational tool for all.
Parkinson's was prominent at this year's QSEN Forum with presentations and posters from Edmond J. Safra Visiting Nurse Program alumni scholars who shared their innovative work that contributes to improving the quality and safety of care for PD patients. The Parkinson's Foundation also attended the event, hosting a table with educational resources.
This annual event brings together health care professionals working to improve quality and safety for patients, but this year, it had a special meaning for all of us who care for people living with Parkinson's. 
Article by Gerry Altmiller, EdD, APRN, ACNS-BC, Edmond J. Safra Visiting Nurse Scholar at the Parkinson's Foundation.
Highlights from Edmond J. Safra Visiting Nurse Scholars at the Parkinson's Foundation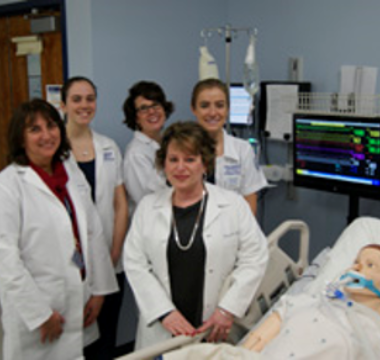 Diane Ellis, MSN, RN, (front, right) clinical assistant professor, became the first nursing faculty to be awarded the distinction of Villanova Institute for Teaching and Learning (VITAL) Faculty Associate for the Fall 2018 semester. Her project, "Lost in Transition: Promoting Parkinson Patient Medication Safety," is designed to improve care for patients with Parkinson's and includes senior undergraduate students, graduate nurse anesthesia students and clinical faculty. She is building on work with faculty colleagues Shelley Hickey, MSN, RN, clinical assistant professor (left) and Dr. Melissa O'Connor (back, center), and two research seminar students, Meghan Galvin and Addie Doyle. Professors Ellis and colleagues presented at the 2018 QSEN Forum.
Amy Bruno, PhD, RN, ANP-BC, presented "Fatigue in Parkinson's Disease: A Qualitative Descriptive Study Exploring the Individual's Perspective" at the 2018 American Association of Neuroscience Nurses meeting in San Diego, CA.
Orawan Kuljeerung DNP, RN, presented "Extrinsic Circumstances of Falls Among Community Dwelling Older Adults with Parkinson's Disease: An Integrative Review" at the 2018 Annual Midwest Nursing Research Society Meeting in Cleveland, OH and at the 2018 Graduate Research Symposium in St. Louis, MO.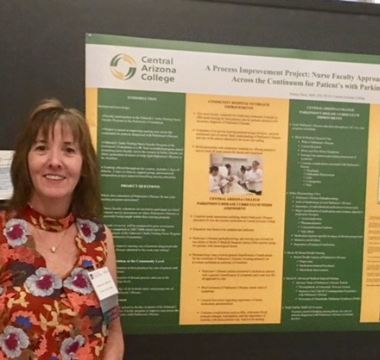 Denise Dion, MSN, RN, Central Arizona College, presented "A Process Improvement Project:  Nurse Faculty Approach to Improving Care Across the Continuum for patients with Parkinson's Disease" at the 2018 QSEN Forum.
Amy Rex Smith, PhD, RN, Belhaven University, Jackson, MS, traveled to Taipei May 31-June 8, 2018 to present "The Art and Science of Spiritual Care", work she is pursing in relationship to Parkinson's disease.
Denise Johnson-Dawkins, DNP, MSN, RN, CNL, California State University, presented her PD simulation addressing ethics to her university's 2018 Ethics Across the Curriculum Faculty Development Workshop.
Upcoming Programs and Webinars
Continuing education programs in Parkinson's for nurses being held in fall 2018 as part of the Edmond J. Safra Visiting Nurse Faculty Program at the Parkinson's Foundation include:   
October 16 to 19: University of Alabama, Birmingham, AL
October 25 to 26: Muhammad Ali Parkinson's Disease Center, Phoenix, AZ
October 31 to November 1: Weill Cornell Medicine at New York Presbyterian, New York, NY
On October 17 to 20, in Atlanta, GA, the Parkinson's Foundation will also host the Allied Team Training for Parkinson's (ATTP) event. All nurses who would like to continue learning about Parkinson's and how to deliver optimal clinical care through interprofessional teams are eligible to register for ATTP.
Parkinson's disease is a chronic neurodegenerative disease that can cause a multitude of physical discomforts and psychosocial stressors. Spiritual practices may help mitigate stress and provide a source of inner strength for those with chronic diseases, yet health care workers may lack an understanding of how spirituality impacts holistic care or how to help patients in their spiritual journey. This webinar will discuss the gap that exists between PD, spiritual research and theories of uncertainty in illness as related to Parkinson's disease. The program will explore the use of spirituality in managing PD care and provide examples of work done by nurses in this area. The webinar is led by: Diane Reynolds, EdD, RN, OCN, CNE, Former Associate Professor of Nursing, Long Island University, NY; Amy Rex Smith, PhD, RN, ACNS, BC, Professor of Nursing, Belhaven University, Jackson, MS; Lourdes Santoni, PhD, MSN, RN, CRNP- Nurse Practitioner and Educator, Northeast Center for Behavioral Health, Philadelphia, PA.
Latest Parkinson's Research
Prior research has shown a link between moderate and severe TBI and increased risk of PD. A recently published Neurology study, "Mild TBI and risk of Parkinson's Disease: A Chronic Effects of Neurotrauma Consortium Study," showed that even a mild brain injury increases risk of PD in the population of veterans studied.
Immediate release amantadine has been used off label for mitigating dyskinesias in people with Parkinson's who have fluctuations. GOCOVRI™ (ADS-5102 amantadine extended release capsules) is now available. An open label study shows an incremental reduction in baseline UPDRS Part IV scores without exacerbating adverse events.
Resource Corner
Parkinson's Foundation Research Advocates live across the nation and are trained to assist professors teach nursing students about Parkinson's. These advocates share their Parkinson's experiences and advocate for PD research. If you are interested in working with a research advocate, please contact Karlin Schroeder, Parkinson's Foundation Community Engagement Director, at KSchroeder@Parkinson.org or (800) 473-4636.
To order free Parkinson's Foundation educational resources, please contact the Parkinson's Foundation Helpline at 1-800-4PD-INFO (1-800-473-4636).