"A Beautiful Noise: The Neil Diamond Musical" Cast Presents Parkinson's Foundation with a $500,000 Donation
NEW YORK & MIAMI (April 12, 2023) — The producing team behind the Broadway hit, A Beautiful Noise: The Neil Diamond Musical, has raised $500,000 in honor of legendary singer, songwriter and performer Neil Diamond and the one million people in the U.S. living with Parkinson's disease (PD).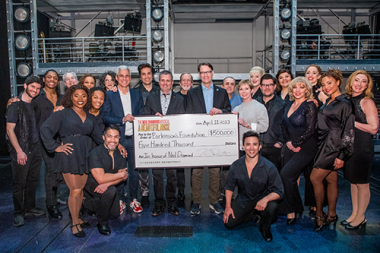 On Tuesday, April 11, following the show's final bow, the cast revealed the final total from their fundraising efforts. A check for $500,000 was presented by A Beautiful Noise co-producers Jonathan Corr and Sandi Moran to Parkinson's Foundation President and CEO John L. Lehr. The funds raised will help the Foundation continue its critical work of making life better for people with PD by providing increased access to high-quality care, research opportunities and critical resources. 
"A Beautiful Noise has not only created a wonderful show honoring the legacy of Neil Diamond, but it has also raised awareness and funds to make the world a better place for people with Parkinson's disease," said Lehr. "We are grateful for the generosity shown by the producers and all who support our important mission."
The musical tells the thrilling story of Diamond, from growing up in Brooklyn to his rise to fame and is a celebration of the enduring power of his music, featuring hits "Sweet Caroline," "America," and "Cracklin' Rosie." A Grammy Award-winning artist, Diamond is a member of the Rock & Roll Hall of Fame and the Songwriters Hall of Fame. His music has earned him a multi-generational fanbase, and he is a believer in the healing power of music. Diamond announced his retirement from concert touring in 2018 following his PD diagnosis.
In addition to Diamond, co-producer Adam Riemer also shares a personal connection to PD, making the presentation all the more heartfelt.
"My mom, Stepheny, always said, 'If you are creative, you will never be bored.' Her imagination and optimism stayed intact, even after being diagnosed with Parkinson's disease in 2007," said Riemer. "Shortly after her passing, I was presented with the once-in-a-lifetime opportunity to join the producing team of A Beautiful Noise. I'm incredibly grateful to everyone who contributed to this important cause in honor of my mom, Neil Diamond and all those impacted by PD." 
Visit Parkinson.org/Awareness to get involved this April in honor of Parkinson's Awareness Month. To support A Beautiful Noise: The Neil Diamond Musical's fundraising efforts, visit Parkinson.org/BeautifulNoise.
###
About the Parkinson's Foundation
The Parkinson's Foundation makes life better for people with Parkinson's disease by improving care and advancing research toward a cure. In everything we do, we build on the energy, experience and passion of our global Parkinson's community. Since 1957, the Parkinson's Foundation has invested more than $425 million in Parkinson's research and clinical care. Connect with us on Parkinson.org, Facebook, Twitter, Instagram or call 1-800-4PD-INFO (1-800-473-4636).
About Parkinson's Disease
Affecting an estimated one million Americans, Parkinson's disease is the second-most common neurodegenerative disease after Alzheimer's and is the 14th-leading cause of death in the U.S. It is associated with a progressive loss of motor control (e.g., shaking or tremor at rest and lack of facial expression), as well as non-motor symptoms (e.g., depression and anxiety). There is no cure for Parkinson's and nearly 90,000 new cases are diagnosed each year in the U.S.