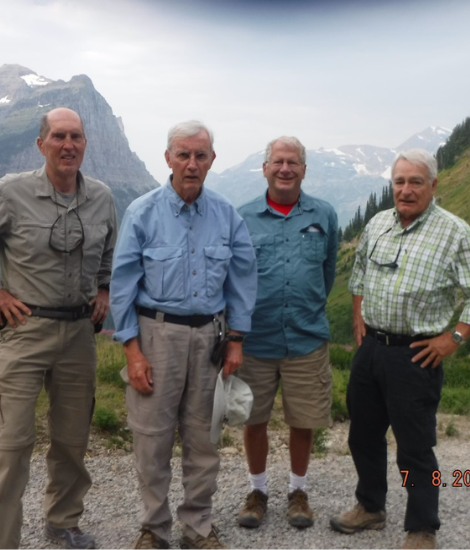 People with PD
William Krechowski
"Moving Day for me is an opportunity to contribute to the cause of finding a cure for Parkinson's disease (PD) and to help support and educate the Parkinson's community and the larger communities we live in," William Krechowski said.
When William was first diagnosed with Parkinson's, he did not know the life-changing affects this disease has on one million Americans each year and the affects it would soon have on him. He turned to the Parkinson's Foundation to educate himself on this disease that was new to him, now that it entered his life. William gives great thanks to the Foundation, which has provided him so much insight during a difficult time.
Kelly, a physician assistant at the University of South Florida Parkinson's Disease and Movement Disorders Center, a Parkinson's Foundation Center of Excellence,  encouraged William and his family to get involved in Moving Day Tampa Bay as a way to help bring awareness to Parkinson's. William was also excited to raise money for Parkinson's research that leads to better treatments and ultimately, a cure for the Parkinson's community.
William admits that he did not have much experience in events like this, but because the cause meant so much to him, he soon made Moving Day his passion project. With friends and family by his side supporting him in every possible way, he created his team "Bill's Best Adventures."
"I am walking for myself and for a cure for Parkinson's," said William.
"Bill's Best Adventures" is the moniker William used to describe the annual adventure trips he's taken since 2001. "Participants on these trips have numbered from three to seven per trip and have been cousins, Air Force buddies, high school and college friends," William said. From hiking Machu Picchu to river rafting the Colorado River to sailing the San Francisco Bay, William does not let Parkinson's get in the way of his adventures. William lives every day to the fullest and continues to plan exciting trips each year. Next on his list: The Great Smokey Mountains.
Although William's adventures are incredible, he still faces the symptoms of Parkinson's daily ― fatigue being most prevalent. He has learned that exercise is crucial in lessening the symptoms of Parkinson's and has fully integrated daily in his life. From going to the gym two to three times a week to boxing at Rock Steady Boxing to hiking worldly known trails, "I think I'm doing pretty well for being 72 and living with Parkinson's," William said.
More Stories
from the Parkinson's community