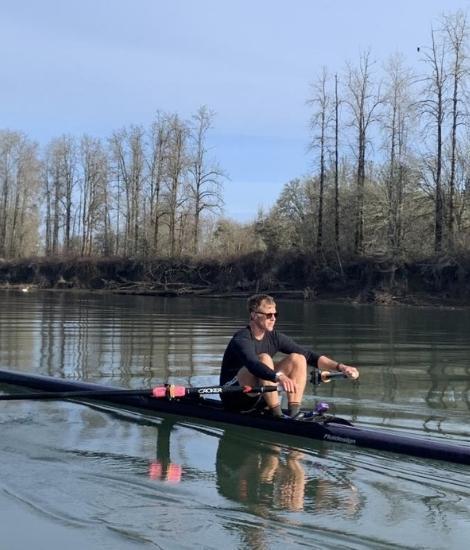 My story begins in the fall of 1992, when I joined the rowing team as a freshman at the University of Buffalo, in Buffalo, New York. I immediately fell in love with the sport, particularly the physical and mental challenge, and being on the water. As a rower, I loved the training, the team atmosphere, and the identity it provided me. I rowed all throughout college and continued to row competitively for several years after college. Recently I've been rowing at the Masters level, meaning as an adult with a job and other responsibilities.
Things changed in the fall of 2017. I was doing my normal training and getting ready for a big race, the Head of the Charles, which takes place at the end of October in Boston. Something seemed different this fall. My rowing technique, which I spent years working on, felt wrong. I also felt unusually tired and weak. I shrugged it off and thought I was just getting old or needed to change my training. Unfortunately, the feeling of fatigue didn't improve and actually got worse. Then, in the spring of 2018 I developed a tremor in my left hand and foot, and my left arm would no longer swing when I walked. After seeing several doctors and having several diagnostic tests, I was diagnosed with young-onset Parkinson's disease. This was just before my 44th birthday. I didn't know how to take that diagnosis at first.
One of the first things I thought was that my days as a competitive rower were over. After several months of dwelling on things, I returned to rowing, albeit slower and more awkwardly than I'd like.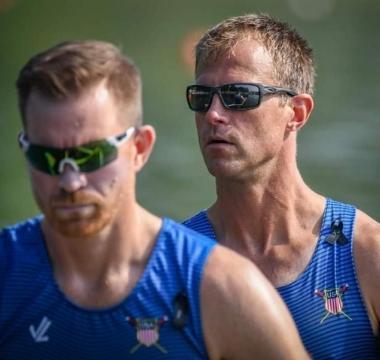 During the spring of 2019, I reached out to USRowing, the governing body of rowing, inquiring about being designated as an adaptive or Paralympic rower, thinking it would allow me to compete in local races. I ended up getting invited to the Paralympic training camp in Boston in early June and eventually ended up in a two-person boat that raced at the 2019 World Rowing Championships in Linz, Austria finishing in sixth place.
My main symptoms are a significant tremor in my left hand and left foot, my left arm doesn't swing while I walk, I have trouble sleeping, and I have anxiety that I never had prior to the onset of the Parkinson's. To treat the disease, I do a variety of things including taking traditional pharmaceutical drugs, using a hyperbaric chamber, and taking a variety of supplements, as well as other treatments.
Currently, I'm training full-time with the goal to qualify for the Tokyo Paralympics in the summer of 2021. I'm currently training approximately 20 hours a week between rowing, weight training, cycling, and yoga.
*Video excerpt from Unfixed docu-series
More Stories
from the Parkinson's community