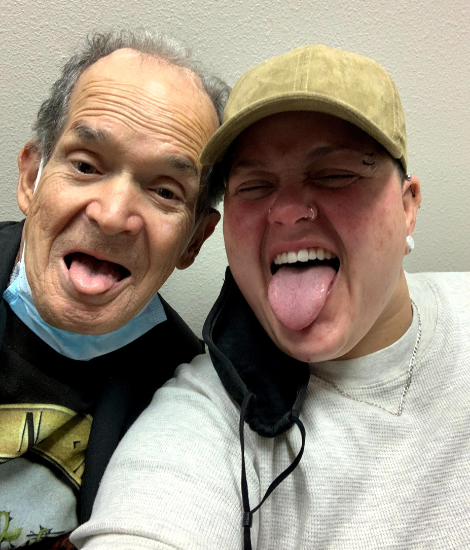 Family Members
Shayna Torres-Warwar
Unfortunately, Parkinson's disease (PD) seems to run in my family. My father was one of six brothers, and three of the six were diagnosed with Parkinson's. From a very young age I knew about this disease because my uncle had previously been diagnosed with PD. When I was 10 years old, I moved in with my father and uncle.
My father's journey with Parkinson's started when I was 13. When he received the diagnosis, my head started spinning and my heart felt like it would beat out of my chest. Everything else around me stopped moving. My father lived with PD for the next 20 years. Though there were many sad moments and hardships that I had to watch and help him overcome, there wasn't a day where I didn't see my father smile. Through all the pain and through the slow progression year after year, he clung to life and his freedom to be an individual.
My father's name was Wilfredo, but he went by Freddy. He loved music and dancing. He loved taking little adventures and going to new places. He loved playing the lottery and eating pizza. He was a simple man whose philosophy was, "The sun will shine tomorrow!" I spent 20 years of my life by my father's side, watching him day in and day out.
Unfortunately, my father did not have much community support during his life. I was so busy taking care of him that I didn't have time to search for Parkinson's resources. Now that he has passed, I have started looking into the Parkinson's Foundation because I would love to be involved in the community and to help find a cure. I think it is so important to have a support system, and I wish I would have encountered the Foundation sooner.
This is my advice to anyone living with Parkinson's disease and to anyone who has a loved one living with PD: you can't change the diagnosis, so don't spend time grieving it. All you can do is encourage your loved one to try to do the things they loved before being diagnosed. This may require some adjustments so you can find new ways to move forward.
Encourage your loved one and be positive. Remind them that life is worth living and life can be good. The most important thing I did for my father was to keep him thinking about what made him happy. When he could no longer dance on his own, I would hold him and help him. When he struggled to walk, I would push him in his wheelchair and sit my daughter on his lap. For my dad, music helped, fresh air helped, massages helped and, most importantly, laughter helped.
Remember you aren't alone in this journey. Don't hide. Surround yourself with those who love you and laugh as often as you can.
The Parkinson's Foundation is here to help your family navigate PD. Contact our Helpline for answers to your Parkinson's questions.
More Stories
from the Parkinson's community