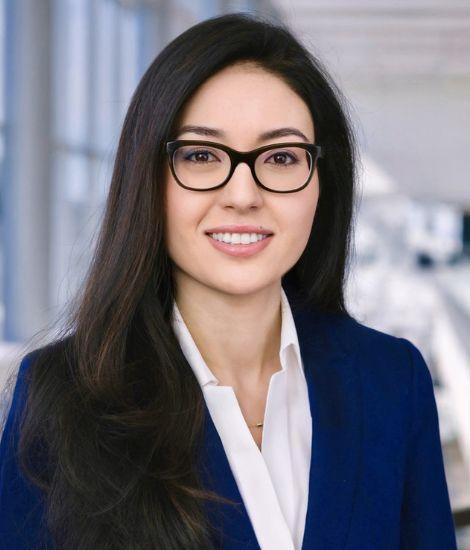 Researchers
Sarah Shahmoradian, PhD
Learning About Early-Stage Accumulation of Alpha-Synuclein in the Parkinson's Brain
Sarah Shahmoradian, PhD, of the University of Texas Southwestern Medical Center, received a Parkinson's Foundation Stanley Fahn Junior Faculty Award to study early-stage build-up of a protein called alpha-synuclein in the brain.
"Results from these studies will fundamentally advance our understanding of how Parkinson's disease develops," Dr. Shahmoradian said. "They could thereby inform on novel therapeutic strategies."
Parkinson's disease (PD) is characterized by the misfolding of the alpha-synuclein protein into an abnormal shape. These shapes clump together to form sticky deposits in the brain that disrupt the brain's ability to produce dopamine — and are connected to cognitive decline and dementia. This build-up appears to occur early in the disease.
About Alpha-Synuclein: When it comes to Parkinson's disease, the protein called alpha-synuclein plays a key role. This protein begins to form sticky clumps in neurons (cells in the brain) in people with PD. Over time, the clumping kills healthy neurons and impairs the brain's ability to produce dopamine, leading to Parkinson's symptoms and ultimately a diagnosis.
Prior research has largely focused on the late stages of alpha-synuclein deposits. However, much is still not known about the critical early events that cause a single abnormal alpha-synuclein molecule to recruit and transform additional molecules to becoming toxic. This leads to build-up and spreading to other brain cells.
Ongoing research is focused on where alpha-synuclein first begins to accumulate in the brain. Previous studies have used high-resolution imaging to analyze alpha-synuclein that is either chemically extracted from the human brain or artificially produced. However, researchers still do not know if the molecular structure of the toxic form of alpha-synuclein can be found in a natural state within brain cells.
Dr. Shahmoradian will apply state-of-the-art, high-resolution imaging techniques to uncover the molecular structure of alpha-synuclein within the brain cells, and to study how alpha-synuclein contributes to the disease process in Parkinson's. This research will define where and how alpha-synuclein buildup first occurs within human brain cells.
Of her Parkinson's Foundation award, she said, "Being granted this generous support from the Parkinson's Foundation cements my commitment to continue research in Parkinson's disease. Through receiving this award from an organization intimately linked to those affected by PD, I feel a heightened sense of personal responsibility and urgency in executing my research."
Meet more Parkinson's researchers! Explore our My PD Stories featuring PD researchers.
More Stories
from the Parkinson's community