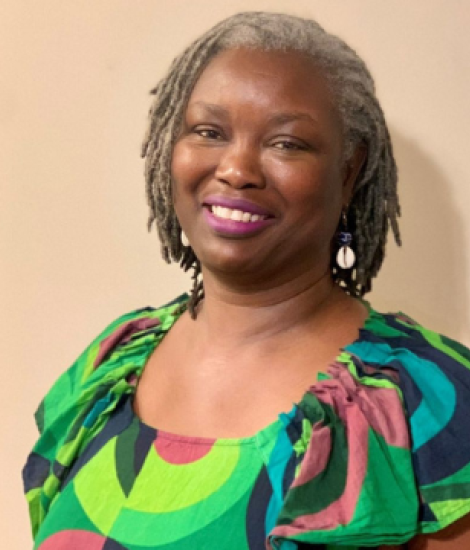 Health Professionals
Kim Gamble
My Parkinson's disease (PD) journey began by God's grace. I applied for a new position as a sleep center coordinator. I had no idea what the job entailed, but coordinator appealed to me as something new and different from my past positions. I interviewed with the Director of Neurosciences — having no idea what neuroscience involved. At the end of the interview, the director stated I would be bored with that position by end of week two. She said, "I have a Movement Disorder Coordinator position that I think will be a great fit for you." I said yes to that position in April 2004 and began my more than two-decade journey with the Parkinson's community.
My role as a Movement Disorders Center Coordinator spans across 20 years and three healthcare systems. I have learned a lot and this career afforded me endless new family members on a regular basis.
My role includes scheduling, insurance authorizations, educator, community outreach and supporting patients and families on the journey with deep brain stimulation (DBS) . To sum it up...I am the one point of contact for patients, staff, physicians and the PD community. My purpose is to be a resource or connect you with the resources needed on the journey living with Parkinson's.
My passion is to spotlight diversity and inclusion in the PD community. Having worked in this community for two decades I rarely see all nationalities represented. I know PD is not an exclusive diagnosis, so I work to educate underserved communities, provide resources and connect them to others that look like them and share the journey of living with PD.
Living with a chronic disease can be isolating and affects one's mental health. Acknowledging that your mental health is "unhealthy" can be challenging. It's a daily battle for many.
I help patients understand that it's okay to not to be okay. Your brain is no different than a broken bone. If you break a bone, you contact the specialist or the orthopedic doctor for treatment. We must become comfortable contacting the specialist for our brain when it's not aligned.
PD patients and families are my heros/sheros. They inspire me to think outside the box and advocate for different processes to change the narrative. My goal is to remove barriers, educate patients and families and empower them to live their best life with PD.
Shareable pearls I have learned along the way:
Encourage yourself and others.
Find and focus on the positive.
Live in the moment.
Allow yourself grace.
Celebrate each success.
Kim is a Parkinson's Foundation volunteer who received our Rising Star Award in 2022. Meet some of our top volunteers and explore ways to get involved today.
More Stories
from the Parkinson's community