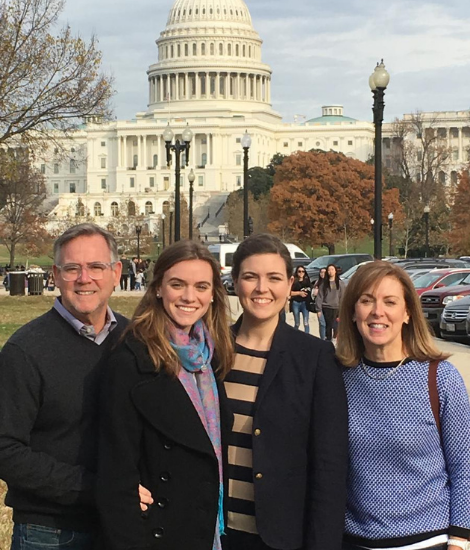 People with PD
Jim Morgan
Jim Morgan worked from home Friday to give himself time to get ready for his trip. But instead of packing for his flight, he fielded phone calls and legal documents all morning.
The last 11 years after being diagnosed with Parkinson's disease (PD) have been some of the busiest of Jim's life. "What else are you going to do? Sit around and think about what it's like to have Parkinson's?" he said.  
"I never knew to actually be worried about Parkinson's. I always say maybe I'm just stupid. In a lot of respects, I think my PD has actually kept me plowing through. Some days are better than others and it's rough when it's bad, but everybody in this world suffers from something. If this is the worst this is going to be, I can live with this," Jim said.
He and his wife, Missy, both try to make sure their two adult children, Franklin and Liles, understand these principles too. "Everybody has challenges and struggles no matter where they are. Be thankful for what you have and live with the comfort of knowing that that's a blessing," Jim said.
Jim considers himself blessed on many fronts. One of them is that he's always received support from his family. Both of his daughters really embraced his diagnosis. "My kids grew up going on mission trips and learning to do for others," Jim said. "When we discovered I had PD it was kind of natural for them to be supportive."
His younger daughter, Franklin, 26, lives in Philadelphia and is a Parkinson's Champion. Jim didn't know she was running and fundraising for Parkinson's research until he received the Facebook notification that he was tagged in her Champions post. "I read a sweet message about how she was running for me. That was all her doing," Jim said.
His oldest daughter, Liles, 29, lives in Washington, D.C. "She's equally supportive and has joined me for Moving Day Miami," Jim said. Jim is a Moving Day Miami committee member, manages a team and fundraises for the event — with his daughter's help.
While his two daughters have moved away from home, they make it a point to exercise together whenever they are reunited. Yoga is their favorite. "I started doing yoga when I was first diagnosed, and I think it's dramatically delayed the onset of the worst symptoms for me. My wife and I go together every weekend and whenever we're with our daughters, or they come home, we always go to yoga. We call it family yoga. It's something we all do and enjoy," Jim said.
Aside from yoga, after 11 years of living with Parkinson's, Jim has advice for others in the PD community he's learned along the way:
I'm a big advocate of talking about Parkinson's. Do not be ashamed to talk about it. Reach out for help and support.
Stay involved and active. I get up every Sunday at 4:30 a.m. and go downtown to help a shower ministry for homeless people. I find that it wears me out and fills me up. I think that the more you can get out and do for others whether it's in the PD community or not, the better off they are, and you are.
I think that PD is an isolating disease and if you let it isolate you, it's going to get the better of you.
It doesn't matter what it is as long as it keeps you moving. If you stop at all it's going to catch up with you. Movement and exercise are so wonderful for not only the physical but the cognitive and mental things. PD can rob you of those things if you let it.
Get up and get on with your life. If you let it, it will consume you.
Staying busy is an understatement for Jim. That trip he stayed home to prepare for was no vacation. Through his church, Jim works with a church in Santo Domingo to build a school for the local children. He manages a team that is working to build five new classrooms (including a computer lab and science lab) that will allow the school to offer classes through twelfth grade.
Whether it's starting a PD yoga class, helping build a school, making showers available to the homeless, serving on a Moving Day committee or helping arrange the flower arrangements for a close family friend's wedding — which Jim did in June — just keep moving.
More Stories
from the Parkinson's community