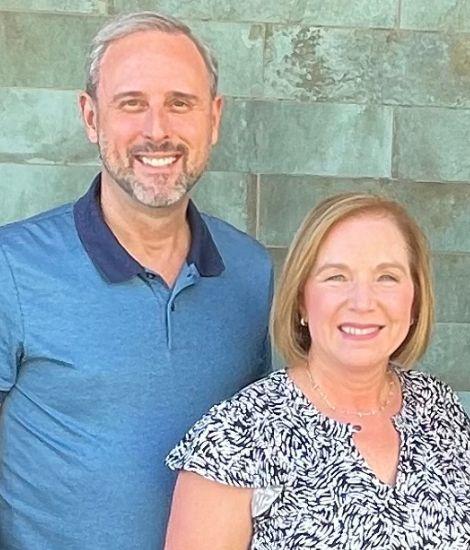 Care Partners
Jeff & Lisa Byal
Building a supportive community of people you can lean on and turn to can be lifechanging to people with Parkinson's disease (PD) and their families. When Jeff Byal was diagnosed with PD in 2020, he and his wife, Lisa, started reading books, listening to podcasts and searching for websites with information they could use to help Jeff live well with Parkinson's.
Lisa also joined a care partner group on Facebook and noticed group members consistently brought up a common issue — they were lonely. Lisa reached out to a few of them and they attempted to connect, but their meetings never seemed to work out.
"They kept having hard things in their lives come up that made it difficult to make plans, and I realized that once you're at a certain point in the Parkinson's journey, it can be really hard to add someone new to your life," Lisa said. "It was too much to think about trying to add a new relationship even though I was trying to be helpful and supportive. It was then that I realized it is important to build that community before you need it."
Eventually, someone new to the group asked Lisa if she would like to meet in person, and Lisa was determined to make it happen. She posted on the group, inviting people to join them, and eight people took her up on the offer. The group has met monthly ever since.
"Every member of the group is a wife of someone who has Parkinson's, except one man whose father has Parkinson's — all are at different stages with different symptoms," Lisa said. "We've made getting together a priority because it is important to support each other."
In particular, one group member's story has stuck with Lisa. "Her husband is the only one in the group who has had deep brain stimulation (DBS) surgery and when she went to the hospital the day of the surgery, she had several close friends with her to support her. Another person working with the same doctor was also having DBS surgery the same day, and their partner had friends from the Parkinson's community with them. Hearing that, I realized how important it is to build relationships with people who truly understand Parkinson's and this journey. I want to build that community for myself before I need it."
Lisa and her support group are doing just that. They meet to swap stories, share resources and offer support to one another. Recently, for the first time, they invited their loved ones with Parkinson's to join a meeting and meet each other, which Jeff appreciated.
"It was great to meet the people I've heard about and put faces to names," Jeff said. "I'm glad they've created this safe space for one another. Lisa is always doing what she can to help others, and she's seen this need care partners have to find time to take care of themselves, too."
Jeff and Lisa feel fortunate that they have not only found a supportive community, but were able to navigate the difficult diagnosis process and find a supportive neurologist who put together a comprehensive care plan for Jeff that has allowed him to live well with Parkinson's. And through his neurologist, Erik Krause, DO, they learned about the Parkinson's Foundation.
"We believe knowledge is power," Lisa said. "The more you know, the better you can deal with your current situation. The Parkinson's Foundation offers great resources for people at any stage, whether they have just been newly diagnosed or if they are far along in their journey with Parkinson's. And from a care partner standpoint, the connection to a community that can help you navigate this journey is vital."
As Jeff and Lisa have started to get more involved with the Parkinson's Foundation and share their story, they have been shocked at just how many people they know have a connection to Parkinson's — even people they have known for years.
"The more we tell our story, the more people we find out are impacted by Parkinson's," Jeff said. "This is one of the fastest-growing neurological diseases, which is horrible. The Parkinson's Foundation not only provides vital information to people, but also connects them to a community they can turn to for support."
As they navigate their own journey with Parkinson's, Jeff and Lisa hope more people will take advantage of the resources the Parkinson's Foundation offers and find solace in the Parkinson's community, just as they have.
"Research to find a cure for Parkinson's is important, and it's what we all hope for," Lisa said. "But becoming connected to the community and knowing you, whether you are a person with Parkinson's or as a loved one of someone with Parkinson's, are not alone is so important too."
For more information on care partner resources, visit Parkinson.org/CarePartners.