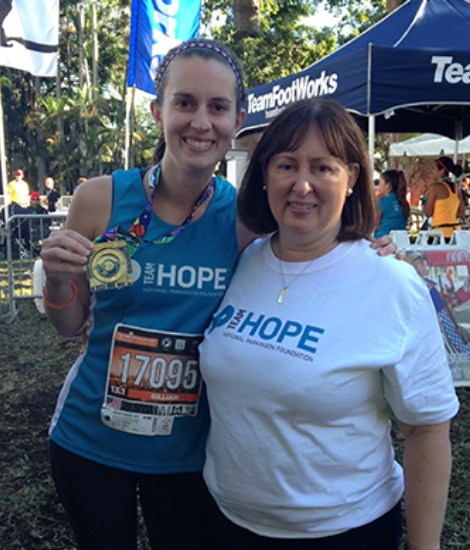 People with PD
Janet Gilliam
It was dark. Very dark. And something was moving around the end of my bed making noises, both quick and quiet. It went on for several minutes, escalating in volume and then it headed straight for me. To my surprise, I felt a quick, tender kiss on the forehead and then my ghostly figure vanished. In the first few moments of conscious awareness, I began to remember where I was and why I was here.
It all started a few months back. I was enjoying a lovely rendition of the musical "Cinderella." Suddenly the house lights came up and I turned toward my date for the evening – my younger daughter, Liz. Before I could begin to gush with accolades on the performance, she smiled and then blindsided me. "Mom, I have decided to give you your Christmas gift now!" "Now?" I asked. It was weeks before Christmas and we were sitting in a crowded theater. Something was awry. Liz was too excited and pleased with the "Gotcha!" moment she knew she was going to have. And then she told me…
She began to describe the Miami Marathon and Half Marathon on January 25, 2015, in Miami, FL. There would be runners from all over the world with different motives for running. Liz had contacted the Parkinson's Foundation Parkinson's Champions program and registered for the half marathon…in my honor. In that moment of high impact, I began to feel hot tears pour down my cheeks. Parkinson's disease (PD) is the unwelcome member of our family we do not like. He diminishes day-to-day events, interrupts vacations, disappoints on holidays and in general, wreaks havoc. Everyone in my family knows only too well that this illness has changed who we are. Life is more difficult for all of us. There have been many tears over the years, but the tears now came not because of the difficulty of the disease, but because I recognized great compassion.
As race day approached, we headed to Miami, FL, where a Parkinson's Foundation office is located. The day before the race, we were invited to tour their office. What we experienced was downright memorable! We met every staff member present that day. They seemed to understand that while we were only one of a million such families in this country, we were also unique in our own story. We were real. Their dedication and enthusiasm assured us that they were not losing sight of the vast importance of their work!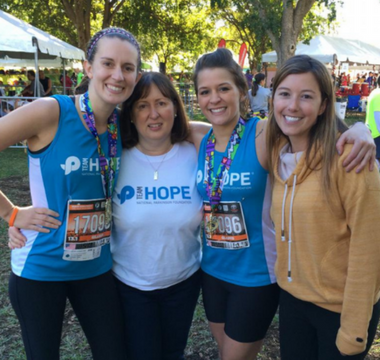 It was race day. I rolled over to look at the clock. It was 4:48 am, which meant my daughter would be heading out for the start line. My start line had been marked as well: my job would be to get myself up, fed, bathed, dressed and down to the finish line – a tall order for someone diagnosed with Parkinson's more than a decade ago. Respectable amounts of medication would be required to make this happen.
Traveling alone in an unknown city creates quite a few apprehensions for me. This is actually my daily race. It is slow, stiff and aggravating. Regrettably, it comes as no surprise. It is my normal. I managed to get to the Charity Village where the Parkinson's Foundation had a booth. I was only there a few minutes when Runner 17095 took her last steps, reaching the booth after more than 13 miles. She was wearing a shirt that announced "I RUN TO BEAT PARKINSON'S." There were two short words beneath that header: "FOR MOM." And suddenly the hot tears began to pour again, but this time it was from both of us.
I have had Parkinson's for a long time now. It has been a huge adjustment that demands continuous readjustment. It is always difficult. I have been asked on countless occasions where my strength comes from. I may be very strong, but I'm also very afraid. It is indeed HOPE that keeps me going. I believe that the research is productive and our hope is real. The need for funding is urgent. The need for research is urgent. The need for treatment is now.
More Stories
from the Parkinson's community