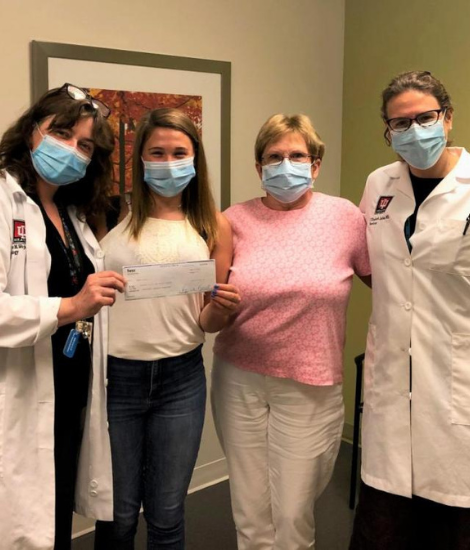 Family Members
Hanah Wolf
Hanah and her grandmother, Pamela, live in Williamsport, IN. Hanah is 17 and will be starting her Senior year of high school, and she recently donated $2,111 to the Indiana University School of Medicine, a Parkinson's Foundation Center of Excellence as a thank you for how they have changed her grandmother's life since her Parkinson's disease (PD) diagnosis.
"I've always wanted to do something for my grandma because she always supports me," Hanah said. "Originally, I was going to do something small, but the more research I did, the more excited I got. I realized how much Parkinson's research still needs to be done."
Hanah launched a fundraising campaign with the support of her school. She raised money through hosting 50/50 raffles at basketball and football games. "Some people even donated their raffle winnings back to the PD fundraiser," Hanah said.
She also hosted pocket change collections at school and at school events. At her local elementary school she hosted a "Penny War." Each grade was given two buckets: one for pennies and one for anything larger. Pennies counted as positive and anything larger counted as negative. So, when you add pennies to your grade's bucket it is a positive. When another grade looks like they are gaining a lead, you add larger coins/dollars to make them go negative.
She also was interviewed several times by George Hardibeck, a local radio show host for the rival high school's games. He donated $100 to her fundraiser every interview.
While she was managing her intricate fundraiser, she also collected 300 shoes to donate to a domestic violence shelter, and collected 2,692 medicine bottles to donate them to Mathew 25 Ministries, an organization that sends pill bottles to other countries who do not have the resources to make pill bottles and reuses them.
When asked what prompted her interest in raising money for Parkinson's disease, she said, "Personally, the disease really changed my grandma before she underwent deep brain stimulation (DBS) surgery. She couldn't drive or come watch me cheer ― she was a different person. After the surgery, she was able to be herself again. I wanted to do something to honor her and make her happy."
When asked why Indiana University School of Medicine, where her grandmother receives PD treatment, she said, "I want the money to go to research. I like knowing it is going to a place that has helped my grandmother so much on a personal basis."
Hanah hopes to attend Indiana University and study chemistry.
Fundraise on your own terms.
Begin a fundraising campaign at Parkinson.org/Champions
More Stories
from the Parkinson's community