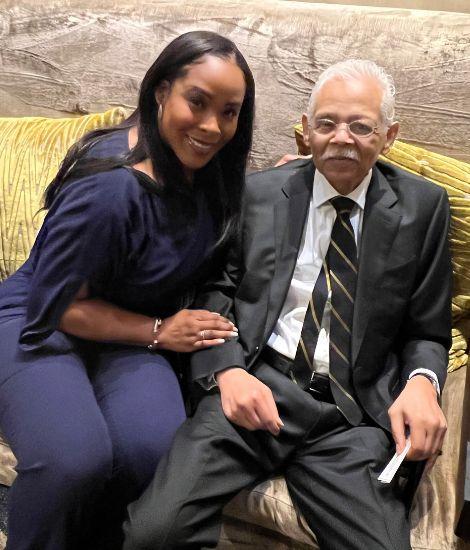 Care Partners
Halston Mathis
In January 2021, I moved from Los Angeles back to D.C. to help care for my stepfather. He was diagnosed with Parkinson's disease (PD) and dementia with Lewy bodies (DLB) in April 2020.  
My Stepfather received his PD/DLB diagnosis a month after he retired from the bench as a District of Columbia Superior Court Judge. My stepfather's transition to retirement life with Parkinson's has been challenging for him and our family. Simple tasks (e.g., dressing, walking, speaking and swallowing), which he once performed effortlessly are now executed with a great degree of caution and difficulty. It has been hard to witness the declining health of a man who has dedicated his life to serving others as a successful lobbyist, attorney and federally appointed judge.   
I've only recently learned that although African Americans are less likely to be diagnosed with Parkinson's, they are more likely to experience delays in diagnosis. This is especially true for African American men. Such later stage diagnoses lead to higher mortality rates among African Americans with PD.
I love that the Parkinson's Foundation is committed to reducing the stigma associated with both the mental and physical health challenges of this disease. The Foundation is also helping remove barriers to care, making research more diverse and inclusive and ensuring that information and resources are always accessible.  
I can't help but think that if my stepfather had been diagnosed sooner, that his transition to life with PD may have been a lot different and a lot less jarring. Over the past three years I've seen firsthand what Parkinson's does to individuals and their families. It is important that we find a cure, but in the interim, it's essential that we help improve the quality of life for those living with PD as well as the family and friends who care for them. 
The Parkinson's Foundation has been an incredible resource for me and my family. Their work has provided us with a road map, which has helped us navigate life with PD. I am truly appreciative to the Foundation for being an invaluable ally in the fight against Parkinson's disease.
Learn more about the African American Community and Parkinson's disease.
More Stories
from the Parkinson's community