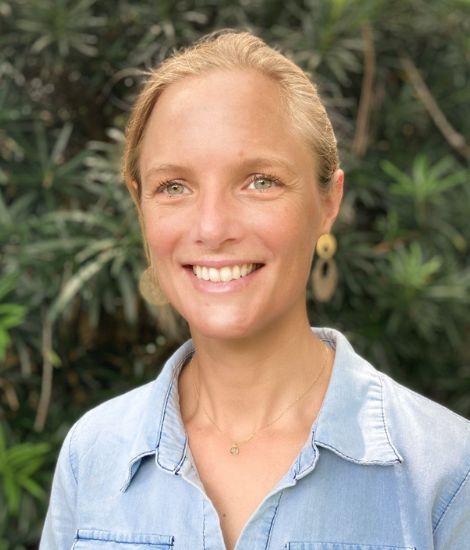 Researchers
Coralie de Hemptinne, PhD
Improving Deep Brain Stimulation to Improve Motor Symptoms in Parkinson's
Coralie de Hemptinne, PhD, of the University of Florida, a Parkinson's Foundation Center of Excellence, received a Parkinson's Foundation Stanley Fahn Junior Faculty Award to study a way to improve deep brain stimulation (DBS) therapy for Parkinson's disease (PD). She aims to develop a process that would automatically program DBS devices.
With DBS, a surgically implanted device delivers electrical pulses to brain structures involved in movement. DBS can be an effective treatment for movement symptoms in people with Parkinson's.
It is challenging and time-consuming to customize a DBS device for each person. Though current technology makes it possible to program the device to avoid side effects, this is complex given the nearly infinite number of possible ways to program the device.
Automated methods to program the device are needed. This will reduce the complexity and improve the efficiency and effectiveness of DBS, allowing for more long-term benefits. One approach is to develop an algorithm, or set of rules, that automatically identify the best way to program the device. The rules would be based on signals of brain activity affected by DBS.
"Developing these algorithms could increase the effectiveness of DBS and improve the ease of treatment. It will remove the 'trial and error' process of doctor-managed stimulator changes. It could ultimately improve the quality of life for patients with Parkinson's disease." - Dr. de Hemptinne.
Dr. de Hemptinne will enroll 40 people with Parkinson's undergoing implantation of DBS to treat their movement symptoms. The range and frequency of the stimulation will be varied to study their effects on brain signals. Based on the findings, she will develop an algorithm that automatically chooses these factors. Electrical signals in the brains of study participants will be recorded both during DBS implantation surgery and in-clinic. This will allow Dr. de Hemptinne to determine whether the algorithm is effective in choosing DBS settings.
Of her Parkinson's Foundation grant award, she said, "Receiving this award is a great honor for me. It is especially meaningful to get this grant as a new independent principal investigator. It will allow me to develop my research projects and contribute to building my laboratory. It will also foster stronger collaborations with my colleagues. This award will be a launching point for my career to get bigger awards and grants and establish my research program."
Meet more Parkinson's researchers! Explore our My PD Stories featuring PD researchers.
More Stories
from the Parkinson's community