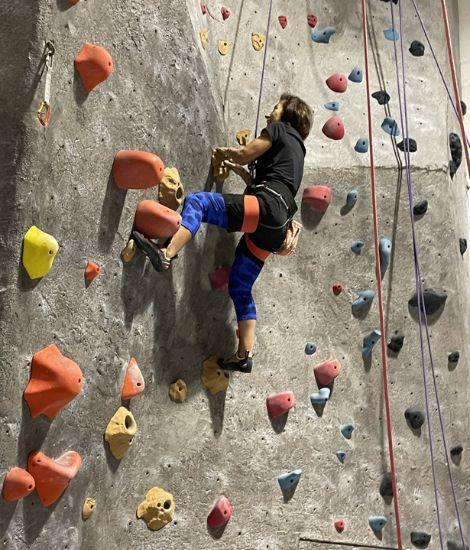 Family Members
Clare Bennett
Teresa Bennett, my mom, began experiencing Parkinson's disease (PD) symptoms nearly 10 years ago. Just last year, at age 65, she started rock climbing.
A year ago, Dr. David Whitney at Inova formally diagnosed her with Parkinson's in 2020. His office organized a fantastic support group for people with Parkinson's, which led my mom to a podcast episode about how rock climbing is a wonderful, safe and beneficial exercise for folks with Parkinson's.
The harness and rope system in indoor rock-climbing gyms makes the activity accessible for people with Parkinson's, even if they're experiencing severe tremors or difficulty walking, because there's no falling or hard impact involved. Plus, the problem-solving required to climb up a specific route and the strength-building can hugely help slow the progression of symptoms, which for my Mom included tremors, stomach woes and stiffness.
My Mom shared the podcast episode with our family, and we all decided to gift her rock-climbing lessons for Mothers' Day 2021 in hopes that we'd all be vaccinated. When googling around for rock-climbing lessons for Mom, we coincidentally found this video featuring climber Michelle Sloane and instructor Molly Donelan.
We reached out to a local climbing gym in Virginia, SportRock, and connected with Molly — who just happened to be the guest on that same podcast episode — to set up the intro lessons for Mom. Molly came across instantly as knowledgeable, kind, thoughtful and passionate about how rock climbing could help people with Parkinson's.
Mom started with a lesson with Molly and Michelle and was hooked on rock climbing almost instantly. "Since I started climbing at SportRock with a group of people living with Parkinson's, I am stronger, happier, and healthier than ever before," said Teresa. "I very much enjoy the community and friendships among us."
Mom joined Molly's incredible group of climbers who have Parkinson's and climb together multiple times a week. A few phenomenal instructors volunteer alongside Molly to belay and guide the fearless climbers, and the community has become beautifully tight-knit through their shared experience. Some of the climbers even attended Molly's wedding in October 2021!
During the first lesson, Molly was very gentle with Mom and started her on a short, 25-foot wall. My Mom felt safe in the harness, and after that short wall, Molly took her to a 40-foot wall. Mom definitely felt nervous and scared, and at one point she looked down and thought, "What the heck am I doing here?!" All the while Michelle was cheering, "Go, Teresa! Go!" Mom says she teared up a little and told them that she hated having Parkinson's and that she wouldn't be rock-climbing if she didn't have it.
Now, Mom rock-climbs at least three times a week if not four, sending 40- and 60-foot walls. She never misses a climbing session unless she's out of town, and even then, she often finds a climbing gym.
She's learned to use the auto-belay system so she can climb alone, usually when she wants to work on a route that has been challenging her. Her climbing shoes already need repairs because they're so worn, and she has all the gear and clothing fabulously matched. Her arms, back, and leg muscles are even more pronounced than they were before she started climbing, and she can't get enough of climbing documentaries or YouTube videos of stars like Margo Hayes and Tommy Caldwell.
Most importantly, her symptoms have greatly subsided. Her left hand used to be stiff and stuck in a cupped position, and now it looks relaxed and stronger than ever. Her tremors are even less visible, and her left foot no longer drags when she walks. Her gait is more secure with bigger, surer steps. Her mental health has also improved, and she feels more energetic than she has in years.
"Before rock-climbing, I used to be very scared about my future with Parkinson's, and now I don't think about it as much," Mom said. "I feel that as long as I can rock-climb, I will be fine."
Early on, Dr. Whitney told Mom he might recommend an increase in her medication based on how her symptoms had been progressing before she started rock climbing. But when he saw her in person just a few months after she started rock-climbing, he concluded that there was no need to increase medication at that point because of how well she was doing.
Rock-climbing quickly motivated Mom to take up additional activities to help her become a stronger climber. She now swims laps with an awesome neighborhood coach and swimming group twice a week and goes to a Pilates gym once a week. Not to mention her usual fun continues, seeing friends, traveling, walking in nature. Since she feels so good about life, Mom signed up to volunteer with a non-profit that supports students striving to become the first in their families to graduate from high school, to navigate the college admissions process.
May will mark one year of Mom's rock climbing, and I don't think any of us could have predicted the astounding results, especially in such a short amount of time. Not many people start rock climbing at 65, but I am endlessly grateful that my mom did. I hope anyone newly diagnosed with Parkinson's takes time to feel those feelings, leans on a support system, and channels that fear into something that helps them feel stronger and makes them smile the way rock-climbing does for Mom.
Keep moving! Exercise and physical activity can improve many PD symptoms. Call our Helpline at 1-800-4PD-INFO (473-4636) or visit your Parkinson's Foundation Chapter online to find an exercise class near you.
More Stories
from the Parkinson's community