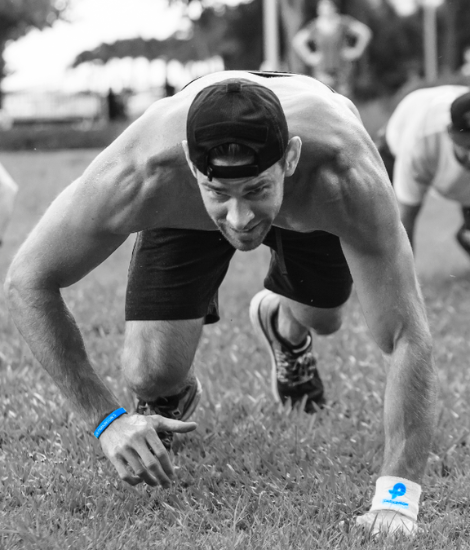 People with PD
Brad McMorris
Brad can't slow down. He works full time managing more than 600 clients and hundreds of millions of dollars at Wells Fargo Advisors. When he was diagnosed with young-onset Parkinson's disease (YOPD) it could've been his excuse to slow down, but it only made him pick up the pace.
In his early 20s he taught himself the stock market and turned $2,000 into $8,000 with the help of his grandfather, whom he admired dearly. Brad's focus was never school, but the stock market fascinated him. After numerous interviews he was given a chance at a major financial institution where he received formal training to become a financial advisor. Years later he was recruited to bring his clients over to what is now Wells Fargo Advisors where he works today as co-founder of the "Arch & McMorris Wealth Management Group of Wells Fargo Advisors."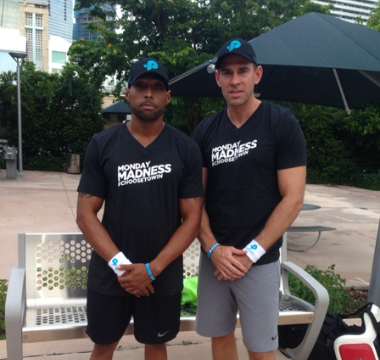 Brad was self-made by 27, the same year his father was diagnosed with PD. For the next decade Brad and his brother took care of their father. They saw the entire progression of the disease, from symptoms that began as bad posture and constipation to immobilization. They moved him to Miami, where they were both living, to take better care of him.
One day, Brad reached into a cabinet and felt a sudden slowness take over his arm. Months passed and other symptoms manifested. When he began experiencing waves of rigidity while walking, his coworkers would ask him if he was okay. He felt like his body and brain weren't communicating when everyday tasks like using a fork, brushing his teeth and putting on cufflinks were becoming a challenge.
His father's PD symptoms were worsening. By this point Brad and his brother each knew their father's doctor. At a neurology appointment, Brad decided to ask about his own symptoms. He was hoping to hear that the symptoms were of no concern, but his fear was realized when the doctor told him to come in for tests.
He did his research, and decided to start fresh with a new doctor, making an appointment with a top neurologist in Miami; however, the next available appointment was in two months. In October 2015, Brad's father passed away and one month later, after a DAT scan and multiple tests, Brad was diagnosed with YOPD. Driving back home from his appointment he emotionally broke down. He thought about how he had worked so hard to succeed and indulge in material possessions, but that he'd give them all up to have his health.
Brad doesn't do anything half-speed and PD is not the exception. Mere days after his diagnosis, he went to Moving Day® Miami. With his father's recent passing and his own diagnosis, he became completely overwhelmed when he saw how many other people in Miami were affected by PD. As he was leaving he met Mindy McIlroy, a National Parkinson Foundation (NPF) Board Member, who convinced him to join her for lunch. After hearing about NPF and its mission to make life better for people with PD, he immediately became involved with NPF's South Florida Chapter.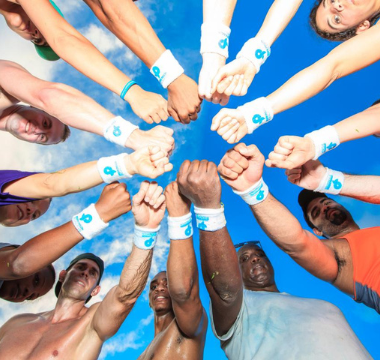 At only 39, Brad was apprehensive to begin a medication regimen he'd be on for the rest of his life without seeking a second opinion. He made an appointment with NPF's National Medical Advisor and one of the top PD specialists in the world, Dr. Michael S. Okun. He made the five-hour drive to see Dr. Okun. Brad is a fitness enthusiast, so when Dr. Okun took that into consideration and adjusted his dosages knowing that Brad's body would go through the medicine quickly; Brad knew that Dr. Okun was going to be his doctor.
Brad finds that keeping up with PD is expensive and time consuming. He works long weeks, exercises every day, drives to another city to see a doctor and stays on top of his PD medications. He has a newfound respect for the one million people who live with PD. He often wonders how anyone who works a 60-hour week and supports a family can keep up with managing their PD. Brad wants to advocate for every person with PD to have access to expert care, which is another reason he is involved with NPF.
Brad continues to avidly exercise because it makes his body feel normal and is the only thing proven to ease PD symptoms.  He prepares healthy meals for the next day and eats at his desk so instead of going to lunch he goes to the gym, which is where he met Bradley Murcia, a personal trainer. Their passions aligned and they found a way to integrate exercise with PD awareness. In July, they launched a fitness program called "Monday Madness," a free, intense boot camp-style class that is open to everyone. 
"From day one I've known that Brad is a beast," Bradley said. "With everything he does and how hard he goes, there are times when I forget he has PD so I push him harder." Bradley is the Monday Madness trainer while Brad attends every class, both never letting up.
Brad's PD has even changed the dynamic he has with his clients. Some of his clients have PD and when they find out Brad does as well, they just talk. It's become therapeutic for Brad because someone else knows exactly what he's going through. November 2016 will mark the one-year anniversary of his PD diagnosis. He continues to fight Parkinson's and support the PD community by promoting exercise. He will be attending Moving Day® Miami on November 13.
Check out the trailer for an upcoming movie featuring Brad and his PD story: "Monday Madness: A Parkinson's Documentary"
More Stories
from the Parkinson's community