Tips for Daily Living
Tips for Living Alone with Parkinson's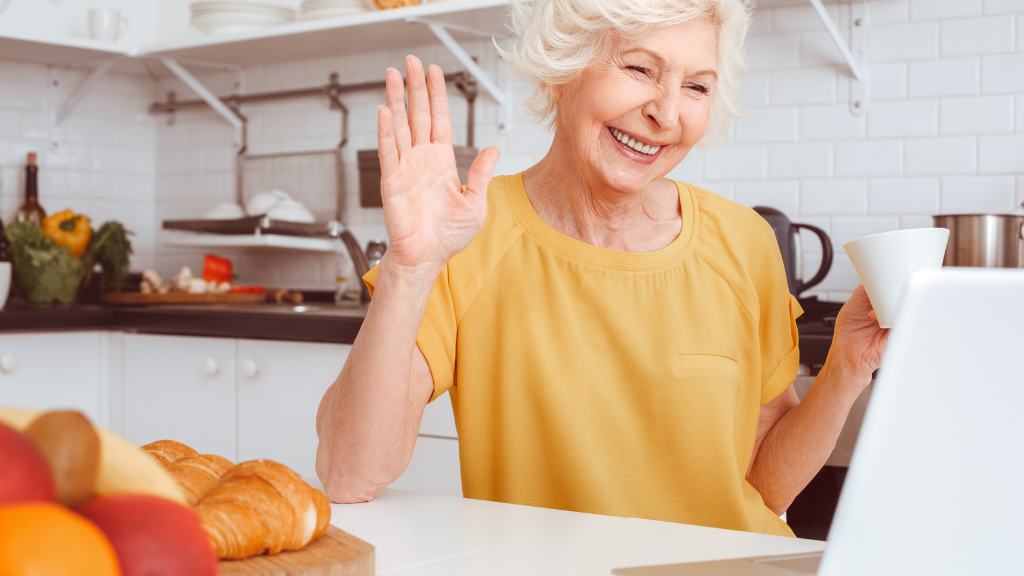 Discussions about Parkinson's disease (PD) often mention a spouse or care partner who helps care for their loved one. However, it is also important to acknowledge that many people with Parkinson's live alone. Read on to learn about the benefits and challenges of living alone with PD, and where you can find support.
Emotional Challenges of Living Alone
Social Isolation
Living alone with PD offers a sense of independence, but it may also feel isolating. Everyone experiences feelings of isolation and loneliness at times, but it is important to be able to identify when these feelings are negatively impacting your health.
If you experience feelings of apathy or fatigue for more than five days over a two-week period, you may have depression. Reach out to a medical professional to discuss a diagnosis and treatment options.
Accepting Your Situation
As a person living alone with Parkinson's, your day-to-day experience is different from someone who lives with a spouse or care partner. It can be challenging to find resources that are tailored toward people who live alone. You may also struggle with feelings of inadequacy when comparing your life to those around you.
Remember that just as Parkinson's disease affects everyone differently, each person with PD lives with and manages the disease in their own way. You and your experience are valid. There is a strong community of people living well alone with PD.
Staying Connected While Living Alone
Living alone does not mean you are alone — there are plenty of people who can help support you. Your network of support may include:
Family
Friends
Neighbors
Coworkers
Therapist/counselor
Medical team
Support group
Faith community
Pets can also provide support. Pets can also be registered as an emotional support animal, which can help ease anxiety and provide therapeutic support in public places.
There are many ways to stay connected to your existing support network or to make new connections. Try these options from home:
Tip: On days when you are struggling emotionally, try to talk to one person or accomplish one task. Making a connection or participating in an activity can help boost your motivation and decrease feelings of loneliness.
Join a support group. Support groups allow you to share your experiences and engage with the PD community. Many support groups now offer virtual meeting options. Call our Helpline 1-800-4PD-INFO (1-800-473-4636) to find a support group near you. Looking for an online network of support? Join PD Conversations.
Volunteer or tutor. Giving back always feels good. Search VolunteerMatch to find opportunities to share your skills with others.
Attend a Parkinson's Foundation webinar. Register for a Wellness Wednesday event to gain strategies for living well with PD, or attend an Expert Briefing to get the latest updates on Parkinson's research and care.
Get involved in your local community. Attend a town meeting or an event at your local library.
Participate in an online exercise class. Exercise is a great way to stay active while managing your PD symptoms. Our Fitness Friday series provides free, at-home workouts designed for people with Parkinson's.
Reach out to a chat service. Chat services like Well Connected allow you to engage in friendly conversation and build social connections.
Tips for Living Alone with PD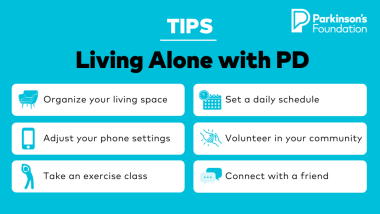 Living alone with Parkinson's involves adapting to your circumstances. Here are a few tips for making everyday tasks easier to manage:
Tailor your living space to your needs. One benefit of living alone is the ability to organize your own space. Place essential items where you can easily see and access them, so you can find what you need when you need it.
Keep a pair of pliers handy. This multi-purpose tool can help assist you with opening jars or bags.
Adjust your phone settings. There are various options that can simplify using a smartphone. Consider turning on these features to better control your phone and stay connected:

Touch Accommodations: This feature changes how the screen on your device responds to taps, swipes and other gestures.
Voice Commands: Voice assistants like Siri or Google Assistant reduce the need to use your hands for phone access. These tools can be used to launch applications, make phone calls and dictate text messages.

Create a scheduling strategy. Schedule commitments around the times of day when you typically feel your best. Identify how many tasks you can usually accomplish on a "good" day or a "bad" day to avoid overscheduling. Set timers for your medications so you remember to take them on schedule.
Reach out to your network of support. Ask for help with challenging tasks. Even if you are able to take care of yourself, shifting some responsibility can help you save energy for things you enjoy, like hobbies or social interaction.
Use our Home Safety Considerations checklist for more tips on how to stay safe while living alone with PD.
Planning for the Future
Living alone adds the responsibility of keeping yourself safe, both now and in the future. Starting the planning process early will ensure that you have control over important life decisions later on, such as choosing an assisted living facility or nursing home.
You may also consider signing a health care proxy form. This document names someone you trust as your proxy and allows them to make health care decisions for you if you are unable to speak for yourself.
It may be difficult to admit you need assistance after living independently for many years, but safety should always be the priority. If you have trouble moving around your space or accomplishing daily tasks, reach out to someone you trust to adjust your living situation.
Just because you live alone does not mean you are alone. The Parkinson's Foundation is here to help you live better with Parkinson's disease. Call our Helpline 1-800-4PD-INFO (1-800-473-4636) for help finding resources near you.