Advancing Research
Tackling Parkinson's from All Angles: A Movement Disorder Specialist's Story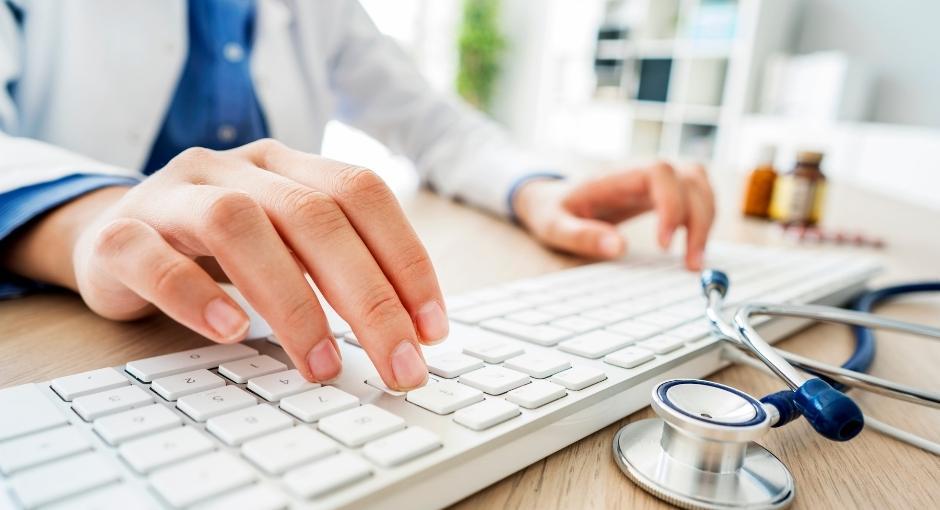 Movement disorder specialist and researcher Matthew Burns, MD, PhD, works to improve health outcomes for people with Parkinson's disease (PD) from two distinct but complementary angles.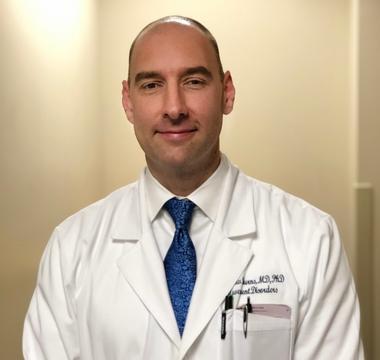 Dr. Burns diagnoses and treats patients with all forms of parkinsonism while pursuing lab research focused on the mechanisms of PD and its number one risk factor — the aging brain.
Dr. Burns' patients at the Norman Fixel Center for Neurological Diseases at the University of Florida, a Parkinson's Foundation Center of Excellence, benefit from innovative PD care, while the broader community benefits from his scholarly contributions to the field of neuroscience.
"It is an exciting time in neurology, compared to even a generation ago," said Dr. Burns. "Across the spectrum, there is a greater appreciation that investment in research creates real, meaningful returns."
The Parkinson's Foundation has advanced the training of specialized Movement Disorders Specialists like Dr. Burns through the Movement Disorders Fellowship Program.
Awards are made to institutions to support two-year training of a fellow. Since the distribution of the first award in 1980, the Foundation has invested more than $15 million toward the training of more than 150 movement disorders neurologists.
Selected by the University of Florida as a recipient of this Fellowship in 2018-2020, Dr. Burns received training and mentorship on the complex motor and non-motor manifestations of Parkinson's and other movement disorders.
Dr. Burns explained that most academic fellowships are 12 or 24 months, and that young researchers must complete clinical training, establish collaborations, technical expertise and gather preliminary data to get a grant that supports their research time by month 25. "If you miss this short window of opportunity as a young faculty member, even if you have a strong interest in research and are quite motivated, you have significant clinical obligations that make it very difficult to continue doing this kind of work," Dr. Burns said.
"In contrast, my fellowship funded by the Parkinson's Foundation and the supportive environment at University of Florida were both critical in garnering the necessary funding, resources and tools that set the stage for success," said Dr. Burns.
Dr. Burns was initially inspired to pursue PD research and care during medical school, as he witnessed his parents' close friends — Uncle Jim and Aunt Pat — struggle with complications of Jim's PD.
"Uncle Jim was an accomplished trial attorney — public speaking and his public persona were very important to him; his memory was iron-clad. His debilitating non-motor symptoms like memory loss were a significant burden on him and Aunt Pat," said Dr. Burns. "It had a real impact on me, and I realized how important it was for physicians and researchers to try to address not just the motor symptoms of PD, but also the non-motor symptoms."
Dr. Burns' research interests include investigating co-pathologies in PD, where other diseases intersect with PD and cause atypical, often non-motor, symptoms. He is also investigating the processes of aging. Dr. Burns recently received funding from the National Institute on Aging to advance understanding of the root processes that produce aging, and how aging affects cognition in PD.
"How the aging process interacts with disease, and produces the symptoms that we see in clinic, is not well understood at all. Additionally, aging affects performance at work, interactions with family, and quality of life. The research community has begun to focus on aging and particularly how to modulate this physiologic process to produce better health with advanced age and extend lifespan for humans."
In the last several years, Dr. Burns has studied non-invasive forms of deep brain stimulation in rat models of PD with the potential capacity to slow or stop disease progression. "Really what is lacking in the field is disease modifying therapies, which get at the underlying causes of Parkinson's. There are a whole host of technologies that have evolved in deep brain stimulation that hold some promise of doing just that," Dr Burns said. "Early-stage clinical trials of such treatments in humans holds significant promise."
Dr. Burns, who maintains his connection to the Parkinson's Foundation as a speaker at educational events, credits the Foundation for being a comprehensive, reliable resource for his patients.
"The Parkinson's Foundation offers a forum to ask questions, interact with others who are going through the same thing, and connect with physicians and institutions that are doing comprehensive care and translational research in this area," Dr. Burns said. "The Foundation truly functions as the connective tissue for all these collaborations in the field, and that has a tremendous effect on my patient's lives."
Find a movement disorders specialist in your area at Parkinson.org/Search or call the Helpline at 1.800.4PD.INFO (1-800-473-4636).