Advancing Research
How a Movement Disorders Fellow is Building Her Career Around Parkinson's Care and Research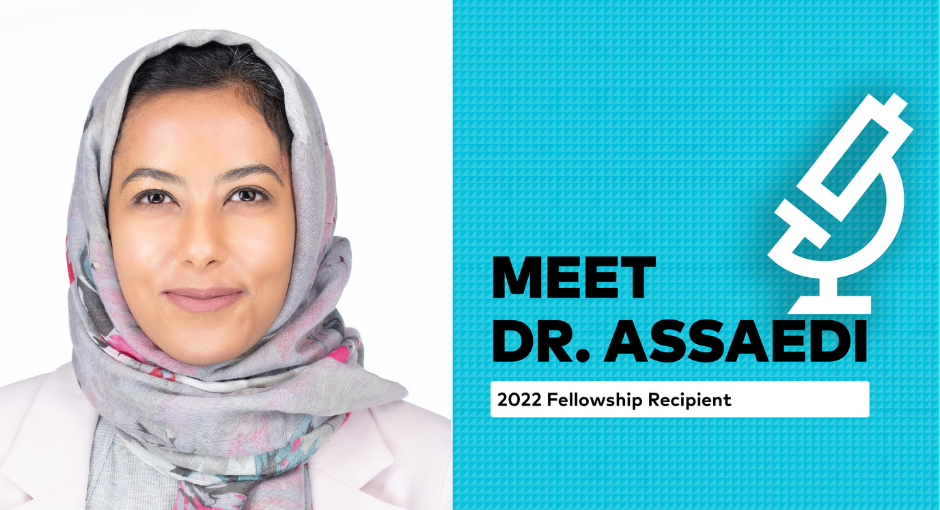 Ekhlas Assaedi, MD, is passionate about movement disorders, specifically Parkinson's disease (PD), and providing patient-centered care that leads to improved quality of life for people living with the disease.
After attending medical school at Taibah University, Saudi Arabia, Dr. Assaedi completed her neurology residency at the University of Alberta, Canada. She is currently in the first year of a two-year Institutional Movement Disorder (IMDS) Fellowship at the Cleveland Clinic, where she is working to further develop her skills in research methodology and treat patients using the latest approaches, like deep brain stimulation (DBS).
Dr. Assaedi is the first recipient of the Parkinson's Foundation Wesley G. McCain MDS Fellowship in Honor of Dr. Lucien Cote. We spoke to Dr. Assaedi about her exciting work in the PD field, and why she believes it is important to foster young doctors who have both clinical expertise and research exposure.
What led you to Parkinson's research?
I knew I was interested in building a career in movement disorders in my second year of neurology residency. I'll always be grateful to the movement disorders staff at the University of Alberta for inspiring that interest. We had such an active group of movement disorders specialists who took a great interest in residents' education.
"There is so much work to do in this field, so much to learn and so many unanswered questions."
Parkinson's disease and idiopathic dystonia stuck out to me as the epitome of why movement disorders are interesting and important to study because of the heterogeneity of their genetic and presumed pathophysiological mechanisms, which translates to varied clinical presentations in different patients. There is so much work to do in this field, so much to learn and so many unanswered questions.
Can you tell us about your current work at the Cleveland Clinic?
I'm currently in the first year of my two-year clinical fellowship at the Cleveland Clinic, a Parkinson's Foundation Center of Excellence. This first year is spent learning about the clinical aspects of care for Parkinson's patients and other movement disorder patients. So, I'm learning all the basics of diagnosis, management and really applying what I learned in residency in day-to-day care. In my second year, I will tailor my experience to focus on my interests, which is a combination of deep brain stimulation work as well as clinical research.
What interests you about deep brain stimulation, and are you currently participating in DBS programming?
One of my first exposures to movement disorders was attending DBS programming clinics. I remember in one of my first encounters with a person with Parkinson's who had DBS, I was impressed by the impact it had on managing his symptoms. That particular person was a violinist who missed playing but was unable to because of his tremors. After DBS, he was able to play again, which greatly improved his quality of life.
Currently, in my fellowship, I participate in pre-surgical DBS evaluation clinics, where I assess patients who are interested in this kind of treatment and evaluate their candidacy for DBS. I also meet with the multidisciplinary team involved in DBS surgery, which conducts regular DBS patient management meetings to make collaborative decisions about candidacy and care. I've also learned the basics of programming for various conditions, including essential tremors, Parkinsonism and dystonia. In my second year, I'm hoping to learn more about intraoperative neurophysiologic monitoring.
How do you see your work and research improving the lives of people with PD?
Right now, I am trying to learn as much as I can and I'm working to define a research need I'd like to focus on. My hope is that by the end of my fellowship, I will have mastered more of the art of patient-centric care, including mastering the different therapeutic options and working with patients to identify their goals, concerns and preferences to help them choose treatment options that best address their needs. Patient encounters are my greatest motivator. I want to focus on research that is meaningful and will lead to better outcomes for my patients.
Why is it important to support young clinicians/researchers?
Looking back at the start of my studies, I appreciate how important it is for movement disorder specialists to be involved in medical students' and residents' education. There's a growing need for movement disorder specialists, especially with the aging population and the growing incidence of Parkinson's disease.
We need all of the young neurologists we can find, both well-qualified general neurologists and more movement disorders specialists. I hope that one day I can inspire other young learners, like my professors inspired me to enter this field.
How has this fellowship impacted your career and your plans?
This fellowship is an incredible opportunity. I feel so fortunate for the excellent training I'm receiving at the Cleveland Clinic, and to learn from so many experienced clinicians and researchers, while utilizing all the technological resources available to me here. My fellowship has already allowed me to meet so many different patients, giving me a wider exposure to different presentations of Parkinson's.
Organizations like the Parkinson's Foundation are providing invaluable services to both people with Parkinson's and medical providers. The landscape of Parkinson's care and research would look completely different without the Foundation's efforts. Their support of residents and fellows, like me, is an important service to the PD community and I'm so grateful.
Find a movement disorders specialist in your area at Parkinson.org/InYourArea or call the Parkinson's Foundation Helpline at 1.800.4PD.INFO (1-800-473-4636).