Advancing Research
Meet the Researcher Working to Evolve Parkinson's Therapies Through the Blood-Brain Barrier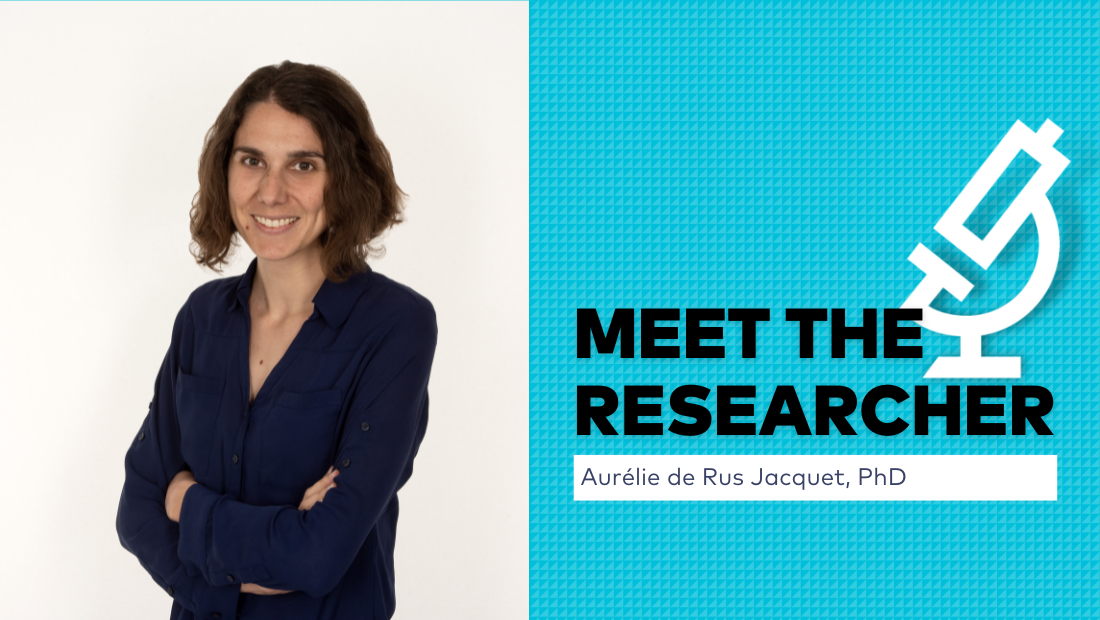 The blood-brain barrier, a network of blood vessels that act as a security system to protect cells in the brain, is an understudied but vital area in Parkinson's disease (PD) research. This barrier allows essential nutrients to enter the brain and keeps unwanted substances out, but the barrier deteriorates in people with PD. Aurélie de Rus Jacquet, PhD, is working to understand how inflammation can affect the permeability of the blood-brain barrier and identify potential therapies to address the problem.
"The blood-brain barrier is sort of the filter that allows good molecules to enter the brain, but prevents others from entering, therefore keeping them in the blood," said Dr. de Rus Jacquet. "If that barrier stops working properly, a number of molecules that should stay in the blood may actually enter the brain and could end up triggering inflammation, neurodegeneration and all kinds of features that are really detrimental to the brain and are features of Parkinson's disease."                
Using a 3-D cellular model of the blood-brain barrier, Dr. de Rus Jacquet studied brain cells called astrocytes, which typically regulate the blood-brain barrier, from both people with and without the PD-related LRRK2 G2019S mutation. She found that the Parkinson's astrocytes secrete harmful molecules and impair the filter function of the blood-brain barrier.
Now, she will study how astrocytes communicate with the immune system and look to identify the molecules that sneak through the blood-brain barrier and trigger neurodegeneration.
While a lot of existing and developing pharmacological therapies are focused around dopamine replacement, Dr. de Rus Jacquet's research is looking to tackle Parkinson's from a different angle.
"A lot of effort over the past decades has been focused on trying to find a therapy for dopaminergic neurons," she said. "But maybe the question is, do we need to find a therapy that addresses dopaminergic neurons and other brain cells as well? One of the goals of this research is to find a way to target the potentially toxic molecules entering the brain from the blood early in Parkinson's disease, before the neurons die. If we can identify and target those molecules before they enter the brain, it will facilitate drug discovery and success for future therapies."
Dr. de Rus Jacquet started this important research during her Parkinson's Foundation Postdoctoral Fellowship at Université Laval, Québec, Canada. Afterward, she went on to receive a Parkinson's Foundation Launch Award to continue this research and has successfully transitioned to her own independent faculty position at Université Laval, where she now operates her own research lab. She recently published a paper on her research in Nature Communications.
"The support of the Parkinson's Foundation has made a profound impact on my research and my career," Dr. de Rus Jacquet said. "This work is very complicated and expensive, and the Foundation's continued support allowed me to smoothly transition everything from my postdoctoral research into my own lab without any gap in timing."
Dr. de Rus Jacquet is excited to continue to learn more about the blood-brain barrier and how better understanding of how it functions in people with PD can lead to new treatment options.
"Innovative research is what is necessary to make a difference in PD," said James Beck, PhD, Parkinson's Foundation chief scientific officer. "But innovation is not something you buy in a store — it takes people. This is why the Parkinson's Foundation invests in scientists like Dr. de Rus Jacquet who have the insight, creativity and dedication to find new strategies to halt or prevent neurodegeneration in people with PD." 
Now that she is running her own research lab, Dr. de Rus Jacquet is excited to work with students who are interested in PD research and is working to promote diversity in the patient population involved in research studies.
"I have moved on to a new stage where I can continue doing this promising research but also be impactful in other ways," she said. "I can train the next generation of scientists and get them excited about this work. I can serve on committees working to reach out to a more diverse Parkinson's population, which is so important to better understanding this disease. None of this work would be possible without the support I've received from the Parkinson's Foundation and the donors who believe in this cause and this research. I'm deeply touched, and I am so grateful."
For more information on our research grants, visit Parkinson.org/Grants.