Advancing Research
Understanding 'Gene Silencing' and Its Role in Parkinson's and Dyskinesia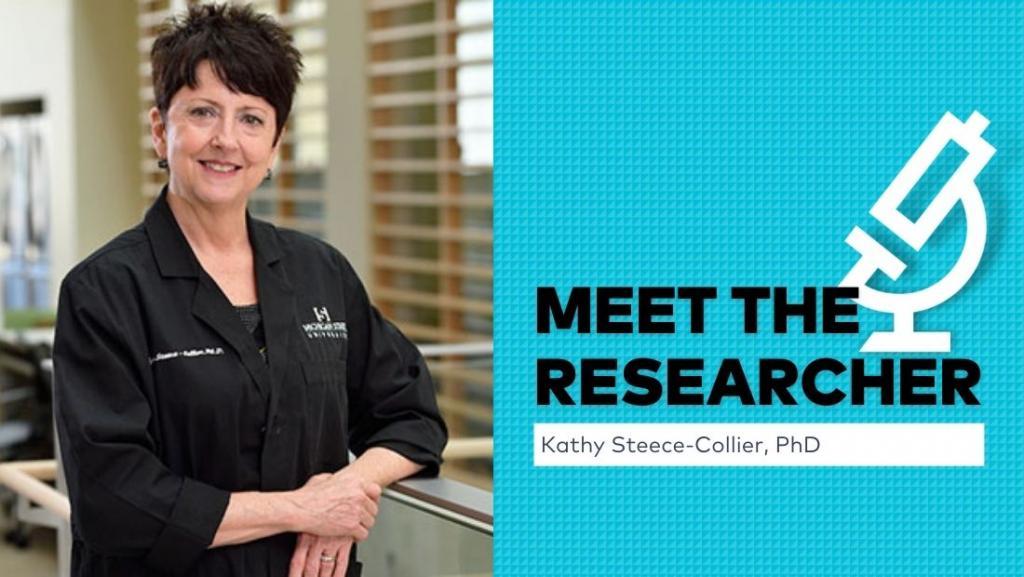 As a neuroscience professor, Kathy Steece-Collier, PhD, bridges the gap between basic research and treatment. For more than three-decades, her focus on Parkinson's disease has brought a better understanding of the disease and increased hope for improved treatment. Yet before choosing a path in neuroscience, Dr. Steece-Collier considered a career in special education. It was only after a conversation with Professor Stephen Binkley —  a Nobel Prize winning scientist — that her educational path shifted, leading her to a groundbreaking career in research.
"I found my translational science niche and I became interested in pursuing continuing treatments for people with Parkinson's disease," said Dr. Steece-Collier.     
Now, as a principal investigator and professor at Michigan State University's College of Human Medicine, Steece-Collier focuses on the development of improved therapeutics for people with Parkinson's disease (PD). Her research places particular emphasis on understanding how the brain reacts and remodels itself in response to neurodegeneration (loss of brain cells) and therapeutic interventions.
Half-a-century ago it was recognized that dopaminergic drugs, specifically levodopa, could alleviate many Parkinson's symptoms. However, over time, complications arose with their continued use — including the development of unpredictable motor responses and involuntary movements known as levodopa-induced dyskinesia. Much research has been implemented over the years in a search to provide relief for this side-effect of PD therapy that involves involuntary and erratic movements, which can occur in the face, arms, legs and/or trunk.
The primary focus of Dr. Steece-Collier's lab is aimed at understanding dyskinesia side-effects. One project is related to a still experimental therapy that involves using grafts, or transplants, of new dopamine cells placed into the striatum (area of the brain) of patients with PD. While such grafts have been shown to produce clear clinical benefits in some individuals, the results have been inconsistent and, in some, also induced dyskinetic movements — a phenomenon referred to as graft-induced dyskinesias.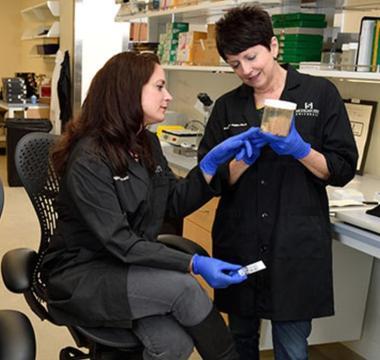 Graft-induced dyskinesias are presumed to occur when the newly grafted neurons 'hook up' incorrectly within the brain of a person with Parkinson's. "I became interested in what was causing graft-induced as well as medication-induced dyskinesias. I continue to study these basic biology mechanisms to try and understand what is going on in the brain of individuals with Parkinson's to limit therapeutic benefits and cause unwanted side-effects," said Dr. Steece-Collier.   
In 2014, an International Research Grant from the Parkinson's Foundation allowed Dr. Steece-Collier to delve deeper into a second topic of study in her lab, medication-induced dyskinesias. Her research sought to determine if a specific calcium channel in the brain, which allows calcium to enter nerve cells, contributes to levodopa-induced dyskinesias and whether silencing, or blocking, this channel could alleviate them.
"The Parkinson's Foundation was the first funding organization that had faith in this project. They saw enough promise in it that they gave us the seed money to develop the necessary preliminary data to support the importance of a particular population of calcium channels in the expression of levodopa-induced dyskinesias."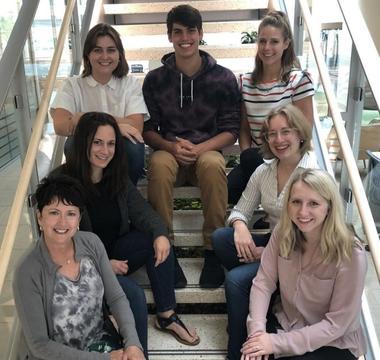 Dr. Steece-Collier and her research team determined that a 'gene silencing' technique to 'quiet' these calcium channels could protect against levodopa-induced dyskinesias. This process involves injecting genetic material into a particular region of the brain where calcium channels develop abnormal activity. This gene therapy approach that allows new genetic information to reduce the number of these channels has already shown remarkable progress in successfully alleviating levodopa-induced dyskinesias in an experimental model of PD.
"With the Parkinson's Foundation funding, we were able to get enough preliminary data that we could then go to the National Institutes of Health to obtain funding for larger functional studies. Indeed, without the Parkinson's Foundation it is likely that none of this would have been realized." 

- Dr. Steece-Collier
The greater aim for this research is to provide rationale for the design of clinical trials of gene silencing to reduce the abnormal calcium channel signaling that occurs in the PD brain. Dr. Steece-Collier remains hopeful that the effective and life-changing application of this research will strengthen interest in the development of new therapies that target this specific calcium channel to not only ameliorate dyskinesia side-effects but potentially slow disease progression. "This project is near and dear to my heart, and I hope in the next decade we can take it to clinical trial — that'll be what I'll retire on," said Dr. Steece-Collier.
Learn more about Parkinson's Foundation research at Parkinson.org/Research.