Advancing Research
6 Ways the Parkinson's Foundation is Changing Genetic Testing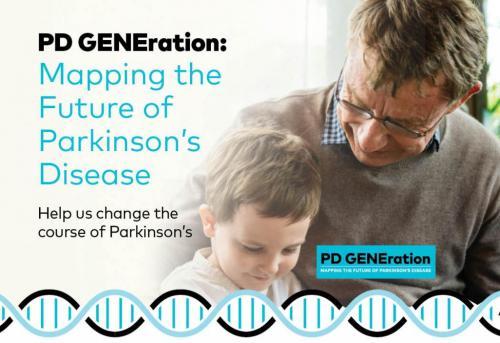 The newest signature initiative from the Parkinson's Foundation is not only the first bilingual study to offer genetic testing and genetic counseling in English and Spanish at no cost for people with Parkinson's disease (PD), but it is already making waves in the research world.
PD GENEration: Mapping the Future of Parkinson's Disease is a national effort that will ultimately lead to improved treatments and care for all people with Parkinson's. What many might not know is that through its design and launch, the study and results of its comprehensive genetics testing panel have already made major impacts for the PD research community:
1. Leading the way in Parkinson's-specific genetic counseling.
PD GENEration is a unique study that focuses on delivering PD-specific genetics counseling to place results into context for those with PD. Many PD genetic tests do not offer genetic counseling. The Parkinson's Foundation together with the Indiana University School of Medicine, a Parkinson's Foundation Centers of Excellence, developed the gold standard for genetic test reports.  With feedback from the Parkinson's community, these reports are tailored so that they can be easily and effectively used by people with Parkinson's and their doctors.  
This gold standard report sets the bar for the type and clarity of information that should be included in a PD genetic test report. Working in conjunction with genetic counseling, PD GENEration participants will understand what their genetic test results mean to them, how these results may or may not affect their family, and how to share results with family members. Already this approach has created a major impact on clinical care by raising standards to ensure that clinicians and people with PD are receiving the highest quality of genetic counseling in the Parkinson's field.
2. Launched the most comprehensive Parkinson's-specific at-home test.
Created by the Parkinson's Foundation, in partnership with Fulgent Genetics, the PD GENEration at-home and in-person tests use state-of-the art technology that comprehensively analyzes seven key Parkinson's genes. This includes the two most common PD genes: LRRK2 and GBA.
Many genetic tests only scratch the surface, testing for a few known, primary genetic mutations. "It is important for genetic tests to have the capability to detect every possible mutation in a single gene not just one or two. Searching for only the known mutations limits scientific research to discover information that we already know.  The goal of PD GENEration's comprehensive full gene testing is to discover new information to help accelerate research and our understanding of PD," said James Beck, PhD, Chief Scientific Officer of the Parkinson's Foundation.
3. Established first-ever international expert panel on Parkinson's genetics.
Through PD GENEration, the Parkinson's Foundation has already made a tremendous impact in the genetics field.  The Parkinson's Foundation has been appointed by the National Institutes of Health (NIH) to lead an international team of experts to focus on Parkinson's disease genetics. As a result, the Parkinson's Foundation serves as the founding chair of what is known as a Parkinson's Disease Gene Curation Expert Panel.  
Under the Foundation's leadership, the Parkinson's Disease Gene Curation Expert Panel has convened more than 40 of the world's leading researchers in Parkinson's genetics to analyze PD GENEration and other genetic data with the hope of accelerating breakthrough discoveries. The Parkinson's Disease Gene Curation Expert Panel is important because the U.S Food and Drug Administration (FDA) relies on these expert panels across diseases to determine which genes are important for a particular disease which, in turn, helps guide drug approvals and inform drug companies to prioritize certain genetic targets.
4. Accelerating PD Clinical Trial Recruitment.
Today, knowledge of a genetic PD mutation can help determine if a person qualifies for the latest clinical trials. Many of the industry's leading pharmaceutical companies are interested in pursuing gene-targeted trials. PD GENEration helps accelerate clinical trial timelines by identifying people with Parkinson's who may be eligible to participate in these clinical trials.
Recruiting people into a clinical trial can take two years or longer, on average. By identifying trial-ready participants, PD GENEration has the potential to increase the flow of participants into clinical studies that urgently need them.  The ultimate result will be to speed promising medications into the hands of those with PD sooner. Reducing the time it takes to run clinical trials means reducing the overall cost of the trial. Lower costs means lower risk on the investment from companies to help develop new therapies for PD. The lower the risk to invest, the greater the interest for top pharmaceutical companies and researchers to prioritize Parkinson's drug development.
5. Working to improve standard of Parkinson's care.
PD GENEration's goal is to improve the standard of Parkinson's care. In the near future, the hope is that everyone diagnosed with Parkinson's will receive genetic testing. For those who may have PD-related genetic mutation, doctors will be able to create a specific treatment plan that will respond best to their type of genetically connected Parkinson's. 
"We are aiming to offer a new, more efficient standard of care that every doctor can use as a starting point when treating people with Parkinson's," said Anna Naito, PhD, Associate Vice President of Clinical Research. "While Parkinson's Foundation Centers of Excellence will be leaders in the PD field to offer this new, improved standard of care, our  goal is to provide all doctors with access to provide improved care for their patients."
6. Building a global PD-genetic database.
All PD GENEration genetic samples are anonymously stored for future research and studies. The Foundation has also partnered with the Global Parkinson's Genetics Program (GP2) — a world-wide genetics study that hopes to analyze genetic data from 150,000 people with Parkinson's from all races and backgrounds and is supported by Aligning Science Across Parkinson's (ASAP).
"All our PD GENEration samples are not only being analyzed by Parkinson's Foundation researchers, but they are also being analyzed by global scientists and leaders in the genetics and Parkinson's research fields," said Dr. Naito. PD GENEration will represent one of the largest contributors of global genetic PD data among North Americans. "We believe this study will get us closer to scientific breakthroughs and better treatments for PD. Sharing this new and constantly evolving data with world experts will allow us to move the research and treatment field forward on a global level," she added.
For more information or to enroll in PD GENEration now, visit Parkinson.org/PDGENEration.