Raise Awareness
The Parkinson's Foundation Thanks Senator Isakson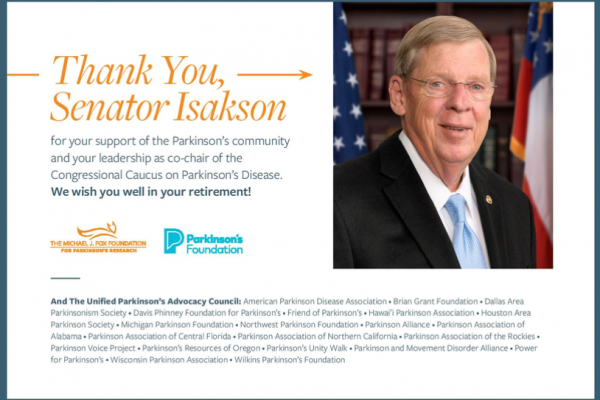 Senator Johnny Isakson (R-GA), Senior United States Senator from Georgia will retire from his 45 years in public office on December 31, 2019. The Parkinson's Foundation is grateful for his longtime commitment to our community, championing Parkinson's research toward a cure.
Senator Isakson announced his own Parkinson's diagnosis in 2015, along with his commitment to fight the disease.
"You can't beat what you can't understand, but you can beat anything you understand and commit yourself to," said Senator Isakson as Honorary Chair at the Parkinson's Foundation 2017 Power Over Parkinson's event in Atlanta, GA.
Senator Isakson served as a senator from Georgia since 2005. He is the only Georgian ever to have been elected to the state House, state Senate, U.S. House and U.S. Senate. Throughout his career he worked across political party lines to educate his colleagues about Parkinson's. He is also the co-chair of the Congressional Caucus on Parkinson's Disease.
He strongly supported increasing the research funding at the National Institutes of Health and supported funding Parkinson's research at the Department of Defense. He supported the National Neurological Conditions Surveillance System at the Centers for Disease Control and Prevention.
As Chairman of the U.S. Senate Committee on Veterans' Affairs, Senator Isakson focused on ensuring that all veterans, including those living with Parkinson's, have access to quality care and the support that they need.
In honor of Senator Isakson, the Parkinson's Foundation and Michael J. Fox Foundation (MJFF) co-sponsored an ad thanking the Senator in Roll Call, the Capitol Hill publication.
We thank Senator Isakson for his dedication to the Parkinson's community and his advocacy efforts in helping us make life better for people with Parkinson's. His positive outlook on Parkinson's and his drive to serve our nation will forever inspire us. We wish Senator Isakson a restful retirement.