Raise Awareness
Par for Parkinson's with Mike DeBartolo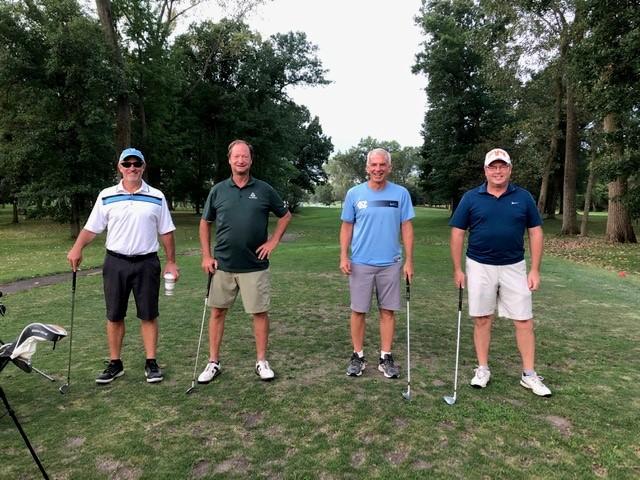 Last month, I raised money for our Parkinson's community through a Parkinson's Foundation Champion fundraiser called "Pars for Parkinson's" where I played 100 holes of golf over two consecutive days with family and friends. In this article, my daughter, Anna, interviews me about the event. My name is Mike DeBartolo, 58, and I was diagnosed with Parkinson's disease (PD) four years ago.
Why play 100 holes of golf for Parkinson's?
To inspire myself and hopefully inspire others that we can adapt the way we play to enjoy games and activities we like doing.
I was thinking about ways I can give to our Parkinson's community. Since Parkinson's has me learning new ways to play golf, I figured hosting a Parkinson's Foundation Champion event is a meaningful way to put the fun into fundraising. Thankfully, family and friends stepped up generously to support me and our community by donating to the Foundation, and several joined me for nine or 18 holes throughout my two days of play.
Any memorable stories from the experience?
From teeing off for a 6:30 a.m. sunrise with three dear friends to playing the closing holes in full moonlight with my best friend and his two sons, throughout the event I was joined by family, life-long friends, new friends, former golf teammates, neighbors and even deer. We played at the local course, aptly named the Playfield, where I first learned the game at nine years old. Now, 50 years later, it's my go-to course where I relearned how to play the game with Parkinson's these past few years.
My friend Hank joined me ― we began golfing in our childhood. It was very special. It was a joy having my wife Terry join me on the course and see her return to a game she played long ago. We look forward to playing together in the months and years ahead. A favorite moment was seeing my friend Dave, who also has Young-Onset Parkinson's, nearly make a hole in one. Remarkably, Dave's tee shot finished three inches from the hole.
100 holes of golf over two days. Did you get tired?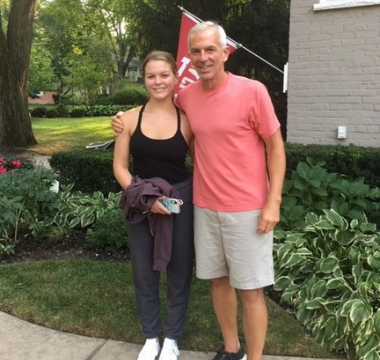 I did. During the fourth round, my back stiffened. I thought, oh boy, this could get interesting. Remarkably, the stiffness went away, which with PD was an unexpected blessing.
Since my coordinated precision can be way off, I have adapted the way I play. I deploy lots of forgiving practices on the course to make the game easier and more fun. I don't keep score other than tally the number of birdies I make throughout the year. My adaptations enable me to once again play a game I love. I have come to look at a golf course as a playground and Parkinson's as an invitation to play the game any way I want in the company of family and friends.
How did the Parkinson's Foundation help?

The Parkinson's Foundation team encouraged me from the start and helped promote "Pars for Parkinson's," including web page design and use of a funding link channeling all gifts directly to the Foundation. Gifts made triggered an instant email enabling me to personally thank family and friends as gifts were made. Learn more about Parkinson's Champions now.
What's the money being raised for?
All monies raised goes to the Parkinson's Foundation and their commitment to make life better for people with Parkinson's disease by improving care and advancing research toward a cure.  Their dedicated focus in each of these vital areas and their caring team makes the Foundation a natural partner.
Any advice for others who may be considering raising money for Parkinson's?
Pick any activity you enjoy, ask family and friends to support you and the Parkinson's community by making a gift of any amount, and invite them to join you in the activity. Walks, bikes, swims, dances, bowling, darts, fitness exercising, yoga, play friendly sports are all possibilities. The key is to have fun with it and let Parkinson's motivate you and people who care about you in their giving and participation. And, of course, to be grateful for those who care about us.
How can people benefit from "Pars for Parkinson's"?
Hopefully, this event is an example of finding joy in living with Parkinson's and inspiration to not throw in the towel on playtime and games you have enjoyed in life. Perhaps my experience shows by finding creative ways to adapt to conditions and adjust expectations, we can find joy in activities we once liked and new activities worth giving a go. Perhaps this outlook can inspire those without Parkinson's too.
What's next? Will "Par for Parkinson's" become an annual tradition?
God willing. Though it may take a different form next year around another game I have adapted to enjoy. Tennis for Parkinson's anyone? Stay tuned!
Become a Parkinson's Champion at Parkinson.org/Champions.
Let us help you design your own event!