Raise Awareness
3 Ways You Can Help Us Reach Further Toward a Parkinson's Cure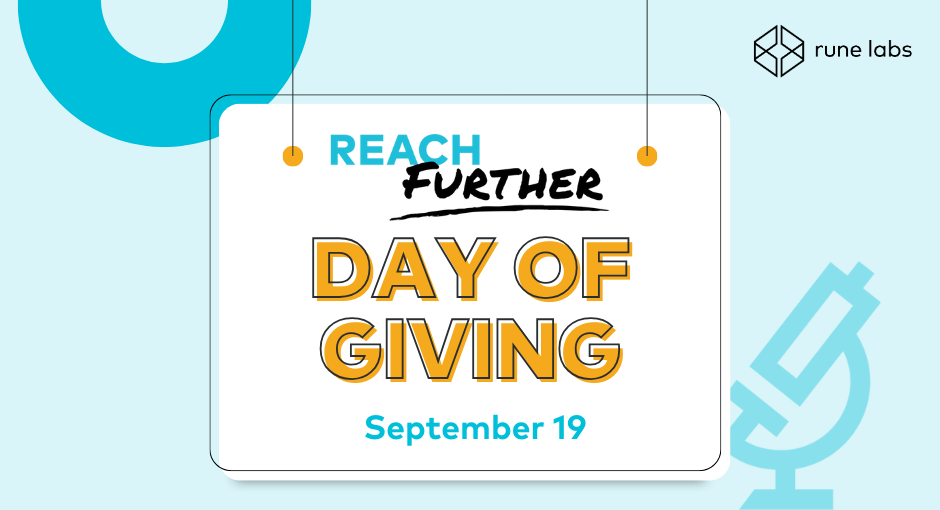 The only way we can find a cure for Parkinson's disease (PD) is through research. Although 10 million people live with the disease worldwide, research in PD is severely underfunded. The Parkinson's Foundation is committed to closing the funding gaps in research and increasing access to healthcare and quality-of-life programs. The Reach Further campaign is a four-year fundraising initiative that will raise an additional $30 million to support and accelerate progress on these goals.
On September 19, the Parkinson's Foundation is hosting A Day to Reach Further, a special day of giving that highlights the tremendous progress we have made thus far. As part of this day, Rune Labs, provider of StrivePD, has generously agreed to match all gifts made on A Day to Reach Further up to $10,000.
On A Day to Reach Further, help us fund these vital research initiatives that move us toward a cure:
1. Help Fund Cutting-Edge Scientists
To cure Parkinson's, we need to know exactly what causes it. Our research team finds and funds scientists who focus on unraveling the basic biology of Parkinson's. This year, we awarded grants to 30 scientists who are devoted to deciphering PD and finding new ways to attack it and stop progression.
Through our grants, we fund high-risk research that typically does not receive federal funding, which means we are advancing ideas that can lead to high rewards. Studies span from untangling the connections between inflammation, aging and Parkinson's; to connecting environmental exposures and Parkinson's through accelerated brain aging; and deciphering gait signaling to improve movement therapies. Meet some of our researchers here.
Our research grants, fellowships and partnerships help scientists explore innovative ideas and keep them in the Parkinson's research field, ensuring that we continue to fund a pipeline of projects that could lead us to a cure.
2. Help Fast Track New Medications & Treatments
For a new Parkinson's drug to go from an idea to an available medication it takes funding. Launching a new drug can take years and cost upwards of one billion dollars. We are accelerating this timeline alongside Parkinson's UK, through the Parkinson's Virtual Biotech, which is focused on building a pipeline of new drugs exclusively for Parkinson's.
The Parkinson's Virtual Biotech is directly investing in 13 medications that either address symptoms or aim to slow, stop or prevent the disease altogether. Some examples of these projects include:
Drug to treat dyskinesia in people with Parkinson's
Clinical trial investigating the potential of a drug called ambroxol for slowing down the progression of Parkinson's
Drug aimed to find ways to dial down inflammation in Parkinson's.
The Parkinson's Virtual Biotech ensures that promising Parkinson's treatments are not lost in the development pipeline due to lack of funding. Through this exciting initiative, we believe we can find the next life-changing treatment in years, not decades.
3. Help Accelerate Clinical Trials with Genetics
Genetics research can fast track the discovery of new PD treatments. Right now, pharmaceutical companies are developing early-stage therapies or drugs that target people with specific genetic mutations. These new drugs are being designed to slow or even stop PD. Some studies are already enrolling people in clinical trials. However, it can take years to fill these trials. For just one trial that needs 300 participants with a specific PD genetic mutation, researchers may screen up to 15,000 people.
PD GENEration: Mapping the Future of Parkinson's Disease accelerates clinical trial recruitment — and their results. Our groundbreaking study offers genetic testing and counseling to people with PD at no cost. So far, more than 10,500 people have enrolled in the study and 12.7% of participants have tested positive for at least one of the seven Parkinson's-related genes. Seventy-four percent of participants have never participated in a PD research study prior to PD GENEration, opening doors for people to join other research studies and advance the field.
The faster we recruit participants in this study, the sooner clinical trials can begin — and the closer we are to a research breakthrough.
Each year, 90,000 Americans are diagnosed with Parkinson's disease. By participating in A Day to Reach Further, you are directly investing in research that we believe will lead to new treatments and ultimately, a cure. Make a gift at Parkinson.org/ReachFurtherDay.