Parkinson's Foundation Designates Three Centers of Excellence in Parkinson's Care: Global Network Expands to 45 Parkinson's Centers
MIAMI & NEW YORK CITY (July 24, 2018) — The Parkinson's Foundation today announced the addition of three new Centers of Excellence to its global network: Cleveland Clinic; Medical University of South Carolina; and University of Iowa Hospitals and Clinics. The Cleveland Clinic designation includes three satellite clinics in Las Vegas, NV, Weston, FL, and Abu Dhabi, Dubai.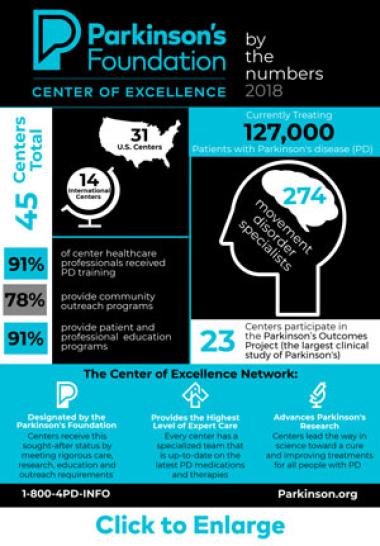 The expansion of the Parkinson's Foundation Center of Excellence network was made possible by the support of Stephen Bittel, chairman and founder of Terranova, a real estate firm based in Miami. This year, Bittel also pledged to raise additional funds to support the Parkinson's Foundation fellowship grants.
The Parkinson's Foundation Center of Excellence network is comprised of 45 leading academic medical centers, 31 of which are in the United States, which serve more than 120,000 individuals diagnosed with Parkinson's annually. This sought-after designation identifies hospitals and academic medical centers with specialized teams of neurologists, movement disorders specialists, physical and occupational therapists, and mental health professionals, who are at the leading edge of the latest medications, therapies and innovations in Parkinson's disease.
"The Center of Excellence designation recognizes the leaders in providing high-quality Parkinson's care," said John Lehr, president and chief executive officer of the Parkinson's Foundation. "The Parkinson's Foundation will continue to expand our reach across the country to ensure that every person diagnosed with Parkinson's disease has access to treatments that will improve their quality of life today."
Every Center of Excellence designation is awarded based on a rigorous application and peer-review process with the following criteria:
Must see at least 700 unique patients with Parkinson's disease annually
Conduct research relevant to Parkinson's and/or conduct clinical trials for Parkinson's
Provide exemplary team care, including a neurologist with training in movement disorders, nurse, social worker, physical therapist, occupational therapist, and speech-language pathologist
Promote access to wellness programs for patients
Facilitate educational events for patients and families
"This recognition reflects the tireless and dedicated effort of our entire team," said Hubert Fernandez, M.D., director of the Center for Neurological Restoration at Cleveland Clinic and the Cleveland Clinic Parkinson's Center of Excellence. "We will carry this designation with pride and it will re-energize us to reach even greater heights in providing compassionate care, offering the latest in research and surgical clinical trials, and continuing to reinvent how we treat Parkinson's disease."  
Nearly half of the Parkinson's Foundation Centers of Excellence participate in the Parkinson's Outcomes Project — the largest clinical study of Parkinson's funded by the Foundation which tracks over 12,000 people living with the disease over time to identify which treatments and therapies provide the best outcomes.
Added Ergun Uc, MD, professor of neurology and director of the Division of Movement Disorders with University of Iowa Hospitals and Clinics: "Building upon our strengths in providing world-class care for patients and conducting leading-edge research, we will use the support by the Parkinson's Foundation to expand our interdisciplinary care, to increase our community involvement and educational activities for other health care professionals and patients across Iowa, and to attain even greater heights in the treatment of everyone affected by Parkinson's disease."
The Parkinson's Foundation brings the Centers of Excellence together annually for a "Center Leadership Conference" to provide updates on care and research initiatives. Every center must recertify after five years to ensure requisite standards of care. For a full list of Parkinson's Foundation Centers of Excellence visit, Parkinson.org/COE. 
"We are thrilled that the PD community of South Carolina now has its first internationally recognized clinical, resource, and research center at their doorstep, which will enhance access to services, resources for patients, and community activities," said Vanessa Hinson, MD, PhD, director of Medical University South Carolina Movement Disorders Program. "We have been working tirelessly over the past 15 years to put all the pieces in place for this to happen and it feels good to see it come to fruition with the center designation."
Added Bittel, "Expanding the Parkinson's Foundation Center of Excellence network ensures that more people have access to the best Parkinson's care. I am proud to support the Parkinson's Foundation in its efforts to make life better for people with Parkinson's."
To search for a Parkinson's Foundation Center of Excellence, visit Parkinson.org/Search or call 1-800-4PD-INFO.
###
About the Parkinson's Foundation
The Parkinson's Foundation makes life better for people with Parkinson's disease by improving care and advancing research toward a cure. In everything we do, we build on the energy, experience and passion of our global Parkinson's community. Since 1957, the Parkinson's Foundation has invested more than $400 million in Parkinson's research and clinical care. Connect with us on Parkinson.org, Facebook, Twitter, Instagram or call (800) 4PD-INFO (473-4636).
About Parkinson's Disease
Affecting an estimated one million Americans and 10 million worldwide, Parkinson's disease is the second-most common neurodegenerative disease after Alzheimer's and is the 14th-leading cause of death in the U.S. It is associated with a progressive loss of motor control (e.g., shaking or tremor at rest and lack of facial expression), as well as non-motor symptoms (e.g., depression and anxiety). There is no cure for Parkinson's and 60,000 new cases are diagnosed each year in the U.S. alone.