Parkinson's Foundation Launches #Take6forPD Campaign for Parkinson's Awareness Month

NEW YORK & MIAMI (March 28, 2023) — The Parkinson's Foundation brings Parkinson's disease (PD) to the forefront with the launch of a new awareness campaign, #Take6forPD. April is Parkinson's Awareness Month, and efforts to raise awareness and funds are part of the Foundation's mission to make life better for people with PD, their loved ones and those working toward a cure.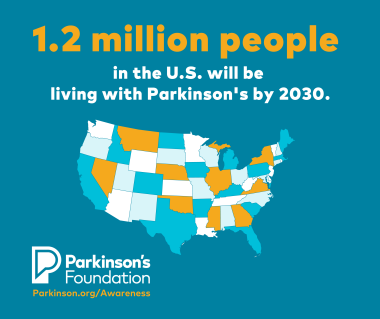 "Nearly one million people in the U.S. are living with Parkinson's disease, and by 2030, the number is expected to reach 1.2 million," said Parkinson's Foundation President and CEO John L. Lehr. "The Parkinson's Foundation raises awareness year-round about the early signs of PD and provides resources to support those newly diagnosed."
A recent study found that the annual incidence of PD increased from 60,000 to 90,000 diagnoses annually, meaning that someone in the U.S. is diagnosed with PD every six minutes. This April, the Foundation is encouraging everyone to #Take6forPD by highlighting action steps anyone can take in six minutes – the time it takes to make a cup of coffee – to advance research, improve access to care, empower and educate.
Advancing Research: In support of PD research, patrons can help the Foundation's efforts to improve treatments and find a cure for the disease by participating in PD GENEration: Mapping the Future of Parkinson's Disease, supporting drug discovery through the Parkinson's Virtual Biotech, joining a research study and more.
Improving Access to Care: Research shows that seeing a PD specialist leads to better outcomes for individuals with the disease. Raising awareness for the Foundation's care resources, including a Helpline with support in English and Spanish, an 'In Your Area' resource map to find expert care, and an Aware in Care hospital safety kit, helps ensure that one day, every person with PD has equitable access to high-quality care. 
Helping Empower & Educate: While living with PD can be challenging, many things can be done to maintain and improve quality of life, which often starts by enhancing one's own awareness of available resources. Supporters can spread the word on social media with a PD infographic, register for an educational event, listen to the Foundation's podcast, and more.
"Parkinson's can affect anyone, including those under the age of 50, so I wish for people with PD from all walks of life to gain hope from knowing that no gesture for Parkinson's Awareness Month is too small," said Vikas Chinnan, member of the Parkinson's Foundation People with Parkinson's Advisory Council. "Driven by my experience living with Young-Onset Parkinson's disease, my passion is to raise awareness of the lesser-known, nonmotor symptoms – like depression and apathy – which can significantly impact mental well-being."
To learn more about the #Take6forPD campaign, visit Parkinson.org/Awareness or call 1-800-4PD-INFO (1-800-473-4636).
###
About the Parkinson's Foundation
The Parkinson's Foundation makes life better for people with Parkinson's disease by improving care and advancing research toward a cure. In everything we do, we build on the energy, experience and passion of our global Parkinson's community. Since 1957, the Parkinson's Foundation has invested more than $425 million in Parkinson's research and clinical care. Connect with us on Parkinson.org, Facebook, Twitter, Instagram or call 1-800-4PD-INFO (1-800-473-4636).
About Parkinson's Disease
Affecting an estimated one million Americans, Parkinson's disease is the second-most common neurodegenerative disease after Alzheimer's and is the 14th-leading cause of death in the U.S. It is associated with a progressive loss of motor control (e.g., shaking or tremor at rest and lack of facial expression), as well as non-motor symptoms (e.g., depression and anxiety). There is no cure for Parkinson's and nearly 90,000 new cases are diagnosed each year in the U.S.