Parkinson's Foundation Welcomes Former Senator Johnny Isakson to Board of Directors
NEW YORK & MIAMI (May 11, 2020) — The Parkinson's Foundation appointed retired Senator Johnny Isakson to its board of directors. Senator Isakson was diagnosed with Parkinson's disease (PD) in 2013 and has been a long-time advocate for the PD community, championing Parkinson's research towards a cure.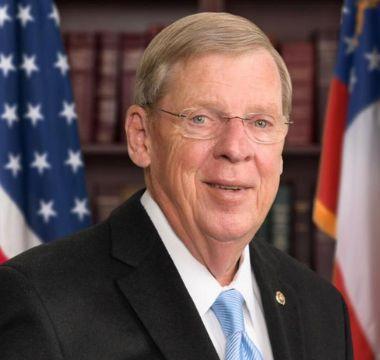 Senator Isakson is the former United States Senator from Georgia, having served from 2005 until his retirement from public office in 2019. He was also a member of the United States House of Representatives, representing Georgia's 6th Congressional District, from 1999 until 2005. As Chairman of the U.S. Senate Committee on Veterans' Affairs, Isakson focused on ensuring that all veterans, including those living with Parkinson's, have access to quality care and the support that they need.
"Senator Isakson's experience as a person living with Parkinson's and a passionate advocate for the entire PD community will be a highly valuable addition to the board of directors," said J. Gordon Beckham, Jr., vice chair of the Parkinson's Foundation board of directors. "As a former U.S. Senator, he brings a unique expertise that will help us continue to improve care and advance research towards a cure." 
Throughout his career, Senator Isakson worked across political party lines to educate his colleagues about Parkinson's disease. He also served as the co-chair of the Congressional Caucus on Parkinson's Disease. Senator Isakson strongly supported increased research funding at the National Institutes of Health and supported funding Parkinson's research at the Department of Defense.
"Having the opportunity to work on neurocognitive research as a U.S. Senator and advocate for Parkinson's disease was a humbling task," said Senator Johnny Isakson. "Now, with the opportunity to serve on the Parkinson's Foundation board of directors, it is my hope and sincere desire to share my experience and raise awareness. Through relentless determination I am confident in our ability to find a cure."
The Parkinson's Foundation is the nation's leading community for people living with Parkinson's. The Foundation focuses on ensuring better care for everyone, understanding Parkinson's through research and educating and empowering the PD community. Its international network of 47 designated Centers of Excellence at hospitals and academic medical institutions lead the way in Parkinson's research while setting the highest standards of care for people living with Parkinson's.
A complete list of Parkinson's Foundation board of directors is available at Parkinson.org/Board.
###
About the Parkinson's Foundation
The Parkinson's Foundation makes life better for people with Parkinson's disease by improving care and advancing research toward a cure. In everything we do, we build on the energy, experience and passion of our global Parkinson's community. Since 1957, the Parkinson's Foundation has invested more than $400 million in Parkinson's research and clinical care. Connect with us on Parkinson.org, Facebook, Twitter, Instagram or call (800) 4PD-INFO (473-4636).
About Parkinson's Disease
Affecting an estimated one million Americans and 10 million worldwide, Parkinson's disease is the second-most common neurodegenerative disease after Alzheimer's and is the 14th-leading cause of death in the U.S. It is associated with a progressive loss of motor control (e.g., shaking or tremor at rest and lack of facial expression), as well as non-motor symptoms (e.g., depression and anxiety). There is no cure for Parkinson's and 60,000 new cases are diagnosed each year in the U.S. alone.