Largest Clinical Study of Parkinson's Disease Reaches 10,000-Patient Milestone, Reveals Critical Learnings
NEW YORK & MIAMI (January 10, 2018) — The Parkinson's Foundation today announced the enrollment of the 10,000th Parkinson's patient and the discovery of critical new learnings in what represents the largest clinical study of Parkinson's disease in history. Launched in 2009, the study has grown from a small pilot to 29 expert clinics in five countries and serves as a platform for clinical studies to improve the lives of everyone with Parkinson's. 
Specifically, the Parkinson's Outcomes Project evaluates the complete range of factors associated with Parkinson's disease: medications and other treatments, motor symptoms, cognition, anxiety and depression, and caregiver burden. The study, which includes more than 100 people who have lived with Parkinson's for more than 30 years and 83 people diagnosed before they were 30 years of age, covers more than 25,000 clinical visits and input from almost 9,000 family care partners. Critical discoveries from the study include:
Regular neurologist care, which could save the lives of thousands of people every year, should be better prioritized by Parkinson's patients and caregivers
Greater attention should be paid to physical activity, as increasing exercise and general movement to at least two-and-a-half hours a week slows the decline in quality of life
Mental health should be better prioritized, as depression and anxiety are leading factors determining the overall health status of patients
Gender differences from informal family caregivers for women with Parkinson's is putting them at a disadvantage, and greater awareness is needed. Women with Parkinson's are more likely to have a paid caregiver than men at the same stage, unlike men who are more likely to rely on their spouses and family members for support with everything from daily care to doctor visits
"When the foundation launched the Parkinson's Outcomes Project nine years ago, our goal was to understand the impact of Parkinson's on everyone living with the disease. We have obtained a wealth of information in what now represents the broadest and most inclusive patient population ever assembled in a clinical study of Parkinson's," said Peter Schmidt, PhD, Senior Vice President, Chief Research and Clinical Officer of the Parkinson's Foundation, who leads the study. "The data we are collecting is informing trials to deliver new and better therapies."
Added Thomas Davis, MD, Director of Movement Disorders at Vanderbilt University, study co-chair: "This project is truly innovative in that it not only follows thousands of patients over time, but that it studies everyone with Parkinson's, from the newly diagnosed to people who have lived with the disease for 30 years or more. We're working to ensure that every patient receives the best possible care, no matter where they're seen."
The Parkinson's Foundation partners with its vast network of Centers of Excellence, leading academic and medical institutions around the world, to determine which Parkinson's care teams achieve the best results and why. The network is comprised of 42 medical centers that deliver care to more than 100,000 people with Parkinson's every year. Parkinson's Foundation Center of Excellence status is the most respected and sought-after designation in the field of Movement Disorders, with each center required to meet rigorous clinical, research, professional education and patient service criteria.
"We are studying the quality of Parkinson's care delivered at our Centers of Excellence to help patients who aren't being seen at one," said Fernando Cubillos, MD, who oversees operations for the Parkinson's Outcomes Project. "Our goal is to help identify the best care and disseminate that information widely."
The Parkinson's Outcomes Project is led by a steering committee with members from each participating clinic and rotating co-chairs. The current co-chairs are: Kelly Lyons, PhD, Kansas Medical Center; Thomas Davis, MD, Vanderbilt University Medical Center; and Adolfo Ramirez-Zamora, MD, University of Florida. Gene Nelson, DSc, from the Dartmouth Institute for Health Policy & Clinical Practice, serves as advisor on quality programs. 
For more information about the study, visit Parkinson.org/Outcomes.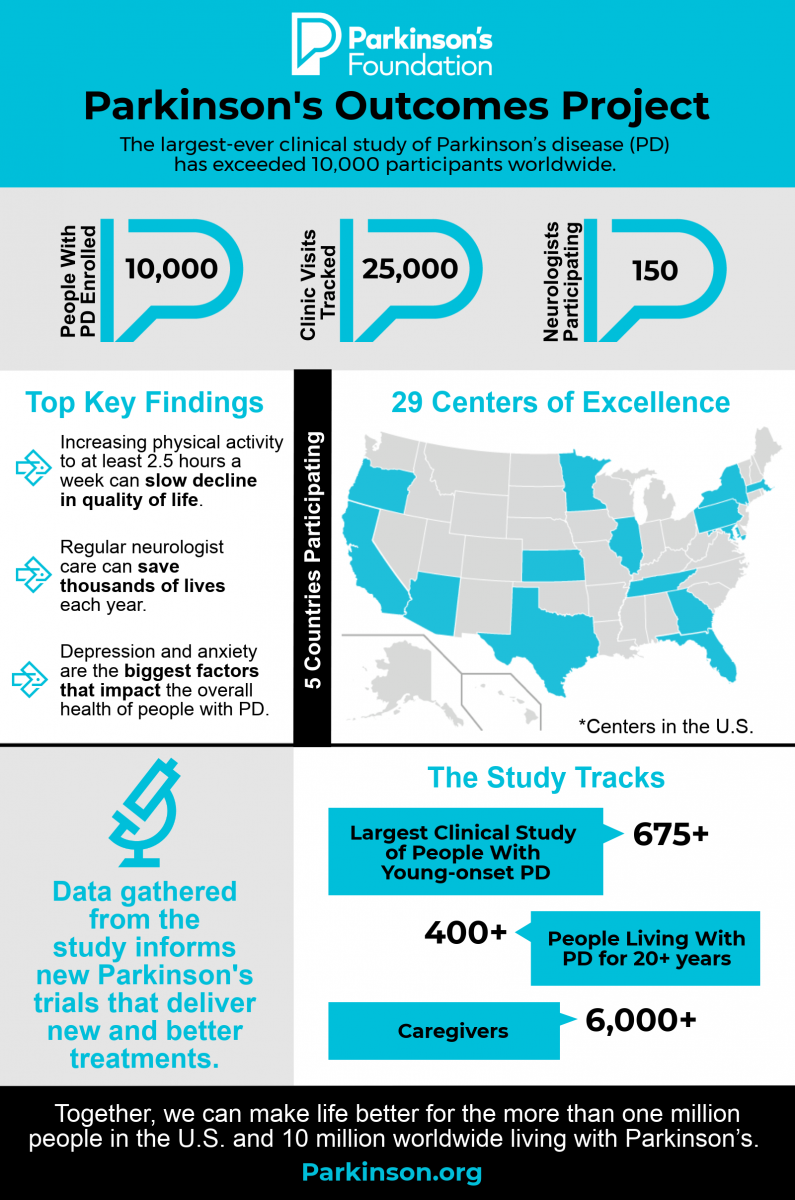 ###
About the Parkinson's Foundation
The Parkinson's Foundation makes life better for people with Parkinson's disease by improving care and advancing research toward a cure. In everything we do, we build on the energy, experience and passion of our global Parkinson's community. Since 1957, the Parkinson's Foundation has invested more than $400 million in Parkinson's research and clinical care. Connect with us on Parkinson.org, Facebook, Twitter, Instagram or call (800) 4PD-INFO (473-4636).
About Parkinson's Disease
Affecting an estimated one million Americans and 10 million worldwide, Parkinson's disease is the second-most common neurodegenerative disease after Alzheimer's and is the 14th-leading cause of death in the U.S. It is associated with a progressive loss of motor control (e.g., shaking or tremor at rest and lack of facial expression), as well as non-motor symptoms (e.g., depression and anxiety). There is no cure for Parkinson's and 60,000 new cases are diagnosed each year in the U.S. alone.