Parkinson's Foundation Welcomes Paolo Fresco to Board of Directors
NEW YORK & MIAMI (January 27, 2020) — The Parkinson's Foundation appointed Paolo Fresco, former Chairman of the Board at Fiat S.p.A (1998-2003), to its board of directors. Mr. Fresco brings extensive international business expertise to the Foundation's board.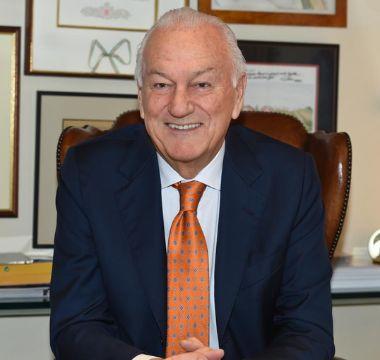 "Paolo brings a deep passion for Parkinson's disease (PD) and robust international business experience to help advance our mission to make life better for people with PD," said Howard Morgan, chairman of the Parkinson's Foundation board. "His commitment to philanthropy and his professional expertise are valuable additions to the board."
Fresco practiced law in Rome before joining Compagnia Generale di Elettricita ("Cogenel"), an affiliate of General Electric where he served as the President and General Manager before he was named to the GE Board of Directors and then Vice Chairman and Executive Officer and a member of GE's Corporate Executive Office with responsibility for all international activities.
Fresco now serves as chairman of The Paolo and Marlene Fresco Foundation; is chairman of the Fresco Parkinson Institute Foundation; and co-chairman of the Marlene & Paolo Fresco Institute for Parkinson's & Movement Disorders at NYU Langone Health, a Parkinson's Foundation Center of Excellence, which creates new opportunities for early-career neuroscientists and physicians from Italy.
"I have personally experienced the long suffering and loss of my beloved wife, Marlene, to Parkinson's disease, and I recently lost my brother to PD. I understand firsthand the problems of patients, their families and caregivers, and I am aware of the inadequacy of the systems and structures that should ensure them the right therapies and adequate care," said Paolo Fresco.
The Parkinson's Foundation supports Parkinson's research and education to help people with PD and their families live better. The Foundation's international network of 48 designated Centers of Excellence at hospitals and academic medical institutions lead the way in Parkinson's research while setting the highest standards of care for people living with Parkinson's.
A complete list of the Parkinson's Foundation's Board of Directors is available at Parkinson.org/Board.
###
About the Parkinson's Foundation
The Parkinson's Foundation makes life better for people with Parkinson's disease by improving care and advancing research toward a cure. In everything we do, we build on the energy, experience and passion of our global Parkinson's community. Since 1957, the Parkinson's Foundation has invested more than $400 million in Parkinson's research and clinical care. Connect with us on Parkinson.org, Facebook, Twitter, Instagram or call (800) 4PD-INFO (473-4636).
About Parkinson's Disease
Affecting an estimated one million Americans and 10 million worldwide, Parkinson's disease is the second-most common neurodegenerative disease after Alzheimer's and is the 14th-leading cause of death in the U.S. It is associated with a progressive loss of motor control (e.g., shaking or tremor at rest and lack of facial expression), as well as non-motor symptoms (e.g., depression and anxiety). There is no cure for Parkinson's and 60,000 new cases are diagnosed each year in the U.S. alone.