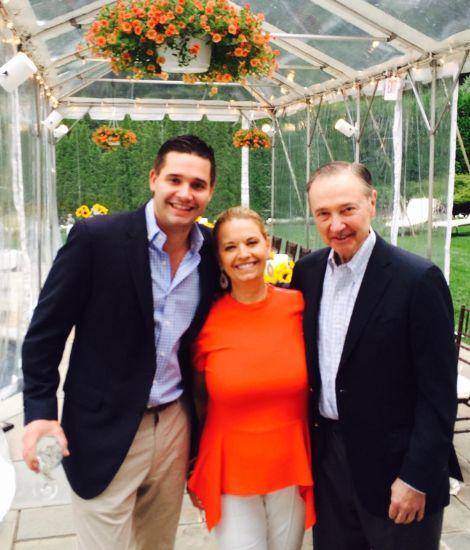 Family Members
Scott Caputo
Scott Caputo saw firsthand how Parkinson's disease (PD) affects not just the person diagnosed, but the entire family. His dad was diagnosed with PD after a long battle with throat and mouth cancer. Scott's mom immediately stepped into a 24/7 caregiver role, while Scott and the rest of the family did whatever they could to support them both.
"It was tough for everybody," Scott said. "My dad never lost his mental acumen or sense of humor, but we all saw this sort of slow onset of the disease and watched how it impacted him and, frankly, our whole family."
After his dad's diagnosis, Scott sought to learn about Parkinson's and raise money for a cure, but his dad requested the family keep his diagnosis private.
"My father was one of the most engaging people I knew, but some of the symptoms of Parkinson's made him turn inward," Scott said. "It was tough to see this wonderful man who was a mentor, a role model and a friend to so many people shy away from the things he used to love to do because he didn't want people to fuss over him."
When his father passed away in 2017, Scott was introduced to the Parkinson's Foundation by Penn Egbert, a Reach Further National Co-Chair whose father also had PD. Reach Further is a four-year fundraising campaign investing an additional $30 million to expand the Foundation's reach while advancing research toward a cure and expanding community programs.
"When I met Penn, the timing was just right and he could not have been more welcoming," Scott said. "The parallels between what our fathers went through were unbelievable and he really understood what I was going through. He introduced me to the Pakinson's Foundation and I knew I wanted to be part of it."
For Scott, the thing that stood out about the Parkinson's Foundation was its focus on supporting everyone impacted by PD, including those living with the disease, family members, care partners and more.
"The organization is pushing to find a cure for Parkinson's, but also helping people live better lives with this disease," he said. "The educational and support resources for everyone involved with a Parkinson's diagnosis really stood out to me."
After several years of serving on the committee for a fundraiser supporting the Foundation, Celebrate Spring, Scott set out to do more and join both his friend Penn and Josh Raskin as a National Committee Member.
"It's about raising awareness about Parkinson's and about what the Parkinson's Foundation is doing to support research toward a cure and care today for people with Parkinson's," Scott said. "Unfortunately, more people I know have family members being diagnosed with Parkinson's. It's becoming more prevalant and we need to do everything we can to get more people involved and raise money to support these important programs."
Scott also wants people to understand that living well with Parkinson's is possible, especially when people are connected to and utilizing resources from the Parkinson's Foundation.
"It's so important that people know that a Parkinson's diagnosis is not a death sentence," he said. "Parkinson's affects everyone differently and there are so many resources out there to support people with Parkinson's and their families. You are not alone with this disease and the community at the Foundation is here to support you."
As a Reach Further committee member, Scott hopes he can raise more awareness, bring more people into the community and, above all, honor his dad.
"Once people see the impact the Parkinson's Foundation has on people with PD and the incredible research they are supporting, I know they will want to be involved," he said. "I've seen firsthand how the Foundation helps people and how you really get a return on your investment because you can see the impact your support has. My dad was my hero and he inspires me every day. I give back to the Parkinson's Foundation in his honor, and I want more people to know about the incredible work the Foundation is doing."
Help us Reach Further. Donate and check our campaign progress at Parkinson.org/Reach or call us at 1-800-4PD-INFO (1-800-473-4636).
More Stories
from the Parkinson's community